Langer in good spirits
Veteran eyes historic Tour triumph
Last Updated: 21/06/12 4:58am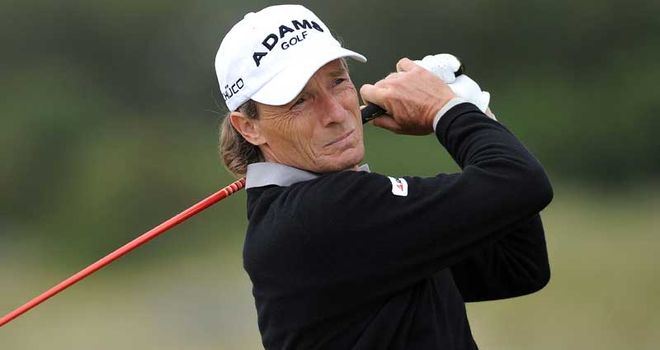 Bernhard Langer: Heads to Cologne in good spirits
Bernhard Langer will continue his bid to become the European Tour's oldest winner at the BMW International Open in Cologne.
Nobody over the age of 48 has ever lifted a title on the circuit but the 54-year-old Langer has proved he has plenty left in the tank - and currently leads the Seniors Tour in America yet again, with more than $900,000 banked.
"I will do my best to be up there with the front-runners," Langer told the Tour website. "You never know how things will turn out.
"I have been really successful in the USA in recent months and my swing is in good shape. We'll just have to wait and see how things pan out."
Surgery
The former Ryder Cup captain underwent thumb surgery last year and his recovery took longer than he was told to expect, but he has been able to play a full schedule this season.
Langer's 42 victories in Europe are second only to the late Seve Ballesteros - he reached 50 - but the last came 10 years ago at the Volvo Masters in Spain.
He shared that with Colin Montgomerie when the light ran out and it was agreed they did not have to come back the following morning for the end-of-season event.
Nine of his successes have come in Germany, but not the BMW crown. He is a five-time runner-up, though, and the last of those was only five years ago.
The tournament switches this season from Munich to the Gut Larchenhof course, where he claimed the German Masters title in 2001.
American John Daly was a runner-up then and the former Open and USPGA champion is also over from the States this week, while Sergio Garcia, Martin Kaymer, Thomas Bjorn and Retief Goosen are among those who have travelled on from the US Open in San Francisco.