Sawgrass nightmare for Na
American heckled during final round slump in Florida
Last Updated: May 14, 2012 11:41am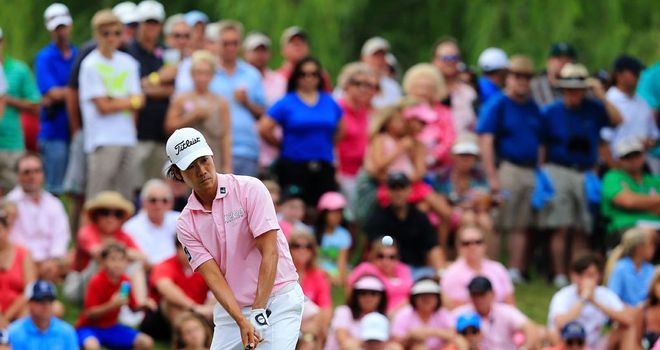 Kevin Na: Had much to endure in Sunday's final round
Kevin Na was the subject of boos and taunts as his Players Championship hopes went up in smoke on Sunday.
Despite his repeated waggles over the ball and constant struggles to pull the trigger, Na had managed to secure himself a one-shot lead going into the final round of golf's richest event.
However, the final round at Sawgrass turned into a nightmare as he racked up a string of bogeys and was heckled on nearly every hole by fans who didn't take kindly to his backing off of shots and slow play.
Na, who had to step away from his tee-shot at the ninth after hearing boos, didn't think the treatment he received was fair but was reluctant to criticise the fans.
"I deserve it," said Na, who finished five strokes behind winner Matt Kuchar. "I mean, I'm being honest. But is it fair? No. You put an average guy in between those ropes, trust me, they won't pull back.
"I do need to work on what I need to. I do need to work on my pre-shot routine. I do need to play faster. But the average golfer has no clue how much pressure we're playing under and how tough it is and how much of a fight it is mentally.
"I honestly think with all that going on, I did pretty well fighting. I had a good fight. I hung in there, so you know what, I just take the positives from it."
Crossed the line
Na's caddie, Kevin Harms, felt some fans crossed the line.
"We had a clown on the sixth hole come up and say, after we just made bogey on five, he said, 'I've got $2,000; you better not start choking'.
"This is a game of etiquette. It's not basketball. It's not football. Show come class. There's no reason to do that to anybody.
"It's not like he's doing it on purpose. He feels more bad about it than anyone else, I can promise you that. He's doing everything he can to get faster."
The taunts continued as he fell out of contention with a string of bogeys and after he pulled his tee shot in the water on the par three 13th, some fans started singing, "Nah, nah, nah, nah. Nah, nah, nah, nah. Hey, hey, hey, goodbye."
"You know, when I'm over the ball, it would be nice if it was quiet," Na said. "But just guys, you can hear them talking, like, 'Pull the trigger, pull the trigger, hit it,' which makes me back off even more. So that part was a bit tough."
Na puts his pre-shot routine problems down to a swing change and promises to work hard to resolve it.
"I'm going to try to take out the whole waggle, no waggle," he said. "I'm going to try to do a little up and down behind the ball, but it's going to take time, practice and tournaments, and I'm going to try to take out the whole waggle. Honestly, it's going to be a battle."