Faldo rules out Tiger
Three-time Masters winner says Woods' chances are over at Augusta
Last Updated: 07/04/12 10:58am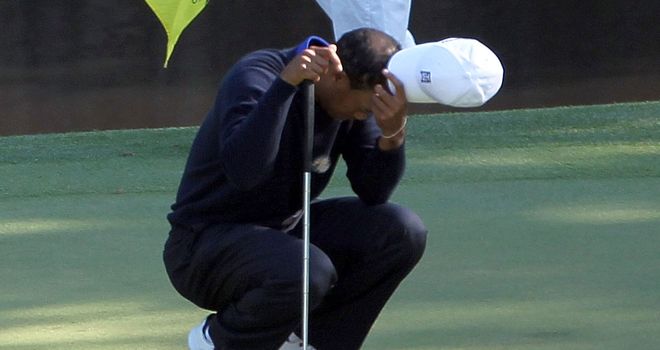 Tiger Woods: Eight shots off the leaders heading into the weekend
Nick Faldo has written off Tiger Woods' chances of winning a fifth Masters and 15th major at Augusta this weekend.
Woods shot a three over 75 on day two to finish eight off the lead held by Jason Dufner and veteran Fred Couples.
Having stormed to his first PGA tour win in 30 months just two weeks ago, with a five-shot victory in the Arnold Palmer Invitational at Bay Hill, but cut a disconsolate figure on Friday, even kicking his club away at one point.
"He has not got a clue how to get the clubface onto the ball."
Nick Faldo on Tiger Woods Quotes of the week
"I think we can officially say that Tiger has lost his game and his mind right now," three-time Masters winner Faldo said.
"He has not got a clue how to get the clubface onto the ball. He has become like the rest of us. He wasn't like that - he was paranormal.
"He's running on sheer frustration right now. There was the Tiger of old, but over the last couple of years things have changed technically, physically and mentally - the whole karma of his life."
Frustrating
When asked if Woods, who stormed back from seven behind with 18 holes to go, to a share of the lead before eventually finishing fourth in 2011, could repeat the feat Faldo added: "He's got to sort it out. He's got to find some confidence."
Woods himself conceded that he wasn't playing well and feels that concentrating on other parts of his game may be a reason for his lack of accuracy off the tee.
"I've been working hard on my short game and what Sean (coach Sean Foley) and I have been talking about is that it might have crept into my takeaway of my full swing.
"Unfortunately it's just not quite consistent. It's not what it was at Bay Hill and prior tournaments.
"I have it in stretches. I get into streaks where it's really good and then lose it for a little bit. That's obviously very frustrating. But the tournament is not over. I can do this - I've just got to be patient.
"I know what to do, it's just a matter of doing it. Even at Bay Hill it was happening, but I was able to rectify it."