Ewen Murray
Golf columnist
Thrilling finishes lit up a truly colossal week of golf, says Ewen Murray
Zannotti makes Paraguay proud, Rose blooms at Congressional and more...
Last Updated: 30/06/14 1:53pm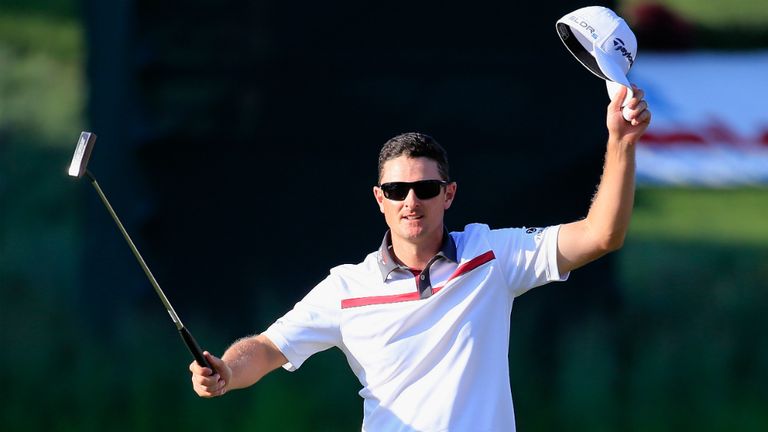 What a week that was for us golf fans.
I finished last week's column with the thought that the game is in good shape and long may that continue. It certainly did in both Germany and America's capital, Washington.
History was created in Cologne as the talented Paraguayan Fabrizio Zannotti became the first from his country to win on the European Tour and England's Justin Rose got back to winning ways at Congressional. Both of these victories came after thrilling play-offs.
Zannotti has been a good player for a long time and in his 181st event on Tour, he crossed that magic line to fulfil his ambitions. Five years ago, he finished second to Thomas Levet at the delightful PGA Catalunya course on the outskirts of Girona having shot 65 in the last round.
The final day of the BMW International was another glorious one for the European Tour. As I have said before, BMW stage some of the finest events in the game. Their events are classy, beautifully dressed and as well as the players, they care for the spectators with excellent facilities.
At the end of it all, 21 players were separated by just three shots and any one of them had a chance on Sunday.
The excitement created by so many contenders was compelling viewing and I believe it was one of the Tour's most enthralling events throughout its 45 year history.
The excitement created by so many contenders was compelling viewing and I believe it was one of the Tour's most enthralling events throughout its 45 year history.
Ewen Murray
It goes to show the strength in depth, which is a far cry from how it all was at the beginning of the Tour's journey.
Question mark
One thing that grates on me a little in this modern day is the "inducements" offered to players at some events. It always has. If a sponsor is willing to put up a more than decent purse for their event, then that should be it. Given the fact the world has gone through a difficult period over the last few years, we, in Europe, are very fortunate to have sponsors that not only have stayed with us during this time, but also increased their support as well as their prize funds.
Everyone of course wants to see the top ranked players play against the best as often as possible and we see that in the World Golf Championships and the Majors.
Everyone requires time off to rest as they cannot perform to their limit every week, but last week was a stark reminder that there are many excellent golfers on our Tour and a large percentage of them are more than capable of winning. Winning breeds confidence and with that the standard rises. Because of that, competition gets fiercer and that draws out the very best in a professional golfer.
This of course is a subject that has been discussed on several occasions down the years and my guess is it will continue to be addressed. I would say that if all these "inducements" stopped, the game and the health of our sport would improve and reach another level.
The top ranked players quite rightly earn a superb living and if they remain in the upper echelons of the sport, they will continue to earn the sums of money they deserve.
Some of you will say that if carrots are not dangled then our top ranked players will play in America only. I'm not sure about that. The European Tour has some splendid events across the world and playing in many different countries in a variety of conditions have turned our players into the quality golfers they are today.
I accept that playing on the PGA Tour with a first prize of over a million dollars a week is more than appetising and the travel is easier, but no question, different challenges are essential for a player to reach his potential. My thoughts will probably never materialise, but I'd like to see it happen for a season. Food for thought for you and I'm sure you will have your own words on the subject.
Fairytale stuff
Justin Rose's victory on one of America's great courses confirmed the status he enjoys in the game today. His story, which was beautifully put together by my Sky colleagues earlier this year, highlighted the highs and lows of golf. For the tough time Justin endured at the beginning of his professional career, each win has a special significance. What a wonderful time to win again with two majors in the next two months.
Our Ryder Cup Captain Paul McGinley must be pleased. Kaymer capturing the US Open in such fabulous fashion at Pinehurst, Rose returning to the winner circle and Stenson still playing excellent golf. Things are shaping up pretty well for the Gleneagles spectacular. For those on the brink of making the side, a huge six weeks faces them with the French, Scottish and Open on the horizon. After that, the Bridgestone in Akron and the USPGA in Louisville offer most attractive points so there is still excellent opportunities for them to force their way into the reckoning.
It was no surprise Martin Kaymer struggled in his homeland last week after a whirlwind fortnight.
Having missed the cut, he has the chance to go again in France this week. I'm not sure we can offer the drama of last week, but it is a strong field and they are playing on one of Europe's finest courses.
Le Golf National has matured impressively in its 25 years and it is a course that has the respect of the players. I look forward to saying 'bonjour' to you all on Thursday.