Ewen Murray
Golf columnist
Omega Dubai Desert Classic: Tiger Woods undermined by needless technique changes
Ewen Murray warns Tiger Woods that scientific analysis is destroying his natural game.
Last Updated: 12/02/14 3:25pm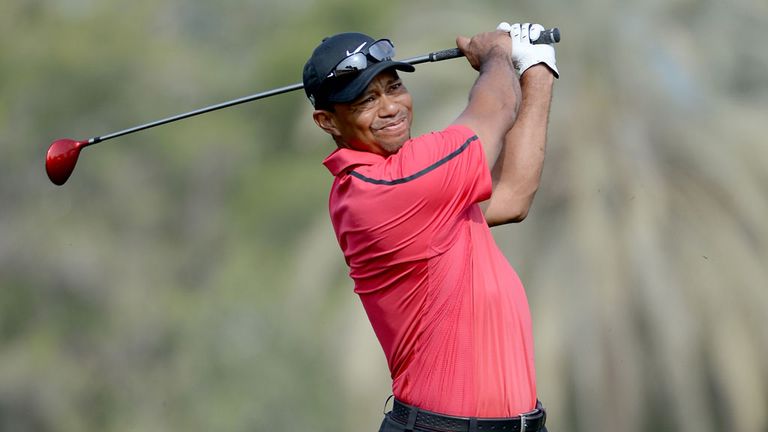 The celebrations began on the Tuesday with the Champions Challenge. All of the winners of the Classic since its inception in 1989 were present, excepting the late, great, Severiano Ballesteros, who was represented by his son Javier.
Mark James was the inaugural winner, with Eamon Darcy following him. They may be in their sixties now, but both birdied the first hole to remind many if their abilities. At the end of a nostalgic day, Raphael Cabrera-Bello and Henrik Stenson shared the prize after rounds of 66.
On Wednesday the pro-am got underway and another former champion led his team to victory. It was the start of a good week for Colin Montgomerie and subsequent rounds of 70, 70, 69 and 74 to finish on five under will do his confidence a lot of good as he turns his attention to the Champions Tour Stateside.
Engineered
So, all good so far and it was to get better as the event itself opened up on Thursday. The Sky Sports cameras started rolling at 7.30am and followed Rory McIlroy, Tiger Woods and the defending champion, Stephen Gallacher, from the first tee to the last green.
McIlroy delivered right away producing the easiest 63 I've ever seen and Gallacher was not far behind him with a six-under-par 66 - but more on them later.
From an opening tee shot that was 90 yards off line, Tiger set the pattern for another poor week to follow his missed cut at Torrey Pines.
Somehow, he engineered a four-under-par 68 and he came out with these words at his post-round press conference: "I hit some great shots and could have got two more (birdies) out of it. I missed a couple of ten footers."
For the record, 132 players started round one and Tiger was 116th in driving accuracy. His 68 included 43 long shots and he limited himself to just 25 putts for the 18 holes.
Day two was more difficult as they had the afternoon start, by when the greens had dried out a little and a light breeze had replaced the morning's serenity.
Tiger shot a one-over-par 73 and made the cut by two shots, much to the delight of those who had purchased weekend tickets.
Again he pronounced that "he was happy with his game, but his short game was poor". Again, for the record, he had hit seven of 28 fairways over the first two rounds.
I watched every hole of his opening two rounds and I felt a little sad that someone who has played the game so beautifully, arguably better than anyone, could be so poor technically, and so lost.
Every player has times when the game just seems difficult. Every top player has a "go to" shot to get them round until they can visit the range and work on the problem. Not Tiger. It was a sorry sight as he went from rough to desert, right to left and left to right.
Unrecognisable
On Saturday, he fared a little better being out early and getting a fresh course in perfect conditions. "I found something on the range and played really well," he said. I don't know if Woods was aware of it, but by now he was the only one listening to his quotes.
His swing is virtually unrecognisable from the one that struck fear into every opponent during his dominating years.
His aim is well left and his weight is on the left foot. The squat position at the start of the downswing is greatly accentuated; because of that, he dramatically loses height. The arms have no room to swing, so the left leg straightens, twists and swivels to make room for them.
At impact his feet offer no foundation to support his swing. It's a steep action which de-lofts the driver and that explains the inconsistency off the tee as well as the indifferent distance control on the mid to short irons.
His pitching and putting have been unaffected by the needless, many of them excessive, changes in his technique and no doubt many spectators and television viewers enjoyed watching the raw skill to go with the invention and vision that Tiger has. Not only that, his impressive will to survive and his work ethic are to be admired.
In an average tournament-professional's hands, from where Tiger's tee shots finished, none would have made the halfway cut and out of the four rounds, none would have been par or better.
He finished the final round with three birdies, further evidence that quitting is not part of his make-up and whatever happens in his career from here, that legacy will be handed to the next generation of golfers.
Humility
As part of his multi-million dollar appearance fee, Woods gave a clinic on the practice range on Friday straight after his second round. I've watched him do this many times before and they are entertaining as well as educational.
This one was no different. It was conducted with humour and humility; add a sprinkling of brilliance here, a splash of genius there and you have what Tiger Woods is, a master craftsman.
And what a difference there was in his technique - he was talking all of the way through his fades, draws, high ones, low ones and straight ones. Yes, he hit quite a few of them on request.
Woods delivered a stunning exhibition of shot-making. This time, there was no leaning on the left side, there was no loss of height, no lack of space - just Tiger putting the club on the ball.
As many of you know, he and I had a spat over the spit saga a few years back and I think that was the last time we conversed so he's not going to listen to this, but I'll say it anyway.
Tiger - ditch the theoretical thoughts and go back to what you were born to do, play golf. The scientific analysis is slowly siphoning away what made you better than the rest.
After a final round of 71, which left him in 41st place, he said: "I'm excited. I hit some great shots but missed a ton of putts." For the record, he chipped in from the rough for a par at the drive and wedge first hole. Had it not hit the pin, he would have struggled for a double bogey.
Dream
Back to the event itself and what a strange day Sunday turned out to be! Never have I seen so many players in the final few groups make so many mistakes. The middle of the round was a catalogue of errors and nobody seemed to want to, or be capable of, winning the title.
The biggest surprise was perhaps the performance, or non-performance, of McIlroy. As good as he was on Thursday, Sunday's effort was at the other end of the scale. Wild driving left him tough approaches and as always when you play badly, the breaks seem to go against you.
He would be disappointed in himself after the good finish in Australia last year and the bright start in Abu Dhabi this year. The year however is young and there was enough in Abu Dhabi and part of Dubai to suggest there are many good days ahead.
A lovely week in some welcome winter sunshine belonged to one man.
The third-round leader, Gallacher, woke up just in time and went onto create history by becoming the first player to successfully defend the Classic. His birdies at 16 and 17 were crafted with confidence and belief and they made the difference.
Second, first and first in the last three years, the Majilis course is one that suits his eye and his latest victory has opened up doors that were previously closed to him.
In two weeks' time, he will play in the Accenture Match Play Championship and he will almost certainly receive an invite to the following Tour event before going onto Doral for the Cadillac Championship.
But more valuable than that, the green ticket for the year's first major will be coming his way and Stephen will be at Augusta National for the first time.
And what of the future? With a foothold in the best and biggest tournaments in the game, he will have the opportunity to amass Ryder Cup points and realise his dream of being in Paul McGinley's side in his homeland and in front of his "ain folk" in the Autumn.
There is a lot of golf to play before all that happens, but his win in the Dubai desert has made that dream a distinct possibility.