Ewen Murray
Golf columnist
Ewen Murray anticipates a dramatic finale to the FedEx Cup
Ewen Murray looks forward to the Tour Championship and Seve Trophy, and has words for Tiger Woods.
Last Updated: 18/09/13 8:28am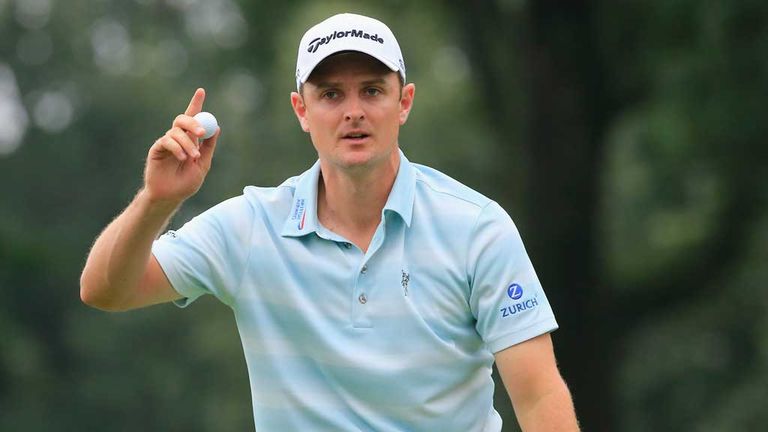 Justin Rose has the opportunity to put the icing on the cake and make this year his year after that memorable win at Merion in June.
For Luke Donald there is the opportunity to turn an average season into a special one. Luke's performance at his home course in Chicago last week was a courageous one and his tied-fourth place at Conway Farms was just good enough for him to be one of the 30 elite players heading for East Lake Golf Club in Atlanta.
It should be an exciting week for our viewers with just about everyone in with a chance of hitting the jackpot.
It's a great finale as the new points system allows dramatic changes during play. An eagle here, a double bogey there, and a player's position can head into free fall, or ascendancy. The final round on Sunday is one of the best days in the golfing calendar.
There was disappointment for some of our golfers from this gifted European era. Failing to make the Tour Championship were Graeme McDowell, Lee Westwood, Ian Poulter and perhaps the biggest surprise of all, Rory McIlroy.
However, their misfortune will surely work in favour of the GOLF+ Trophy in France - an event that honours the name of the brilliant Severiano Ballesteros.
Seve Trophy
By not making the Fed-Ex Cup they have a chance to recharge their batteries before making the journey to Saint Nom la Breteche and play for their captain Sam Torrance in the clash between Great Britain and Ireland and continental Europe. Peter Hanson also failed to make East Lake which frees him up to take his place under European captain Jose Maria Olazabal.
Will they appear in France? I should hope so. And if they are familiar with the history of the European Tour - the one on which they cut their teeth at the start of their successful careers - there is only one decision.
The beginning of the European Tour was difficult. It was touch and go as to whether it would succeed. But enter the genius from Pedrena, Seve, in 1976. The charismatic Spaniard was heaven sent. His mercurial talent gave the Tour the shot in the arm it needed.
Single handedly, Seve opened doors that were previously firmly closed. Having won the Open at Royal Lytham in 1979, he crossed the pond to don two Green Jackets in the space of four years, before adding two more Claret Jugs to his CV in 1984 and 1988.
Seve was the Pied Piper and his magnificent all conquering performances inspired our golden generation of the 1980s and 1990s.
Sandy Lyle, Nick Faldo, Bernhard Langer, Ian Woosnam all won majors and Seve's great amigo from Fuenterrabia, Jose Maria Olazabal, matched his two Augusta triumphs.
President's Cup
On the same week of The GOLF+ the United States team, led by Freddie Couples, will take on Nick Price's International team for the President's Cup at the delightful Muirfield Village course in Dublin, Ohio.
All 24 players who have qualified, or been handed wild cards will play. So with no other events in America that week, and no meaningful events the following fortnight, what a bonus for our Tour that these aforementioned players are free to play and take up the qualifying positions they have played so well this year to earn.
Incidentally, like the Ryder Cup, there is no prize money for the President's Cup. The players get a fee they will donate to one or several of their favourite charities. The winning team members at the GOLF+ receive €100,000, the defeated team, €50,000 each.
It would be a further fillip for Paul McGinley if the four who made the Tour Championship - Stenson, Garcia, Rose and Donald - after a week's rest, also decided to play in France as all are qualified.
Schedules are difficult and players can't play every week, but given the fact this is a genuine free spell it would be most beneficial, as well as desirable, for McGinley to have the nucleus of his team together.
They have this early chance to impress the current European Ryder Cup captain and the GOLF+ is a week where partnerships can be formed and good golfing relationships can be born.
Also, they are playing under two of our successful and popular past captains in Sam and Jose. But more than anything, they should be in Paris to honour Seve.
Without his influence their careers may well have gone down a different avenue.
Missing Tiger
On the subject of loyalty: what on earth is Tiger Woods planning in November?
On the Monday preceding the HSBC World Golf Championship in Shanghai, Tiger and Rory McIlroy are playing an exhibition match in China. There's nothing wrong with that. But Rory then plays in the HSBC at the Sheshan International Club and Tiger doesn't!
The head of HSBC's sports sponsorship is a fine gentleman by the name of Giles Morgan. His tournaments ooze class and his company has been great supporters of our game. The prize money for this year's championship is $8million.
Over the last couple of years the USPGA Tour's Commissioner Tim Finchem has made several visits to the Far East in an effort to have the HSBC on his Tour.
It is now included in the USPGA Tours money list, Ryder Cup points and rankings for 2014. Good work by Finchem, as it is his job to secure the best tournament calendar for his players. Only problem is, his number one player won't be there.
Tiger will be close-by, though. He is staying in Asia to fulfil engagements throughout the week before making a shorter journey than it would normally be from America to Turkey, where, no doubt, a handsome appearance fee will paid for his services there.
Tiger said at the beginning of the World Golf Championships in 1999 that it was what the game needed: the best against the best more often. Only this time, the rest will play without the best.
Tiger, what are you thinking of? Do you really need the dollars? I see you have won over $8million of them this year and in position to more than double that this week in Atlanta.
I hope it's nothing to do with the fact the USPGA Tour doesn't allow appearance fees. These are tough times financially.
The players should think hard before making decisions of where, why, when and when not to play. GOLF+ and HSBC are proud sponsors and the Tours are very fortunate to have them.
And so to East Lake. We have over 20 hours of live coverage coming your way, Thursday through Sunday. Look forward to your company.