Ewen Murray reflects on Justin Rose's US Open win
Justin Rose left his dark days behind to win his first major and give Ewen Murray many Merion memories.
Last Updated: 19/06/13 5:35pm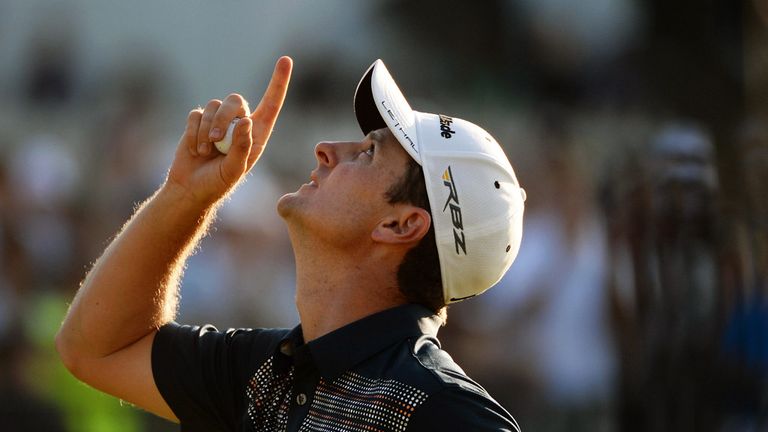 The USGA sometimes come in for criticism but their decision to take their Championship back to a spiritual home was an inspired one. Merion was a superb challenge and as it has done down the years, it produced a truly great champion in England's Rose.
With the crowd limit of 25,000 a day as opposed to the normal 45,000, the USGA took a financial hit but protected the integrity and history of the US Open. This was a course on which only the best would survive and when you look at the top ten after the four days, they identified the best players, something they always said they have strived to achieve.
With penal rough and slick greens, this was a test of accuracy and touch. The emphasis was on finesse instead of power, feel rather than force. Although the fans couldn't get as close to the action as they would have liked, that allowed the rough by the edge of the fairways to remain consistent throughout the championship.
No wild shots finished on trampled down areas, any inaccurate shots were penalised. A far cry from the normal PGA Tour events when anywhere off the tee, as long as it's over 330 yards, will do.
Week-in, week-out, the fairways are like car parks, the rough is minimal, the greens are soft, the pin positions easy, so it's no surprise when twenty under par wins. Merion put the skill back in to golf and if that is its US Open swan song, then it can rest proudly.
With Sky Sports showing close on 40 hours of live coverage, it was an exhausting week, but the drama, the emotion and the sheer exhilaration of the four days play more than made up for that.
Like many no doubt, I felt for Phil Mickelson. Five times second, nine times in the top 10, celebrating his 43rd birthday and in his 23rd US Open, he once again came agonisingly close to finally capturing his first National title.
Treacherous
Gracious as ever in defeat, he was "heartbroken", yet thrilled for the new champion. Many of you will remember his epic encounter with Justin Rose in the singles of the Ryder Cup at Medinah last autumn. Rose holing from 80 feet at the 17th and Phil waiting for him by the side of the green with thumbs up.
As long as I live I will remember that moment; a show of great sportsmanship and respect for a fellow player. If anything is fair in golf, he will win next year at Pinehurst, where 14 years ago he finished second to the late Payne Stewart.
Sunday marked five years since Tiger Woods' 14th and last major victory. Tiger this time never really threatened. His game, despite his four PGA Tour wins this season which is more than impressive, was ragged.
Mistakes were never part of his armoury, course management was a department he excelled in. Time and time again, his distance control with irons was way off the mark, leaving himself long putts on treacherous greens, a statistic that by Saturday would take him out of the running.
Toughest
Having had so much enjoyment watching Woods down the years, his swing lacked fluency. It's steep, which explains his erratic driving and his varying distance with irons, and that is applying pressure to his pitching and putting.
Mind you, it's worth remembering this was an exacting test and any minimal faults were magnified. With these four wins and surely high on confidence, we all expected a challenge from Tiger as he has the mind to unlock the answers to the toughest of questions.
Maybe we expect too much of him. He seems a long way from the smiling assassin of his rich harvest years, that happy go lucky attitude he displayed in his youth is gone as is the fear from others when he puts on the red Sunday shirt.
He looks troubled and his one word answers to the world's media questions were embarrassing. Perhaps the constant attention and weight of expectation has worn him down, maybe he has put too much pressure on himself. Whatever, this was not the Tiger Woods the majority of the golfing public has admired since his arrival on the world stage in 1996.
His attention will now centre on Muirfield, another course that only tolerates first class golf. With his below-par performances at the Memorial and Merion, Woods will respond. Average golf has never been acceptable in his world. He's too good to be average for long.
Lee Westwood was a little off after a bright start, Luke Donald and Ian Poulter kept ours, and their hopes up until they faltered in the final round. Rory McIlroy never really got into any rhythm and like many, endured a frustrating four days.
Taken
The memories of Merion centred around the new champion. Justin's two shots to the devilish 18th were two of the finest I have witnessed. After a fine tee shot that finished just a few paces from the plaque where Ben Hogan majestically struck his one iron over 60 years ago, the four iron struck by Rose was one of purity.
After an impeccable par, a gentle kiss on his golf ball and a look to the sky surely melted the hearts of all who were watching. A quiet tribute to his father Ken who was taken before his time. A father who has produced a well rounded son who has taken the ups and downs of life in his stride.
Having missed 21 consecutive cuts at the start of his professional career, Justin remained the gentleman. He never once complained or felt sorry for himself, always had time for everyone and continued to believe in Ken's teachings. Their reward came in Philadelphia.
His winning speech matched the quality of his golf and his media interview prompted many toughened old hacks to say it was the most impressive and emotive for many a year. Justin Rose has come a long way from these early, dark days.
So Merion is over. The theatre as much as the actors made this a splendid spectacle. England has its first US Open winner in 43 years and Justin Rose has climbed from the bottom to the top to fulfil his rich potential.
The United States has a worthy champion and the 113th edition of its Open will go down in history as one of their great championships.