Adam Scott's Masters victory was fitting, says Ewen Murray
Ewen Murray reflects on a dramatic Masters featuring Tianlang Guan's arrival and a classic duel.
Last Updated: 17/04/13 3:13pm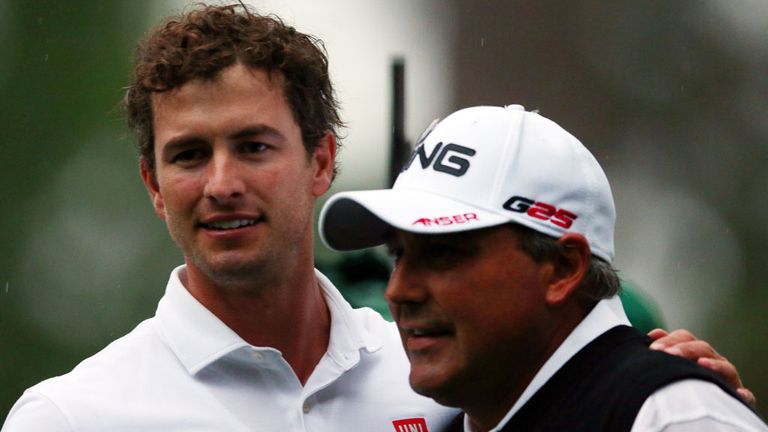 Now that the dust has settled on the 77th playing of the Masters, we can reflect on a week of drama, controversy, broken dreams, brilliance and superb sportsmanship.
On Thursday, Australian Marc Leishman and Sergio Garcia set the pace with rounds of 66. Friday saw Tiger Woods move in contention and 24 hours later, former winner Angel Cabrera was in position to become the second oldest champion.
On Sunday, Australian golfing history was rewritten and the long putter completed its Grand Slam, but more on that later.
Distracted
The headlines on Saturday were not about the golf played over the first two days. Augusta awakened to a furore about Tiger Woods drop at the 15th in round two.
Having seen his sweetly-struck third shot clatter the pin before careering back into the pond, Woods assessed his options. He didn't fancy the drop zone as it was damp and the grass cut would be against him. Following the point of entry was quickly dismissed because of the grandstand, so he went back to the spot he played his third shot from.
The rule, dropping "as closely as possible", is hard to define. Is it an inch, a foot, a club length? I thought at the time that his drop was "acceptable". It was close enough to the original position, on the same line and behind the divot mark. It was almost exactly the shot he had played before.
It was only in a televised interview that we found out he had intentionally changed the shot, dropping, "a yard or two back" from the original position. Clearly he had violated the rule by not trying to drop the ball "as closely as possible".
I'm not trying to dig Tiger out of this, but having hit one of the most pure shots of the tournament only to find his ball in the water, I understand why he could have been distracted from the correct ruling.
Withdrawn
After much deliberation and frantic discussions, the committee decided to activate a relatively new rule in tournament golf, 33/7, and under that law, with the addition of a two-shot penalty, Tiger was cleared to continue. It was all above board rules-wise.
I believe he should have thanked them for their consideration and withdrawn from the tournament as he had in fact signed an incorrect scorecard.
Once the words, "a yard or two behind" was mentioned, there really was no way back. Forty five years earlier, Roberto De Vicenzo signed an incorrect card and it cost the Argentine The Masters.
The reason he should have withdrawn was not just about what happened at 15. It's what might have happened in the near or distant future. What if Tiger had won? His 15th major would always have an asterisk by it.
What if he equals the Jack Nicklaus record of 18 majors? What if he wins five more and gets to 19? The asterisk would never have gone away.
By playing at the weekend he was in a no-win situation. A win would always be questioned; second has never been acceptable in his world. Quite simply, no-one came out of this sorry affair with flying colours.
Ambitions
Woods, however, is to be admired again.
Having gone through a torrid period of close on five years where, divorce, scandal, serious injury, loss of form along with a sickly betrayal recorded in a book callously written by his former coach, Hank Haney, his career and life is back on track and he has regained his position as the game's number one player.
He is swinging the club as well as he has done for several years and his nerve is repaired.
He has a new partner in Olympic champion skier, Lindsay Vonn, who, through her own dedication to her sport, will understand the work ethic Tiger requires to achieve his ambitions. I wish them both well.
Imitation
Earlier in the second round, we had further controversy when for the first time in 18 years in America and the first time ever in the Masters, a player was handed a shot penalty for slow play.
I was sad it happened to 14-year-old Chinese sensation Tianlang Guan, who added so much to this year's tournament.
I don't put the blame on the youngster - I put it firmly in the hands of the officials on all tours down the years.
There have been serial offenders during that period and every one of them has got away with it, give or take a few dollars fine. Padraig Harrington, Bernhard Langer, and Ben Crane are culprits from the past.
Keegan Bradley and Webb Simpson are hugely impressive young golfers and gentlemen of the modern era, but they are also guilty of the same crime, and I should say, they are not the only ones.
Tianlang is growing up watching these players, so there is no real surprise he is doing the same. Kids are brilliant at imitation.
At the Solheim Cup at Rich Harvest Farms in Chicago a few year back, I lost the will to draw breath as Michelle Wie and her three partners took over six hours to complete a match. It's unacceptable. It's a cancer that is slowly killing the enjoyment of many golfers worldwide.
The problem is that the officials target the group instead of the player who is offending. They know who the tortoises are and maybe after last week's decision we will see a change in the way they address this.
The penalty will stand Tianlang in good stead as his habit has been nipped in the bud.
Like most of you, no doubt, I was thrilled it didn't cost him playing on the weekend. He was a revelation playing four rounds without a three putt or a double bogey. His interviews were conducted throughout in his second language of English and he was as eloquent as he was magnificent.
Frustrating
I'm not sure if these two rules incidents had any bearing on Saturday's play, but it was a quiet day, maybe even dull. The course set-up was extremely challenging and the greens had become firmer and faster. Whatever, it was a day to forget for many reasons.
For Rory McIlroy, it was a frustrating week. His third round took him out of the running and once again he was out of sync with his swing. Not much is wrong and I think he is perhaps just a low round away from regaining top form.
His takeaway, however, looks different to me. The butt of the club, rather than moving away parallel to his right thigh, moves outside and away from his body meaning too much re-routing is required to bring the club back into line.
No-one plays well all of the time and remember his two major wins came after spells of ordinary golf.
As dull as Saturday was, Sunday was the opposite.
It looked like it was going to be Jason's Day when he took the lead with three to play, but like so many before him, the pressure told. Having birdied 13, 14 and 15, adrenaline had a lot to do with his tee shot at 16 which never left the target, but long at 16 is never good.
The bogey halted his charge and there was no time to reignite it but this impressive golfer and beautifully-spoken individual will win many tournaments in his career. At just 25 years of age time is on his side.
Sportsmanship
At 43, Angel Cabrera is heading into the autumn of his competitive years.
Another player to have suffered troubles off the course in recent times, the 2009 champion found his form and came within a whisker of a second green jacket.
One of the great images of the Masters was Angel turning to the eventual winner, Adam Scott at the 74th hole and giving the thumbs up after a gloriously struck iron had finished inside his fine effort.
Scott responded by doing the same to Cabrera. Minutes later both players embraced after a thrilling duel was decided by Scott's excellent birdie three.
I smiled when the television cameras cut to Angel and his caddie, son Angel Jnr. Arm in arm they headed for the clubhouse having done their best, not only that, they had shown impeccable sportsmanship that epitomised all that's good in golf.
At last it was Adam's turn and who could deny him his moment after the heart-breaking collapse at last year's Open Championship.
He has been a fine player for a long time and it was fitting that he should be the one to give Australia its first win at Augusta National.
I often saw Adam at Queenwood golf club when I was coaching Darren Clarke. He always had time for a few words, he was always upbeat and there was never any doubt he would become a major champion.
At 32 years of age he will have many more opportunities. The difference now is that he knows he has what is required to get the job done. He won his first in grand style.
The winning putt was struck with a long putter, Adam being the first to win the Masters with such an implement. It means that various types of long/anchored putters have now completed the Grand Slam. The debate continues as to their future and a further announcement on that subject will be presented next week.
This year's Masters will be remembered for debates on that and rules in general, but it is best to remember the amazing introduction to the golfing world of Tianlang Guan and the manner in which Angel and Adam duelled on a Rainy Night in Georgia.