Year to remember
Ewen Murray blogs on a fine year for the European Tour and Colin Montgomerie's Hall of Fame call-up.
Last Updated: 20/12/12 12:33pm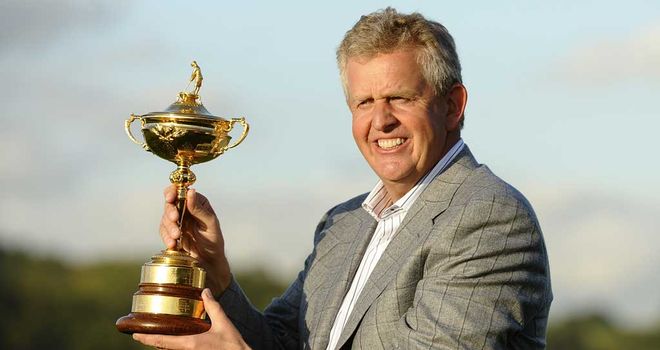 The curtain finally came down on a mammoth year of European Tour golf by the tranquil and iconic setting of Hyde Park in London's great city; a city where sport has been defined in 2012.
The tour's Golfer of the Year lunch was held at the Lancaster Hotel by Bayswater, attended by the country's media alongside officials and guests.
The announcement of Colin Montgomerie and former European Tour supremo, Ken Schofield, are to be inducted into the golfing world's Hall of Fame, came at just the right time.
I have been fortunate to be a member of the Tour since its inception in 1972 and I have marvelled at the way the Tour has progressed against some considerable odds. Back in the early days, there was some doubt that we would survive. Maybe more than some doubt. We were fortunate we had a powerful figure in John Jacobs to lead the revolution.
Then, other forces arrived during the moments that really mattered. From the highlands of Scotland came a man by the name of Ken Schofield, a former banker from the idyllic town of Crieff by the River Earn, situated a few miles north of Gleneagles. Ken had the energy and foresight to see this new regime through. Jacobs knew he was the man for the job and the European Tour began its fascinating journey, one that was to lead us to where we are today.
There were some tense moments, some difficult times, some awkward situations, but the diligence of Ken and his team prevailed and year by year we made progress. We had some good fortune along the way; Severiano Ballesteros Sota arrived on cue in 1976.
Seve led the new era, showed them what was possible and how it was done. Having gleaned much from the Spanish superstar, Ian Woosnam, Sandy Lyle, Bernhard Langer, Nick Faldo and Jose Maria Olazabal followed in his footsteps. By then the European Tour was in full flow, walking through American doors that were previously locked.
George O'Grady took over from Ken eight years ago and the change over at the helm has been seamless. In difficult times near home, he has embraced the rest of the globe and strengthened the game, which in turn has given way to new adventures for many countries. They are our future and together we will be stronger.
Merited
Ken's induction to the Hall of Fame is well merited. Of European golf, he was, without question, the Pied Piper. On 6 May next year, by St Augustine in Florida, he will take his rightful place in golf's history.
Colin Montgomerie will be there by his side. Eight times European number one is a record that will never be achieved again in our lifetime. While others crossed the pond, Monty played a full schedule at home and graced European venues with some virtuoso performances, winning the BMW PGA Championship three times in succession.
Other remarkable achievements came in the Ryder Cup when home and away, European blood flowed through his veins. He remained undefeated in his eight singles matches and when his clubs were given a well-earned rest, he led Europe to victory as captain in 2010 at Celtic Manor.
During his career, he has had some ups and downs, especially when he travelled west to the land of Uncle Sam. Yet, when I have been with Colin on our sojourns to the States for Sky Sports, I have seen only respect from the American galleries. They have recognised what Monty was about: a serious competitor, a great golfer and one who gave his best every time he took to the course. He will enjoy a new career on the Champions Tour after his half century next June.
The Hall of Fame Chief Operating Officer, Jack Peter spoke warmly of both men as well as of our Tour and confirmed Colin and Ken will be excellent additions to the World Golf Hall of Fame and Museum. On that May day next year, Fred Couples, Ken Venturi and from a bygone day, Willie Park Jnr, will join them along with the greats that have gone before them.
The lunch, by title, was to honour Rory McIlroy, the undisputed number one in every sense of the word. I would have loved Rory to be there to receive his award, but such is the golfing world today it was not logistically possible.
Roger Chapman, the two time major winner on the Champions Tour this year received Honorary Membership of the Tour, the highest accolade that can be presented to one of their players. Dewy-eyed, and there is nothing to be ashamed of there, Roger spoke of his early days in Europe and the long road to the success he enjoys today.
I congratulate all of these top sportsmen on their achievements over the past years and look forward to the next generation trying to emulate them.
Man of the Year
I could not finish without a word on my "Man of the Year" Ian Poulter. This lionhearted Englishman single-handedly took the Ryder Cup to the United States team at Medinah in September.
Down 4-10, late on Saturday afternoon, Poults produced some of the finest golf I have had the honour of watching. It was beyond the call of duty, it was enthralling, exceptional, inspirational and brilliant. It gave his team a foundation on which to build and his team mates grasped that opportunity with open arms.
The rest we know and many of you will relive that amazing weekend in Chicago with us on Sky Sports on Christmas Day.
It's been quite some year on the fairways of the world. Next year has much to live up to...
Happy Christmas and my best wishes for a prosperous and healthy 2013.
Ewen.