Tiger turns corner
Ewen Murray believes Tiger Woods is back to the force of old after his victory at the Memorial Tournament.
Last Updated: 06/06/12 9:05am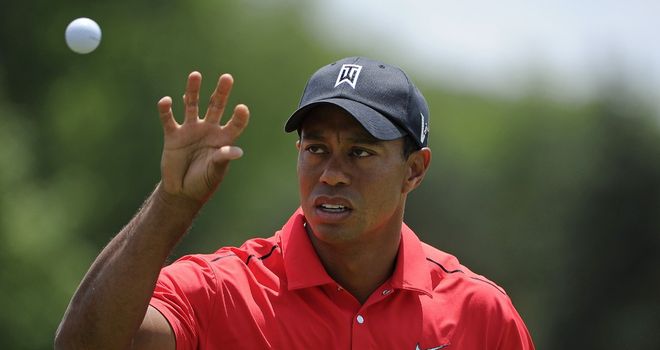 The golfing world has a familiar look to it this week. Tiger Woods sprinkled some of his stardust by Muirfield Villages' 16th green last Sunday and in doing so, sent a strong message to his peers ahead of the year's second major championship.
Some of us could have been forgiven for thinking the well from which his mercurial shots, played throughout his glorious career, had run dry.
There was "that pitch" at Augusta, his second to 18,208 yards from sand and over water en route to winning in Canada, and a putt that no one had any right to hole on Sawgrass' infamous 17th.
There have of course been other magical moments, but the chip in last Sunday that enabled him to match the 73 PGA Tour wins of Jack Nicklaus was a clear indication that Tiger is back where he feels most comfortable.
The last few years have been doom and gloom for Woods. Off-course ruination which produced on-course turmoil along with illness and injuries that would have seen a lesser individual close the book on a golden career. That of course is not Tiger Woods' style.
Throughout these traumatic seasons, Tiger has had to endure much, including ridicule, perhaps the hardest of all to deal with. He has rebuilt his swing for the third time since he joined the Tour 16 years ago, searching for one he can trust to deliver when the sniff of a victory presents itself.
On Sunday in Ohio, he found it. Having departed the world's top 50 when at his lowest ebb, this week he is snuggled in just behind the top three and his stock is once again rising.
Excitement
The game has missed his fist-pumps, the roars and excitement he creates and indeed the moments of sheer genius. His latest offering prompted Jack Nicklaus to say, "the second to 16 was the bravest shot I have ever seen, utterly audacious". Some praise from a man who has played his fair share of these.
The American television ratings were 138% up from the norm on Sunday and all of those who tuned in will have noted that Tiger is still capable of vision and touch none of his pretenders can equal.
Some will say Woods won earlier this year in Arnold Palmer's back yard only to disappoint at the Masters, but this was a win with a difference as it had the Tiger stamp all over it. His decision to try and play the majority of shots from left to right was the correct one, something dearest Seve refused to do during his poorer periods.
When these two drove the ball in the fairway, their class from 200yards and in was unsurpassed. The three that lie ahead of him in this week's world rankings are three of our own. Luke, Rory and Lee, all of whom have had ups as well as downs this year.
The return to top form of Woods will help them focus on the coming months and the sport is set for a sparkling summer.
The venue for this year's US Open is the Olympic Club in San Francisco. The last time we were there Lee Janzen won the second of his national championships, having won the first at Baltusrol five years earlier.
Back in 1922 saw the birth of Olympic. The members bought an existing golf club on the western edge of the city, the then floundering Lakeside Country Club. As its name implies, it bordered a lake, Lake Merced, which is a small freshwater stretch of water less than a mile long and separated from the sea by a spine of low sandhills.
The course had been constructed on the bare inland side of a hill, it's principle feature was the canted topography of its holes sloping abruptly from the crest of the hill to Merced. Their first contribution was to plant thousands of eucalyptus, pine and cypress trees to frame the fairways.
It has of course had many tweaks since these early days, but the trees and side hill slopes remain and in many ways, that is its defence. Fairways that are hard to find and greens that can be more than puzzling.
This was where little known Jack Fleck shot a 67 on the final day to tie Ben Hogan, then defeat him in the play-off in 1955. Arnold Palmer blew a seven shot lead in 1966 and lost by four in the play-off against Billy Casper. In the 1987 Open, only winner Scott Simpson and runner up Tom Watson finished in the red. Accuracy and safety off the tee has long been the motto of success in this championship, this year will be no different.
Celebration
At the end of last month, I went south west to the Bramshaw Golf Club in the New Forest for a celebration of the golfing life of John Jacobs. The club hosted a truly wonderful day that began with an exhibition match over 11 holes featuring Bernard Gallacher, Neil Coles, Andrew Murray and Tommy Horton.
They may be over 50, two in fact are on the wrong side of seventy, but they produced some fine play over a beautiful parkland course. After lunch, the players and some of John's friends took to the stage and reminisced about their times down the years alongside "Jake".
Val Doonican, now 85, spoke warmly of the man who was credited with starting the European Tour and the afternoon was compered by the Tour's former supremo, Ken Schofield. John of course has done so much in his golfing life and all he has done has made the game better.
There were tears, both of laughter and emotion, and I won't forget the love of the members who have enjoyed his company over the 40 years. John is 87 years young and in July I will visit him again for an interview to be shown on Sky Sports later in the season.
At Wentworth, during our flagship event, the BMW PGA Championship, Tommy Horton was awarded honorary membership of the European Tour. Tommy has had a distinguished career both on the regular tour and the seniors equivalent. Along with John Jacobs, Tommy hosted what was called Apollo week, then McGregor week, in the south of Spain.
This was for successful graduates at the qualifying school. Having gained their Tour cards, Tommy and John would spend time helping them with their game but more important, guiding them in other areas, like dealing with the media, how to maximise their time on Tour both on and off the course, and making them aware of pitfalls.
Many of today's top players were present during these seminars at one time or another and they owe much to the diligence and understanding these two fine professionals displayed. Honorary membership is the highest accolade the Tour can present. Tommy Horton is more than worthy of this award.
Slow play
With Thai star Thonchai Jaidee the latest winner in Europe, the headlines were more of Ross Fisher's one shot penalty for slow play, which arguably cost him the Wales Open. I applaud the Tour for their actions as this is a disease that could kill the game. I was sorry it was Ross as he has never struck me as one of the games slowest players, but it is a warning that in the future, undue delay will not be tolerated.
At the Players Championship, I would not be the only one to feel sympathy for Kevin Na, who could simply not "pull the trigger". It was however hard to be the player alongside him and tough for those in the groups behind him. It's twenty years since a player on the PGA Tour was docked shots for slow play. His name was Dillard Pruitt, who incidentally is now a Tour rules official!
They have their culprits stateside and I hope that when the occasion arises, they will do what their European counterparts have done. Ben Crane, and others, beware. Five hour plus rounds need to become a thing of the past, on Tour and off it.
So the US Open is all but upon us and it's our privilege to bring it to you live from San Francisco. More than 30 hours of extensive coverage begins on June 14. With Tiger well on the road to recovery, Luke at the summit of the game, Westwood as consistent as ever and Rory smarting from three missed cuts in a row, could this wonderful golfing show beset up more perfectly?