A special triumph
Ewen Murray explains why Bubba Watson's Masters victory can only be good for the game of golf.
Last Updated: 18/04/12 11:55pm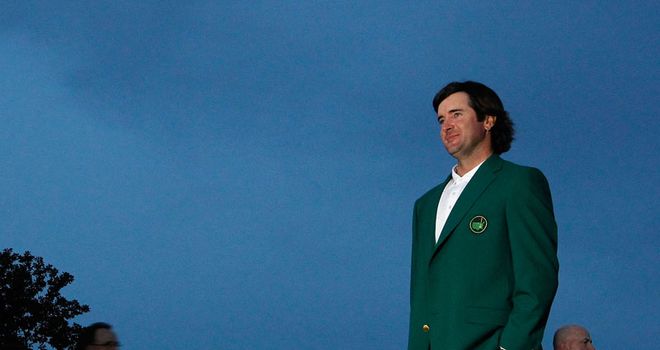 The 76th Masters will be remembered for everything that this magical tournament stands for.
In golf's most elegant setting, we had drama, excitement, highs and lows and the year's first major delivered in every way.
On Thursday, England's Lee Westwood gave his supporters exactly what they wanted with an impeccable round of golf that could have been even better given his imperious ball striking.
This continued throughout the four days but once again, short game errors left Lee a fraction shy of what his game so richly deserves.
His long game has an enviable flow to it. I've been fortunate to watch Westwood at close quarters during his impressive career and his play during the past three years has been exemplary. He has focused on his short game extensively over the past two years and therein lies the problem. His flow stops within around 30 yards of the green.
Belief
There is nothing particularly wrong technically with his chipping, pitching, bunker play or putting. But it's done by positions and not feel.
When you are 'method conscious' your concentration is on that alone. Your vision, feel and imagination are each relegated. The short game is a game within a game and so much of it is down to imagination, i.e. where to land the ball, how much spin, how little spin and how much run.
The shot, which is never the same as the last one or the next one, has to be dictated by visual image and what trajectory is required to play the shot perfectly.
Lee's putting is the same. Technically sound, yet done by numbers because his focus is on how to do it. Down the years, great players have willed the ball into the hole under pressure: Woods and Nicklaus two prime examples of that. The difference between the long game of Westwood and the short game is that he has total belief in the former.
Wrong
The writing was on the wall at the 18th on Friday. With mud on the ball, his approach came up left and short - only the fourth green he had missed in 36 holes. Focusing wholly on his technique, he missed the shot he would have seen had he had trust in his pitching.
The shot should have been played to the right of the pin allowing the slope to bring the ball back to level the hole was positioned on. Instead he played at the pin. It wasn't a bad shot, but it was the wrong choice and it left him a treacherous putt which he raced three feet by, and then he missed the next one.
At nine on day three, having played beautifully, three putts from 8 feet turned a birdie into a bogey. Testament to his mental fortitude was the fact he was still there with four holes to play and after another glorious iron shot over the water into 15, his putt looked mechanical and never really threatened.
Those of you who read this column regularly will know my take on short game experts and mind gurus.
Where does the short game begin? At 60 yards, 40 or 20? When do you begin to change your technique and when do you revert back to the one that has proven to be relied on?
That's only my opinion, but when Lee finds out the short game is only a smaller edition of the long game, his brilliance will provide him with what he and his career is missing.
Chances
Meanwhile, the comments after the third round of Sergio Garcia were at best worrying.
"I'm not good enough to win a major," said the Spaniard. Sergio, I don't think so.
He has had his chances. An eight-footer on Carnoustie's last green would have done the job and a six iron a yard straighter would have given him the USPGA title at Oakland Hills.
The more opportunities he gives himself, the more chance he has of landing one and at the age of 32, there is time.
The interview after round two was a troubled one. He centred on the negatives, ignoring the positive play he produced over the first 36 holes. That's not the way he lives his life. Something is missing, I'll give him that, but it's much too early to give up hope. He is seven years younger than Westwood.
Cuddle
Alongside him on the Saturday was Rory McIlroy and both, to be fair, had an awful day.
McIlroy had one of those rounds that happen for no reason. Anyone who plays golf will understand that. At 22 years of age he will have a few more of them in the future but one thing is for certain - he will have many good ones too.
One of the images of The Masters will be their now infamous 'cuddle' on Augusta's 12 green. Having played like some of us do regularly, they both birdied the 12 and the spontaneous hug brought some light relief to their troubles.
Asked if Rory was a good 'cuddler', Garcia's response; "Yeah, not bad, but I hope you noticed I kept my hands high"!!
He may have his demons on the course at the moment, but his sense of fun is still very much in place. The Olympic Club in San Francisco hosts the next major. I believe it is a venue that will suit Sergio and the exacting test of the US Open is one he might warm to.
Wild
I honestly thought Tiger Woods would win last week.
I had thought that for three months, long before his seventh win at Bay Hill. I felt that with some regular tournament play and a run of injury free golf would be the perfect preparation for him to return to a course that he is totally comfortable on. I also thought the past would drift far enough away for him to concentrate fully on The Masters.
The book written by his former coach was never mentioned throughout the week, (thank you for your comments on that) and the scene was set for him to return to his position of supremacy.
The Tiger that turned up in Georgia was not the one we expected.
His first two tee shots were fully 100 yards off line and from there things never improved.
He had no trust in his swing carefully constructed by his coach Sean Foley and they have more work to do. I find it easy to understand him wanting to fade the ball because it's safer and easier to control the distance the ball goes.
What is hard to understand is that he is trying to do that with a shut club face during the backswing. His Haney backswing which had loft, coupled with his Foley follow-through would produce a fade and take the left hand side of the course out of play, something he is striving to do.
His wild pull hooks came when he trusted his swing, the blocks arrived when he didn't. He was between the devil and the deep blue sea. My opinion is that his swing is the least of his troubles.
Down the years, Tiger has craved privacy; he even gave his yacht that moniker. I have never seen him look so lost and alone.
After each round and practise he would go back to his residence to what? Does he have any real friends? Does he have what we would call mates? His ex-wife and children would not be there. He would no doubt analyse what had gone wrong, (for the record he was the second worse driver and hit just 40 of the 72 greens in regulation) and that would take up his time until the following round.
Strangely enough, in his interviews, he was more open than he'd ever been, perhaps revealing a need to talk about his struggles, not exactly a cry for help, but a sure indication he was a little lost.
Over the years, Tiger has been fuelled by winning and arriving home on Sundays with the title and the trophy. I imagine one of the worst feelings is not having anyone to share that success with.
The worst feeling no doubt is not having anyone close to pour out your fears and problems and receive guidance and understanding. A problem shared is not necessarily a problem solved, but it surely beats his isolation from the normal world.
The very thing Tiger Woods has craved from the beginning might just be the destruction of him.
Twist
As The Masters gathered momentum some thrilling stories were narrated.
Going into the last few holes several players were in contention. Before these splendid closing moments on Sunday, Louis Oosthuizen had written himself into the history books with what will be a strong contender for shot of the year.
If Gene Sarazen was watching he would have afforded himself a wry smile as Louis ball ambled across the second green and into the hole for an incredible and improbable Albatross two. The roar was the loudest I have heard on a golf course and on tossing his ball to a patron in the gallery the story took an 'Augusta' twist.
The man who caught the ball was a certain Mr Mitchell, vice chairman of a pharmaceutical company in Pennsylvania. Within moments, a buggy arrived with two officials from Augusta National and Mr Mitchell was invited up the hill to the clubhouse.
Later, the news was that he had donated the ball to the club and the following day, it was mounted and put inside the glass case which is the home of Gene's and the ones of Bruce Devlin and Jeff Maggert, who in the past equalled their feats at the eighth and thirteenth respectively.
I think Mr Mitchell can look forward to many Masters in the years ahead!
We had two holes in one on Sunday from Adam Scott and Bo Van Pelt and then the climax of four truly wonderful days.
Louis did very little wrong and yet this was a tournament won by Bubba Watson.
Here is a player with no coach, a free spirit who never attempts to play a straight shot, a player whose game is entirely based on imagination and feel. He is a champion born of unorthodox style.
His win is good for the game and it goes to show that as long as you have reasonably-sound basics, there are many ways to play golf successfully.
His victory may well inspire many to take up golf. When Bubba made his trip to France last year, he made few friends with his comments on France and about our tour, but you could not help warm to him when he said, "my dreams never got this far".
Embracing his Mum on the 10th green amid floods of tears, he unashamedly bared his soul to millions and left us in no doubt what his victory meant to him and those closest to him.
After a few dates with his now wife, Angie, she told him if they were to have a life together, they would have to adopt to be a family. Two weeks before The Masters, after a four-year process, they adopted.
Life is good for the Watson's and their young son Caleb will have a sound beginning to his life.
This enchanting event, played on the best presented course in the world and framed by the tall Georgia pines never fails to deliver. It has everything every golfer wants to see.
There is always heartbreak for some and joy for only one. For us, there are always memories to cherish. The theatre as much as the actors make The Masters what it is.