Rock climbing
He's just beaten Tiger and is targeting the Masters. Robert Rock can join golf's elite, says Ewen Murray.
Last Updated: 31/01/12 1:59pm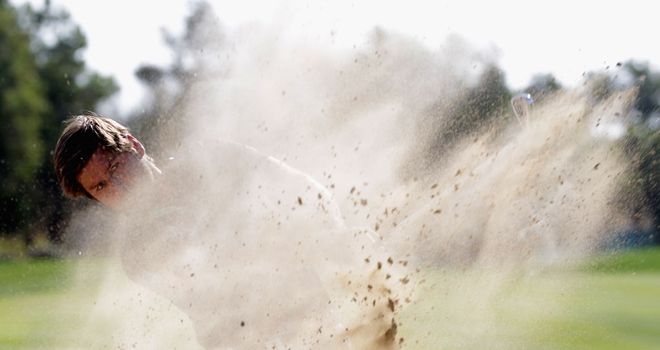 What a start to 2012 in the Middle East! Robert Rock's victory was a thrilling one as well as being thoroughly deserved.
During last week at the Fancourt Links of South Africa, Robert sought advice on his short game from my co-commentator, Tony Johnstone. Tony has written books on the short game and for many years was recognised as the Tour's best bunker player.
It was not a long consultation as Robert is a keen student of the swing and knows more about his action than most of the other players do about theirs, but it was impressive he mentioned Tony in his victory speech in front of the majestic Falcon clubhouse in Abu Dhabi.
Somewhere along the line, they hit on something and whatever it was may have given him an extra edge.
Progression
Robert has come through the ranks as an assistant professional before moving onto the PGA Midland region circuit.
He won enough money through seven invites to secure his card back in 2003 and since then it's been a steady progression to where he stands today, just outside the world's top 50 golfers.
A quiet unassuming young man, he now has the platform to take the next step and join the elite of the sport. He should make the Accenture later this month in Tucson and with another good performance before then, the Cadillac at Doral.
His ultimate target will be the top 50 before the end of March which would earn him his first Masters Invitation, something he will have dreamed of since he first put a club in his hands.
The fact he brushed aside the second strongest field ever assembled on the European Tour will inject the confidence and belief that was missing before.
He has just opened a golfing academy near Lichfield and employs qualified professionals to help all ages of golfers in that area, whilst having one eye on business when he finishes his playing career. That's a long way off and for Robert right now, life has never been better.
Difficult
So what did you make of the performance of Tiger Woods? Starting his season for the first time outside America, he lit up the event with some impressive play over the first three days, before stumbling on Sunday.
During the first three rounds, his statistics read 46 out of 54 greens in regulation and 26 fairways found out of 42, his best without doubt for several years. On Sunday they read, five of 14 fairways, six of 18 greens.
It goes to show just how difficult it is to make changes, even for someone as gifted as he is. They take time to settle in and it takes time for the player to become acquainted and familiar with the different positions and feelings.
I have always believed that Tiger is a better player when he has a fade in his mind. You could see by his practise drills he wanted the ball to start slightly left of the target before drifting back onto it, yet when required, he changed the flight. The fade is the total opposite to Hank Haney's teachings.
When Woods joined forces with Hank, he was practising 20 yard hooks with a five iron. The Harmon years had him somewhere between the two.
I felt his swing was too steep for pitching, something he admitted had troubled him on Sunday, yet his driving was without doubt a big improvement. Most of the fairways missed were with a three wood.
The one department that will have thrilled him was on the greens.
Through the passage of time, his nerve is repairing and the hinge in the left hand going back and the "toe over heel" on the way through was back to its best. His putting was very impressive, his feel for distance, excellent.
His invincibility is a thing of the past, but there was enough during four days in Abu Dhabi to see that Woods retains the desire and work ethic to get back to where he was before his self-orchestrated demise. I would be surprised if he doesn't win the Masters.
Value
My thanks for your response to the last column and I begin with Scott Beaumont's question on the Woods appearance fee reported to be around the two million dollar mark.
I don't agree with what are effectively appearance fees, nowadays disguised as 'promotional fees' but had Tiger not been paid, would he have chosen to start his season in Abu Dhabi? I think not.
The one thing I will say about Woods is that he certainly gives value for money. Every time, he performs to the very best of his ability and last week was no different. Thirty five thousand was a record crowd for this event last year.
With Tiger there for the first time, 82,000 spectators paid to see this year's championship. It's not expensive to watch golf in the Middle East, yet 47,000 extra paying customers would have gone a long way in paying for Tiger's participation. It's hard to argue against that, Scott!
I'm not certain, but I would imagine, Luke and Rory would also have been paid, although not on the same scale. I think you can add the names of Lee Westwood and Martin Kaymer along with Sergio Garcia and Darren Clarke to the 'invitation' list, maybe more.
The argument you can put forward is, that if these fees went into the prize fund, wouldn't the best players turn up anyway? Yes they would, but not Tiger. He is the exception. Like it or not, he makes a huge difference.
Recommend
Bob Smith registered his disappointment of television coverage showing too often only one page of the leader board. I understand your frustration Bob, but should we always show the whole field, others would complain about not seeing enough golf.
I have taken your point on board, because I believe it's a valid one. During the telecast, I try to update some of the players who are not featuring at the sharp end and I will try to do that more often in the future.
I think the 'crawler' at the bottom of the screen is the answer every half hour or so. It's something the producers and directors may well look in to.
James Walmsley asked if I could recommend some courses in the Manchester area after my report on Liphook last month.
James, I'm not that familiar with many courses there apart from venues we had on the European Tour many years ago. Wilmslow, which hosted the Greater Manchester Open was a fine course as I remember, as was Northenden.
I have played Mere which I remember was very pleasant. Should any of the readers know more, I'm sure James would like to hear from you via this column.
Nerve
Iain Taylor raised the question, is Paul Lawrie good enough to play his way into this year's Ryder Cup side? He is certainly good enough Iain and Paul seems to have got a second wind after his win in Malaga last year before closing out the season with a stunning final round to secure second place in the Dubai World Championship.
Another sound performance in Abu Dhabi last week confirmed his game is in good shape. His top ten place took him into the top 80 of the world rankings. To have the best opportunity to make Jose Maria Olazabal's side for Chicago, you really need to be inside the top 50, as that gets you into the World Golf Championships and some of the majors.
That is a huge advantage to any player hoping to achieve that target. A win in Qatar or Dubai would just about do it, so the next two weeks are of extra importance to Paul. He is an all-round good player with no weaknesses and now into his forties retains a strong nerve.
More than that, his desire and the enjoyment he gets from playing is the same as when he came onto the tour via his assistant professional post at Banchory.
Finally, Harvey Woods asked if injured shoulder victim, Paul Casey really be snowboarding given the dangers of that sport.
Harvey, it's a sensible point you make, but I feel if you wrap yourself in cotton wool, won't you take some of the fire and personality out of the individual? Bernhard Langer and Mark James have always skied and no doubt they have suffered the odd injury here and there.
When I played on what was then a six month tour back in the eighties, I trained and played at Crystal Palace football club in the winter, in between playing in South America and Africa. I received the odd kick here and there, but it was a way of staying in good shape and it no doubt helped as he temperatures in these parts regularly passed the 100 degree mark.
The game of course today is unrecognisable from these years. The rewards are huge and the standard is far superior with more strength in depth on all tours. There is also more pressure and I believe it is important to have down time you can enjoy.
In hindsight, snowboarding was a mistake, but many will say you can't live your life in a bubble and too much of one thing can make you stale.
Accidents happen in life, like Martin Kaymer breaking his foot in a go cart, like Steve Jones falling off a quad bike and breaking his wrist. Being sensible is the key.
I hope Paul comes back stronger than ever, because I'm not alone in recognising he is an immense talent who has not yet reached his full potential. He is still young enough to achieve that.
So it's off to Qatar now where the same course architect as Abu Dhabi, Peter Harradine completed the Doha course in the early nineties. It's very different to last week's venue, certainly more rugged and the back nine retains virtually all of its desert features. It will be breezy, so it's a shot-maker's paradise. Thomas Bjorn defends.
My thanks for your correspondence and interaction; enjoy the four days from Doha.