Getting a round
As Ewen Murray returns to his day job, a round at Liphook reminds him why he loves the game of golf.
Last Updated: 17/01/12 11:53am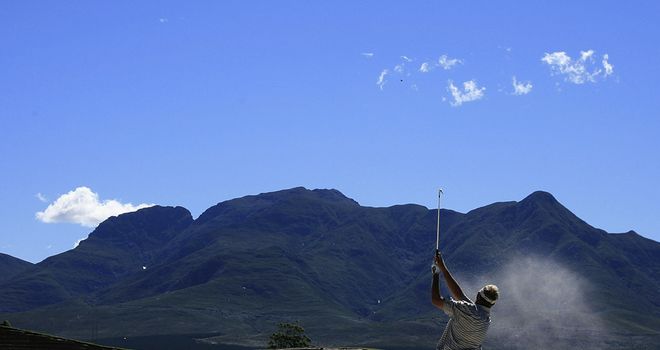 Having welcomed in 2012, it's hard to believe we have already had two tournaments on the European and PGA Tours.
With the northern part of the United States experiencing their normal weather at this time of year, the Hawaiian sun has been enjoyed by the limited and full field in the Hyundai and the Sony championships, while South Africa has opened up the calendar year on the European Tour.
Steve Stricker became America's first winner of the year with a peerless performance over four days in the depleted Champions event and that was followed by a third win for Johnson Wagner.
After an extraordinary season of first time winners last year, America awaits a rookie win this time round. That may come in what used to be the Bob Hope Classic this week.
Louis Oosthuizen has the confidence of an early victory having successfully defended in East London and Brandon Grace made it a home double with his maiden win at Royal Johannesburg and Kensington.
Brandon is a fine golfer who has never had total belief in his ability. Maybe this win will make the difference. It should.
At the start of this week I begin my season and the first port of call is the delightful town of George by the garden route in South Africa. More on that later.
Revered
With our weather being kind over the festive period, I'm sure a few of you managed to get in some golf at your home clubs. My working colleagues at Sky try to get together at this time of year for a game before the season gathers momentum.
Last Friday, Robert Lee, Jamie Spence, Simon Holmes and myself met up at one of Hampshire's most revered courses. Liphook is one of these heathland lay outs framed by heather, pines and silver birch and has continually been in the country's top 100 courses.
It was back in my assistant professional days at Walton Heath I had played there and I had a mental reminder that it was special.
Returning, after a gap of more than 30 years confirmed what a stunning golf course it is. At 6,300 yards, it's not long but it's defence is the narrow and tight fairways along with the run-off areas that leave hugely difficult pitches and chips. Accuracy and touch is the premier requirement, distance means little.
My great friend, the late Alex Hay, whom I worked with for a year at the European Sports Network a couple of decades ago, asked me one day how I was playing. I said I hadn't played for a few months as I was learning this new trade in television.
He looked serious and after a moment of thought said: "then you should be playing, because one day you will want to play and you won't be able to through age". At that time I was in my mid-thirties and hadn't thought of getting too old to play golf, but as the years tick by, I now fully understand his wise words.
I recalled these words to Rob, Simon and Jamie as between us, one of us always found a lame excuse not to play. It had the desired effect and we duly made Liphook's first tee.
Enjoyable
Three-and-a-half hours later, we looked back on one of the most enjoyable rounds you could ever hope to have.
We did what you all do at your own clubs, threw the balls up for partners. Jamie and myself would take on the other two. Having opened with a double bogey at the par-three first, I doubted my wisdom of thinking I could still play to a reasonable level. I suspect Jamie was thinking the same thing, but having made his three to keep us all square, on we went.
Because the course is about 1,000 yards shorter than the ones built in modern times, losing a few yards off the tee through advancing years and lack of play mattered little.
I first played with Jamie in Zimbabwe at the turn of the eighties and his play had not altered since. Accurate, precise and a neat and tidy touch around the greens. Rob, despite covering the golf from Hawaii through the wee small hours played consistently and remains very competitive. Much of Simon's last few years have been devoted to teaching, and coaching some of the top players in the game, yet I remembered he didn't miss too many fairways and that had not changed.
When we played together on tour, we were so wrapped up in our own games we were oblivious to what our competitors and friends did. Selfish that may seem, but that's the way it was.
The standard was on the right side of decent and I was thinking it was because we were actually enjoying just playing golf. That maybe was not always the case when we were playing for a living.
The course played a major part in the enjoyment. The greens were the best I had seen anywhere in this country at this time of the year. 10 on the stimpmeter. The green staff were hard at work re-laying some tees that had grown old. When the season officially gets underway in the spring, the members will be thrilled their course has been so well cared for during the dark winter.
The result didn't matter. What did, was that we enjoyed a four ball like you do every week with your golfing mates. A cup of tea in the clubhouse and a chat ended our visit with a promise that we will do it again in the near future.
Jamie left to attend a dinner at a nine-hole course he began playing at, Rob and Simon made their way to the studio for round two from the Sony and after a short struggle getting out of the car in deepest Sussex, I had a very hot bath and two anti-inflammatory tablets!
What a great game golf is, for so many reasons.
Tough
Now of course, it's time to get back to the day job beginning with the Volvo Champions event at the tough, long, Gary Player-designed Links at Fancourt.
Situated by the town of George which blossomed in 1810 as a woodcutters outpost it was named after King George the third. Today it has a population of 200,000. It's surrounded by the Outeniqua Mountains, a name that means, "man laiden with honey".
The slopes of the mountains are covered with heather and swarming with bees. The town has its own golf course and George golf club was where Ernie Els played some of his junior golf. His father, Neels, plays there more than occasionally today. It's £30 a green fee and has a stipulation that a round must not take longer than four hours.
For those of you who can join us for the Volvo on Sky Sports this week, you will see some great golf and also that nature has made an enchanting abode of this beautiful place.
The only negative is that defending champion, Paul Casey will be missing. A snowboarding accident has damaged his shoulder and it looks likely he will be out for two months.
Paul has had his problems over the past 18 months with a rib injury, a divorce and now this. Hopefully the bad things will stop at these three and when he comes back fit and strong, we will see the best of what is a huge talent, a talent that is respected by many.
The Volvo sees the end of three events in South Africa, a republic that now plays a big part in our Tour. The following three events make up the Middle East Swing beginning in Abu Dhabi before moving on to Qatar and ending in Dubai.
The return of Tiger Woods comes in Abu Dhabi where Martin Kaymer defends. These three tournaments boast superb fields on three marvellous courses.
If you have any questions, on your own golf, or any other subject, feel free to post them here and I'll try and answer them for you. There is not a lot to do during the middle eastern evenings!
This month sees some of the best golf of the year, enjoy it, it won't be too long before your own season gets underway.