Power from the East
Ewen Murray blogs on China's golfing growth and Steve Williams' unwelcome slip of the tongue.
Last Updated: 29/11/11 12:50pm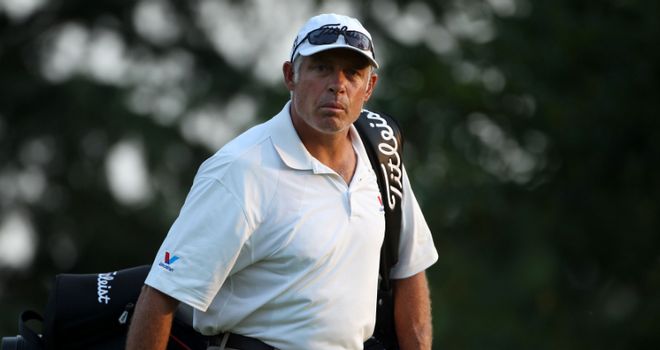 I am a little bit jetlagged after the 13-hour flight from Shanghai but I took home some fine images from a superb HSBC tournament at Sheshan International.
Martin Kaymer's last 12 holes will stay with me for some time. In over 20 years of watching top-quality golf on Sky Sports, the German's last round was an awesome display of golf at the highest level and if ever a tournament was won, then that was it.
Nine-under for the last 12 holes, 15-under for the last 33 holes is the stuff of dreams. His ratio of birdies was reminiscent of a squirrel gathering in his store for the winter. Martin has been too quiet for too long, but in the financial showpiece of China, he found the form we all know he is capable of.
When we first visited China in 2005, there were only a handful of spectators watching David Howell win the inaugural HSBC and they were confused by the spectacle in front of them.
Six years on, the fans turned out in their thousands, this time extremely knowledgeable with a vastly improved etiquette.
Golf is still an elitist game in the Republic but that is also changing rapidly and with around 500 courses under construction or at the blueprint stage, the game is certainly gathering momentum.
Glimpse
Driving ranges and academies are planned all over the country and golf is now being taught in some schools as part of physical education. A few years back in this column, I said that it won't be long before China has a major champion and in the next decade, I believe that will happen. We may have had a glimpse of him last Sunday.
Zhang Xinjun is 24 years old and has recently married. He began his working life as a golf-course security guard in Xian where the Terracotta Army is found.
He progressed to caddie and then onto professional golf, playing in the local events. In the last round, he was paired with Kaymer and Paul Casey. He would have gleaned much from these two impressive individuals and, in the process, learned a lot about himself.
Three-over with three to play, Zhang chipped in for an eagle, parred 17 and then rolled in a 20-footer for a closing birdie and a round of 72. His prize was around 60,000 Euro. When his ball disappeared on the final green, the scenes that followed were heart-warming. The loud cheers including tears of joy, genuine pleasure that one of their own had done so well and I felt at the time, the start of their golden new era.
There has been so much to admire in the world of golf during the past 10 months. Charl Schwartzel's four-birdie finish at the Masters, Rory McIlroy's demolition of the field at the US Open in America's capital and Darren Clarke's day at Royal St. Georges, but the vision of sheer happiness for so many in Shanghai will stay with me for a long time. I will remember it when their first major champion is crowned.
China is a hugely impressive country. 24 million work and play in Shanghai alone. Work is important as that is the only way to survive. Their discipline is admirable.
It's hardly surprising they are surviving the economic downturn better than most countries. They are trying to work their way forward. Hand-outs are not part of their culture. There are smiles everywhere you go and there is a feeling of safety. I look forward to going back and I think we will see many more events there in the future.
Painful
I was very happy to see the return to form of Paul Casey. I'm a huge fan of his, not just as a golfer but as a person, too. He has had to deal with two painful injuries in the last two years, but his fourth place last week confirms there will be better days ahead. Having missed out on the top 125 Stateside, we will see more of him in Europe next year.
Well done to Graeme McDowell. Having shot 81 and 82 at the weekend in Valderrama, his third place was impressive to say the least. An ear bashing from top coach, Pete Cowan, had the desired effect.
Cowan is a no-nonsense person as well as a gifted teacher of the game. He works at least as hard as his clients, probably harder, so he's fully qualified to say what he did. McDowell did well to take on board what was said and he looked like the golfer we all know he is.
Also in Shanghai, there was Stevie Williams! Oh dear!
What an almighty mess that has turned out to be. On what should have been a night of celebration for the caddies, we had an international incident with the silly comments Steve made when receiving his award for his win with Adam Scott at the Bridgestone Invitational.
I say silly, because that's what they were. I have known Stevie for many years and he is not racist and that has been confirmed by Tiger Woods who has handled this sorry affair very impressively. Understandably, Woods could have reacted in a different way and no one would have blamed him for doing so.
The caddie awards is a "private function" but I'm sure you will agree in this modern world, there is no such thing. With mobile phones that can have a picture and story on a news editor's desk within seconds and that truly awful Twitter that seems to be used only by those craving attention, nothing can be said in private. But the words he used should never be voiced anywhere. Quite simply, there is no place in our world for remarks like the ones Steve made. They were extraordinarily stupid.
The person I feel sorry for is that thoroughly decent chap and fine golfer, Adam Scott. Pressure is on him to sack Williams, but what has Adam done to be at the centre of the storm? Nothing.
With Tiger and Adam headlining this week's Australian Open, before moving onto the Presidents Cup, it's the last thing they should have to deal with and knowing how the media world works, it will not simply go away.
The sad thing about all this is the collapse of a relationship Tiger and Steve enjoyed over 12 years. In that time together, they won 63 tournaments, 13 of these major championships.
Tiger's winnings for that spell was around a hundred million dollars with Steve's take around 10 per cent of that. After last week, their relationship can never be the same again.
Vintage
On a brighter note, the year is turning out to be a vintage one for golf in Europe. At the top of the world rankings is Luke Donald followed by McIlroy, Lee Westwood and Kaymer. Rivalry is good and theirs is set to continue into 2012.
For Luke, this season has been a glorious one as he is set to top the money lists on both sides of the Atlantic, a remarkable feat. It's disappointing the Race to Dubai is all-but over five weeks before the final event.
With a first prize in Singapore of a million dollars, a win from Rory or Martin would have kept the race running. I understand they have to have a schedule and can't play every week, but with the riches and honour on offer, I thought they would have made the Barclays a priority.
In America, I was wondering why the officials delayed the Player of the Year award. Maybe they were hoping USPGA Champion, Keegan Bradley, would win the last world golf championship to go with his major and maiden victory at the Byron Nelson Classic and therefore be a contender.
Now that hasn't happened, Luke Donald will surely collect the first of many awards coming his way in the weeks ahead. His golf has been exemplary. 18 top-10 finishes in 24 events with four victories. He sits at the top of the world on merit, his position undisputed.
57 placed below him is Tiger and this week he begins the long journey back. After his collapse and injury woes over the last two years, it will be interesting to see his position in 12 months' time. I would predict top five. We still have to put the finishing touches to this season, but already, next year promises to be a blockbuster.