Different strokes
Ewen Murray analyses Tiger Woods' latest swing and says he still has some changes to make.
Last Updated: 11/10/11 3:58pm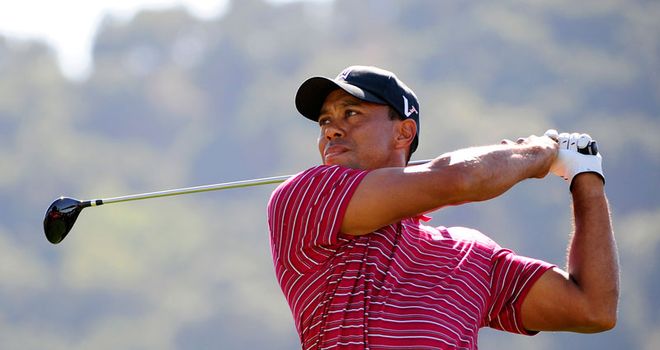 What did you make of Tiger's return to the PGA Tour last week?
I thought a 73, followed by three 68s, was a fine effort and although he finished fairly well down the list, he will have been happy to get four rounds under his belt and get back into the rhythm of tournament play.
Having watched pretty much all of Tiger's return like you, the viewer in front of the television in your own house, and without the act of working, it gave me a lot more time than normal to study his performance.
The first thing that hit me was the changes he has made during his 15-year professional career.
I think the majority are in agreement that his 'Harmon' years were close to faultless and his performances around the turn of the century were captivating. You know the ones I mean, Pebble Beach, St.Andrews, Valhalla and so on.
Changeovers
It was in 2002 that Woods changed from Butch to Hank Haney and that relationship remained until recently when he joined forces with Canadian coach, Sean Foley.
Many would believe that his record with Butch was the best, but he enjoyed tremendous success with Hank and he may well do again with Sean.
During last week's telecast, I thought of the changeovers and when he makes a switch, he has total focus on exactly that!
During his tenure with Tiger, Butch gave him a wide base on which to support his turn on both sides of the ball. That was the foundation for his coil to work around the body. From his youth, the 'across the line' at the top was gone. His swing was wide, yet short of parallel, an impressive combination.
On changing to Hank, virtually all of Harmon's ideas were dispensed with and on seeing him at La Costa in the Spring of 2003, his practise routine was to start the ball way right and hook it back onto the target.
The left wrist, which had supported the top of his backswing had been changed from underneath the shaft to level with it, thus appearing to be 'bowed'. A swing that had previously been back-and-up was replaced by one that was much more around his body which provided a shallower swing plane.
Tiger made them both work and from both era's enjoyed golden days.
Steeper
Since his break up with Hank, virtually all of Haney's teachings have been replaced with a totally different motion.
His current swing is steeper going back and across the ball on the way through whilst his stance has never been narrower - almost the opposite of Haney's years and against Harmon's principles.
Harmon had his ball flight straight, Haney from right to left and this method favours the fade. I don't know how many of you saw the opening round, but one 8 iron approach to a hole removed a fair chunk of fairway, the divot being about 15 inches long, rather like a Mid-Western strip steak and the divot path was 45 degrees left of the target line.
A few weeks back, reader Eric Frost said we were harping on about Tiger losing height on the backswing and that all of the great players did the same, naming Rory McIlroy and Ben Hogan.
There is a slight loss of height when the swing starts and in the transition period, but there comes a time when the loss is too great, and my own thoughts were that Tiger's was. In his defence, if you are going to make a change, then you must dedicate yourself to doing exactly that and that is what he is doing.
Rustiness
During his post round interview on Sunday, he was asked if he was going to play again before the Presidents Cup at Royal Melbourne in November. He said he was too busy and that his next appearance would be alongside his team mates in the bi-annual event.
Given his understandable rustiness around the greens (or maybe I should rephrase that and say, his short game was not quite the standard it was) that came as surprise. I would have thought another event would benefit the extensive changes he has made and there is nothing like competing to regain tournament sharpness. I felt he owed that to his colleagues and Captain Fred Couples in particular.
In all, it was a good comeback with the only unsavoury moment coming when a spectator ran onto the green to throw a hot dog at him.
The big plus was that his knee injury seems to have healed well. Tiger still has a way to go before he can regain the respect his brilliance demanded and I think he needs to make modifications to the method he is using today, but I sensed the desire is there to make this new era work as well as the previous two and the target of 19 majors is still high on his priority list.
We shall watch with interest when he returns to a fuller schedule next year.
Overdue
In Europe, I was pleased for England's Lee Slattery. His maiden win in Madrid was long overdue. In 2008, we landed in Johannesburg and shared a conversation on the plane to Nelspruit en route to the Dunhill at Leopard Creek. Lee had managed to get a spot in the event hence the late arrival.
He played superbly over the four days and just missed out on victory taking the runners-up place. I thought then he was off and running, but further fine performances never materialised. Now he is a winner, and many before him have been late developers. He is a level-headed lad with a sound golf game and I wish him continued success.
Another first-time winner was American Rickie Fowler. His win in far-away Korea will do a lot for his confidence as so much has been expected of him since he arrived on Tour.
A lot of pressure will have have been lifted from his young shoulders and there is no better habit than winning. It was a small select field, but a win is a win.
Making a hat-trick of first-time winners at the weekend was Bryce Molder. His victory in San Jose will also be a relief to him, but isn't this a game of fractions? Some 347 tournaments into his near 20-year career, Briny Baird is still looking to break his duck.
He has another chance at the enchanting Sea Island venue in Georgia this week.
Next up in Europe, the Portugal Masters is across our screens from Thursday to Sunday. A handsome prize fund awaits the top quality field as the battle for the Race to Dubai nears the finishing line.
With further events in Spain taking up the next two weeks before the far Eastern Swing gets underway, the Race promises to be an intriguing one. Time to dust down the passport.