Bo Van Pelt has game to win more big events, says Tony Johnstone
Last Updated: October 21, 2012 4:26pm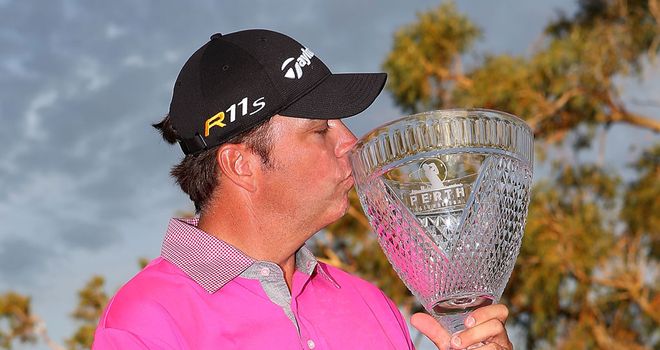 Van Pelt: victor in Australia
Tony Johnstone questioned why Bo Van Pelt hasn't won more events after enjoying his victory in Perth.
The American overcame some late nerves to win the ISPS HANDA Perth International in Australia by two shots; his first ever success in a European Tour event.
The 37-year-old won on the Asian Tour in 2011 and the PGA Tour in 2009, but after watching him card a closing four-under 68, Sky Sports expert pundit Johnstone said he should have more trophies on his mantlepiece.
He said: "He has a good solid gold swing, he's a good striker, he hits fairways and greens and he has a very good short game.
"You just wonder why he hasn't won more because he is the complete golfer.
"He was up against Dufner, who hasn't been a prolific winner either. He got his card on the US Tour in 2001 and had his first two wins this year.
"It's taken both of these guys a long time to learn to get across the line. Some guys come out of the blocks very quickly, win straight away and never learn anything after that.
"For these guys it's taken a long time to learn the winning habit and they really produced the goods.
"You just wonder why he hasn't won more because he is the complete golfer."
Tony Johnstone
"He's defending next week [in Malaysia], so who is to say he won't do it again next week? He's on a crest of a wave.
"No win is easy and he showed down the last couple of holes that it's hard to get across the line and he should be very proud of himself."
Nerves
Van Pelt looked nervous on the final few holes and Johnstone felt he played some poor shots at 17 and 18.
But he felt the consistency of his putting throughout the tournament was enough to secure the victory.
"It was a very good performance," he added.
"He looked a little bit twitchy on the last two holes; he duffed the chip on 17 and made a lousy first putt on 18, although it didn't really matter in the end.
"He hasn't been a prolific winner; he has one win in America, one in Asia and it obviously comes a little bit more difficult to him than it does to most.
"But he played fantastically today, he really did. It was pretty faultless until the end and he got across the line, did what he had to do and really deserved it.
"From the very first hole he did what he had to do and hit it close quite a lot. When you start doing that and get a hot-ish putter then the boys will always struggle to catch you.
"He displayed enormous skill around the greens. He was very professional and very thorough."
Help
Ryder Cup player Jason Dufner was in the final group with Van Pelt and eventually finished two shots behind his compatriot.
And Johnstone suspects the duo helped each other to stay calm on the final day.
"There were two Americans in the field and they were first and second. They've flown their flag with pride," he said.
"I think it helped them a lot [being paired together on day four] because they are friends, they know each other's games and I'm sure they've played practice rounds together.
"When you're playing with someone you don't really know it does make a difference. We saw a couple of times out there that they were having a friendly chat down the fairway and it helps.
"Anything that reduces the nerves has got to be a bonus."