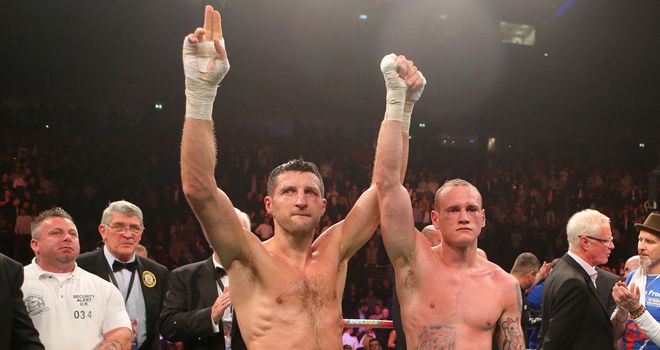 Froch and Groves: Who will be celebrating come the final bell?
Carl Froch and George Groves collide at Wembley on Saturday - but what will each fighter have to do to make sure they're celebrating come the final bell?
Our panel of pundits, Jim Watt, Johnny Nelson and Glenn McCrory, have their say...
FROCH'S KEY TO VICTORY
JIM: One of the reasons Froch had so much trouble last time was his attitude. He didn't believe Groves was in the same league as him and he went in with totally the wrong attitude. But we know that won't be the case here, he knows there's a good chance he could lose this and he'll be really psyched up for it. So instead, his key to victory will be his jab. Froch is not a smooth, skilful type of boxer but his skills are underrated and he does have a really good jab - but he was pawing with it last time, just asking to be countered. He was pawing with a lack of confidence and Groves was bombing the right hand over the top of it. Weapon-wise his jab really is important for what Froch does. This time around he has to throw it with confidence and then move in behind it, that way, if the jab doesn't land he's still in a position to spoil the counter. If you stand off and jab and it doesn't land you're going to get countered but if you move in behind the jab you're in a position to nullify the response. The jab is the most important thing for Froch.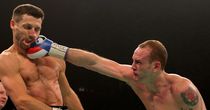 Froch must use jab to halt Groves' rights over the top, says Jim
JOHNNY: He has to try and draw Groves into a war. If I was Carl Froch I would go in with the same approach as I did against Lucien Bute. He was a bit of a kamikaze
pilot on a suicide mission in that bout... bang, bang, bang from the word go! Not only do we know that suits Carl down to the ground it is also likely to get a response from Groves and not in terms of out-boxing him. I am pretty sure Groves will fire back and we will end up with the second half of the first fight first. I can see Groves making a slower start but I can also see Froch doing all he can to draw him into his war. Groves can go out with the plan to box for 12 rounds or he could go for it in the first six rounds but whatever way he chooses it won't matter to Froch; he will go all out, try and engage him from the word go, jump on him and then commit from the off. He needs to launch flourishes, not just single shots and that could well be the big advantage.
"Froch has to get close, rough Groves up and bully him when he can."
Glenn McCrory
GLENN: There is little to choose between the pair but the one thing that could tip it Froch's way is strength, physicality - call it what you want but it is what he always brings to the table. It means he has to get close and cannot let Groves fight at his own pace, he needs to rough him up, bully him when he can. Now I am not sure that is going to be possible that often but if he is going to win this second one that will be crucial and an absolute necessity. The good thing from Carl's perspective is that this fight is never going to be a boxing match and because of the two fighters and their characters, this can only go one way! It is going to be a proper fight, maybe from the word go or maybe after a cautious start, but no-one finished that first fight in control of the pace and the momentum and if Carl is going to get that he needs to turn it into a brawl and then his power and strength - particularly later on - will be crucial.
GROVES' KEY TO VICTORY
JOHNNY: In one simple word: discipline. George has to stick with his gameplan, no matter what. Now I am not sure what Paddy Fitzpatrick has got planned but if it was down to me he would have to box Carl Froch the same way he did against James DeGale. That was one of the most disciplined performances I have seen from him and he needs a repeat performance because in the first one he outboxed Froch for the first six rounds but all of a sudden he moved away from that. That meant Froch was given the chance to start landing with more than single shots and that is not going to do Groves - or anyone - any good. He just didn't stick to the gameplan and that all boils down to discipline. He cannot afford to go for glory and if he does that again, the same thing will happen again second time around. But at least this time he knows he can hurt Carl because last time that discovery led to him leaving the gamplan behind and going for it... and that saw it all change. Now if he can stay disciplined and can box all night you've got to say he will win this one. But that is a big 'if'!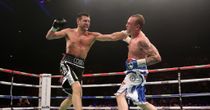 Groves must keep his discipline or he'll get caught, says Johnny
JIM: Groves will want to do pretty much what he did last time because he was superb - he used his power, speed, movement and technique and everything worked a treat. The one thing I would change, though, is he has to go in with a 12-round fight plan. He has to expect this to go 12 rounds. He can't do any more in terms of hurting Froch, but Froch was still there in a position to turn things around later in the fight. I would suggest Groves does what he did before but fights more in bursts instead of sustained attacks. When he goes to work he has to put everything into it but only in bursts so he conserves energy and is there for 12 rounds. When the pace of the fight slowed last time Froch did his stuff and got back into it. So Groves has to think about 12 rounds.
"Groves has to have a 12-round gameplan. When he goes to work he has to put everything into it but only in bursts so he conserves energy."
Jim Watt
GLENN: It is his single-mindedness that could well be the thing that takes him all the way to the very top. He wants to be world champion and he really does seem to have a one-track mind over it. He is wants it so, so much. He is going to be champion and he is sure of that. Carl has been there, seen it, done it and that means I just can't see him wanting it as much. That does not mean he is not bothered and believe me he wants to do a number on George Groves too, but Carl has climbed the mountain on numeros occasions, but the challenger hasn't. He was half-way up before he was sent crashing back down to earth but that is making his desire, his obsession even stronger. We have seen many, many challengers who are fightint for a world title and although they say it all, they do not really believe they can walk away with the belt. Sometimes it's all about the money and the chance for their 15 minues of fame but for Groves it is way beyind that. He wants nothing else, he is not bothered by anything else and he is not interested in anything else. Trust me it is a fine line and can backfire, but for this young lad, this is the one thing that might just see it come true.