Froch and Groves: Will fight in front of a sold out Wembley Stadium
skysports.com: Carl Froch and George Groves will go head-to-head in front of a sold out crowd of 80,000 fans at Wembley. Is this the biggest fight in British boxing history?
JOHNNY: Without a doubt, yes. The reason I say that with no hesitation is it doesn't just attract the boxing fan - every man, woman and child in Britain seem to have an opinion on it! When people who don't really care about boxing have opinions on it and you see it all over the newspapers, you know just how big it is. That happend from the moment this rematch was confirmed and even before that, the controversy made sure that everyone wanted to see it happen.
GLENN: I think it's certainly the biggest British fight in my era - and I've been commentating on it for 25 years now. What makes it so big? Everything. Everything about their personalities, everything about the first fight, the build-up to the second one, just everything is exciting and this is getting everyone going. It eclipses Lennox-Bruno, Lennox-McCall, Bruno-Witherspoon and Benn-Eubank. In simple terms it has sold 80,000 tickets and that alone puts hit head and shoulders above those.
JIM: We are talking 80,000 seats being sold. That's... well, that is just huge. That tells you everything you need to know. The fight will be live on Sky Sports Box Office yet still at least 80,000 people want to go and watch it. That in itself shows you what a massive fight it is. This is the biggest boxing event ever held in Brtiain, that's for sure.
skysports.com: How does Froch-Groves II compare to other recent super-fights involving Brits, such as Ricky Hatton's trip to Las Vegas to take on Floyd Mayweather?
GLENN: Hatton-Mayweather was diferent because it was out in the States. That meant people went there and the fact that it was in Vegas makes that number even bigger. A lot of people wouldn't have got into the fight they just wanted to be there on holiday, being part of it! Now I love Wembley, our national stadium, but I'm not going there on holiday! Forget any other English or indeed British fight, this eclipses them all. I dare say someone will come up to me and talk about Jack Doyle, the Irish heavyweight everybody loved and had 100,000 for his fights and there were more fans at so-and-so's fight...
"Every man, woman and child in Britain seems to have an opinion on it! Everyone wanted to see it happen."
Johnny Nelson
JIM: When you think back like that you have to agree because we have had also had some big occasions in modern times too - but this still comes in above it. Ricky Hatton, when he came home and fought Juan Lazcano in front of 53,000 was big but it wasn't even for a world title. That was huge and whatever happened I don't think we had put it down as a stunning fight to go with the numbers. And that means 80,000 is way, way, way above that and I can't think of any fight that comes close here in Britain. Maybe if you ask Bob Mee he will come back with a few from way back but I still don't think there will have been anything as big as this in Britain. Nothing can toch it.
JOHNNY: We all talk about Benn-Eubank and I was lucky to be part of the crowd. It was all about popularity, public pulling power as it were. But this has gone way beyond that, it really has. Froch and Groves, with all due respect to the others, are a little bit smarter. They are more eloquent and a little more precise so it is not just disdain for each other. Benn and Eubank had that hatred, there is no doubt about that, but it was not as calculated as this one. Nowhere near.
GLENN: And while we always talk about Benn-Eubank, Hatton-Mayweather or a big Bruno fight, this is beyond that... already. I think this is bigger than that because we are - and were - talking about it beforehand. Eubank-Benn has been sitting in the sun for 25 years and we look back at it through tinted glasses. Everything then was "fantastic". But the first Froch-Groves fight was sensational.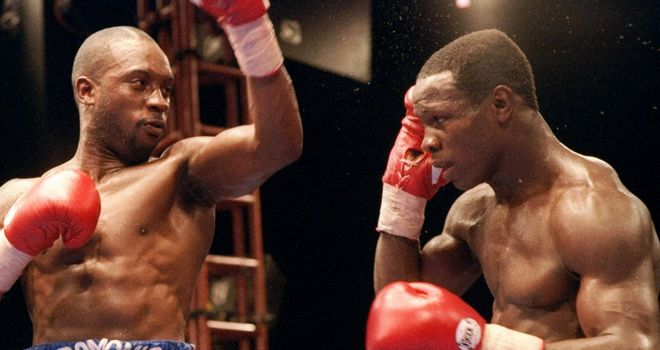 JIM: When it comes down to Benn and Eubank, there was the same rivalry and it probably came as close to this as anything has and probably will because that was two guys at their peak, perfoming well and probably beyond their peak because the first fight was slightly better than the second one. It was two guys who just didn't like each other. Benn was probably the worst when it came to that; Eubank probably put on a bit of an act, but Benn didn't. He hated him! Benn and Eubank were on national TV and we are talking about millions watching it, but I can't get away from the simple fact that twice as many wanted to be at Wembley for this one. It has to be bigger.
JOHNNY: Old Trafford was nuts too! Being there for the Benn-Eubank rematch was just great. It was like going to the theatre, or maybe The Globe, and you saw your hero, your villain and you saw the cast and you were part of it, cheering or jeering. It really was a dream come true and I am sure Wembley will match that - and then some. It sounds strange but when I walked out at Wembley Stadium at that presser not long ago, it all came flooding back and it made the hairs on the back of my neck stick up. I realised then what faces Froch and Groves: when they see 80,000 people watching their every move and suddenly realise that they are there to watch them and them only... That is just massive.
GLENN: I honestly think you've got to compare it with something like Ali-Foreman, I really do. It went totally off the wall, way beyond boxing. We had a guy who wanted to knock Muhammad Ali's head off and the Greatest was at his best when it came to trash-talking and making headlines in the build-up. The fact that it went out to Africa to have it "in the jungle" was a masterstroke because it not only got a new part of the world interested, we all of a sudden were desperate to see it. Ali and Foreman had great chemistry - as fighters and non-friends of course - and we have had those that capture the imagination, like Hagler-Hearns and Leonard-Duran. Eubank-Benn was a great rivarly but I really do think this one is bigger.
JIM: This will be the biggest one I've worked on. We all knew about Julio Cesar Chaves pulling in 120,000 people in Mexico but I wasn't working on that so this will be easily the biggest I'll have worked on. The atmosphre is going to be terrfic. We have got a world title with Jamie McDonnell, and of course James DeGale back in the mix, so it it is going to build and build as the evening progresses.
It is going to be a huge night and a huge spectacle. It will be huge event.
Book now
Carl Froch v George Groves II - Unfinished Business, is live and exclusive on Sky Sports Box Office and Sky Sports HD Box Office on Saturday, May 31.