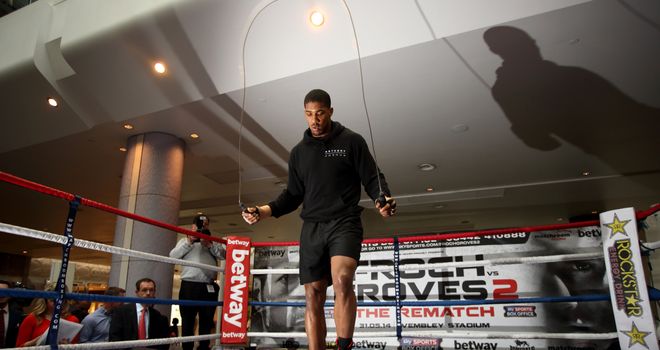 Joshua: Will step into the spotlight at Wembley
Anthony Joshua is the perfect person to kick everything off on May 31.
Froch-Groves II will be the biggest night in British boxing history, it will be at the national stadium and it is going to be a huge national event - and Joshua is the man who sets the ball rolling.
"Almost 25 years ago Lennox Lewis came on the scene and I knew straight away he was going to be unbelievable - and I feel the same about Joshua."
Glenn McCrory
Almost 25 years ago, in September 1999, Sky Sports brought in a young heavyweight in the shape of a certain Lennox Lewis. I was a world champion at the time but knew straight away that the young guy coming into the fray was going to be unbelievable.
Well, I may no longer have that belt but, 25 years on, I feel the same about Joshua.
He has everything he needs, he has the full package and it is going to be a great journey for him.
As a London 2012 gold medal winner, he was part of that incredible Olympic success and he is a household name because of it - but I would put money on one day seeing him top of the bill for world title fights in Las Vegas.
Joshua is opening a mega, mega night at Wembley on Saturday and he needs to be because people think he is going to be the heavyweight champion of the world.
He is aware of the pitfalls and he knows hard work is the one thing he needs to put in because we have seen many prospects fall by the wayside in the past, such as Audley Harrison, and it is going to be a long and rocky road.
He'll be facing Matt Legg on Saturday. We want to see him go in against a tough test because it will be his sixth professional fight and after about six or so, Lennox really started to move up a gear into decent fights on a bigger stage.
Yes they are big shoes to fill when it comes to Lewis but I will be measuring Anthony's progess with his and see just how he is getting along.
But make no mistake, regardless of who he's in against, fighting at Wembley is a huge step for anyone, even him.
From what I have seen so far, though, Anthony has his feet firmly on the floor. And he'll need to when he walks out at Wembley.
Anthony Joshua's fight will be shown live on Sky Sports 1 from 6pm. You can then watch the rest of the bill on Sky Sports Box Office.
Book Froch v Groves II: Unfinished Business now, online at skysports.com/frochgroves2 or via your telephone on 08442 410888.