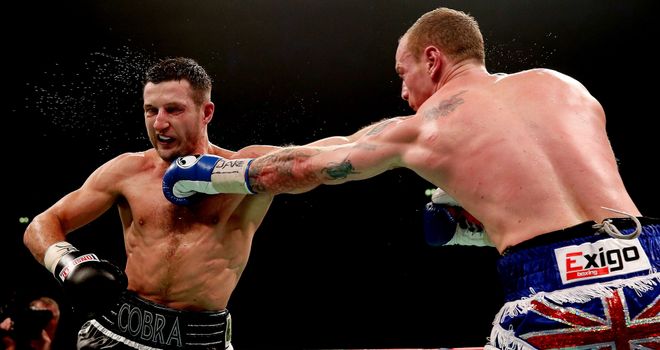 Froch-Groves: Johnny expects a rematch - but says Brits may tread different paths
If I was Carl Froch I would retire.
He has achieved everything - apart from beating Andre Ward - and no-one can question his ability, so I think he should say 'I've got rid of a good kid in George Groves, albeit in controversial style' and go out at the top.
"In terms of anticipation, it mirrored Benn-Collins or Haye-Harrison but in terms of performance, it was up there with Benn-Eubank."
Johnny Nelson on Froch-Groves
Carl will probably admit that he is no longer the fighter he was and that there are signs that it is going to be difficult from now on, and I don't think he needs that after all the accolades and titles he has earned.
I believe he should walk away, not because of what people said after the clash with Groves, but because the fight with George was harder for him than it should have been having been in with world-class opponents.
That is not a slight on Carl, who is a great man and hard-as-nails fighter, but it's just common sense, because he has nothing left to prove and cannot improve on everything he has done.
He cannot do better than the pedigree players he has fought like Mikkel Kessler, Lucian Bute and Ward, and while there are some big names out there, the majority of them are washed-up.
Froch is risking everything every time he fights, so apart from financial benefits, what other benefits are there?
Lennox Lewis went out at the top - stopping Vitali Klitschko in six rounds - and went down as one of our greatest-ever boxers, and Carl should do the same.
Obligated
However, one thing Froch doesn't like is doubt.
And he certainly didn't like the boos he received on Saturday and losing his hero status in the space of an hour, so I think he will feel that he is personally obligated to give George a rematch and put this issue to bed.
And if he does, we could see a different story to what we saw in Manchester.
Carl has boxed the best in the world in his last 10 fights, so when he met Groves he had to lift himself for a match with someone he saw as a domestic opponent and someone who he felt didn't deserve to be in his company.
His mind-set and focus was not as it was when he went in to fight Kessler and Bute but if he goes with Groves again that will change and Carl, like he did against Bute, will go in there like a demon and we could see him dominate.
But, on the flip side, Groves will think he has the beating of Froch and that if he cuts out a few mistakes he can get the job done, so it could actually be that the second fight is even better than the first - and that is an exciting prospect.
Options
George needs to beat the drum loud and hard in regards to a rematch after putting in a performance that has shot him right into the mix - but I don't think his next fight necessarily has to be for a world title.
He got stopped in nine rounds and the British Boxing Board of Control have accepted that decision, so he's not a shoo-in for another world title shot and there are other options out there for him.
George wants to be a world champion but he wants to be a wealthy world champion and to box James DeGale again would be another massive fight for the young man, earning him money and all the trappings of the professional game.
Beating James would get him recognition and well known, so it would be the perfect way to go publically and commercially and because Matchroom are very astute I think it's a definite possibility.
Then, after that, he could hunt for a world title.
Should Froch hang up his gloves? Where should Groves head next? Let us know YOUR views using the feedback form below.