Architects of F1 - Max Mosley
Last Updated: 15/05/13 10:09am
Formula 1,Classic Sports,Motor Racing
Formula 1 Betting

Formula 1 Betting

Bet with Sky Bet
Having fallen in love with motorsport by chance when his wife was given tickets to the British Grand Prix, the then law student could not have envisaged the role he would play in shaping modern-day Formula 1.
Very often in Formula 1 it has seemed as if the politics surrounding the sport carry as much intrigue and interest as the action on the track. That was certainly the case during Max Mosley's 16-year reign as President of the FIA. About as divisive a figure as they come, Mosley was nevertheless re-elected by the governing body on four separate occasions. Controversial and confrontational, he has had the unerring knack of attracting headlines - if not always intentionally.
Where many would see Mosley's pugnaciousness as a family trait, the man himself would probably counter that he has only ever applied a cold logic to the arguments he has chosen to pursue. A trained scientist and barrister, Mosley forged a semi-professional career as a driver before realising that his real talents could be applied elsewhere in motorsport.
Born in 1940, the political beliefs of Mosley's parents, Sir Oswald Mosley, leader of the British Union of Fascists, and his wife Diana, led to their detention in prison when he was a baby. Max himself has toyed with the idea of a political career himself on more than one occasion, but the path he ultimately pursued came as a result of a chance visit to Silverstone whilst a student at Oxford.
Mosley was competent enough to reach Formula 2 (he contested the race at Hockenheim in1968 in which Jim Clark was killed) but soon hung up his helmet and assumed the mantle of team owner. March Engineering, of which Mosley was a co-founder (his surname supplies the 'M' in the acronym), caused a splash when they first appeared at the dawn of the 1970s. Building customer chassis for a variety of formulae whilst also fielding a team of their own, a March driven by Jackie Stewart won the second race of the 1970 F1 season, the Spanish GP.
Mosley was a Team Principal until 1977 and although March themselves scored a couple more victories in that time, they never lived up to the initial hype. Finances were usually tight and in the end he grew tired of trying to make ends meet. It was at this point that the seeds were sown which eventually gave flower to F1's ultimate powerbroking double act: Mosley teamed up with Bernie Ecclestone as the teams went to war with the governing body.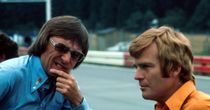 Brabham owner Bernie Ecclestone with March owner Max Mosley in 1974.
Ecclestone was then owner of the Brabham team and also led the Formula One Constructors' Association, an organisation which felt they were being short-changed by FISA, the sporting arm of the FIA. They were supported by the manufacturer teams of Ferrari, Alfa Romeo and Renault whilst the other, mainly British, teams were allied to FOCA. The 'FISA-FOCA War' led in 1981 to the first Concorde Agreement, which Mosley helped draft. Crucially, it effectively tipped the sport's commercial tide in Ecclestone's favour.
The next decade saw the poachers complete their transformation into gamekeepers: while Ecclestone shored up his own position as the sport's de-facto supremo, Mosley had by 1991 wrestled the FISA Presidency from long-time incumbent Jean-Marie Balestre. Two years later he had taken charge of the governing body as a whole, a position he would go on to hold for 16 years until 2009.
It was a tumultuous period, with battles fought on more than one front. Safety, the issue Mosley says has given him more satisfaction than any other, was top of the agenda in 1994 when Roland Ratzenberger and Ayrton Senna were both killed during the San Marino GP weekend. Some of the knee-jerk safety features Mosley introduced - a chicane at Eau Rouge? - came in for criticism, yet no-one can doubt the longer-term measures he has presided over - fundamental changes in chassis design that afforded drivers much greater protection, the introduction of the HANS device - have saved lives.
Concurrently, however, F1 was changing in ways that could only bring resentment, or worse. Ecclestone's power was a sticking point for some team owners in negotiations for a renewed Concorde Agreement in 1997 while Mosley's decision three years later to lease the commercial rights to his ally for a period of 100 years came amidst an argument with the European Commission about whether competition laws had been broken.
F1 on Sky Sports in 2013
Sky Sports F1 is the only place to watch every grand prix live in 2013.
Our dedicated F1 channel will broadcast every race, qualifying and practice session live, along with highlights shows, analysis and even more coverage via the Red Button.
Find out more at sky.com
Away from the courtroom, the manufacturers who returned to the sport in the early noughties threatened a breakaway series and the same spectre was realised towards the end of Mosley's presidency in 2009 when, as the same car companies started pulling out of F1 in the wake of the global financial crisis, he tried to force through a budget cap. In between times, Mosley presided over the $100million fine meted out to McLaren following 2007's 'Spygate' controversy and became infamous the following year as a result of a News of the World's expose about his private life.
Mosley survived a subsequent FIA vote of confidence - with the furore since inspiring his emergence as a campaigner for greater press regulation - but he was gone from F1 the following year. Not that he went quietly: amid criticism of his leadership style and a perception that the FIA's governance lacked transparency, Mosley briefly threatened to stand for a fifth term of office.
It did not come to pass, however, and under his successor Jean Todt, the governing body has consciously adopted a more low-key approach. Mosley, meanwhile, has taken his battles elsewhere - and taken the headlines with him.