Senna suffered 'back burns'
Williams driver sustained lacerations during race in Singapore
By William Esler. Last Updated: 27/09/12 10:24am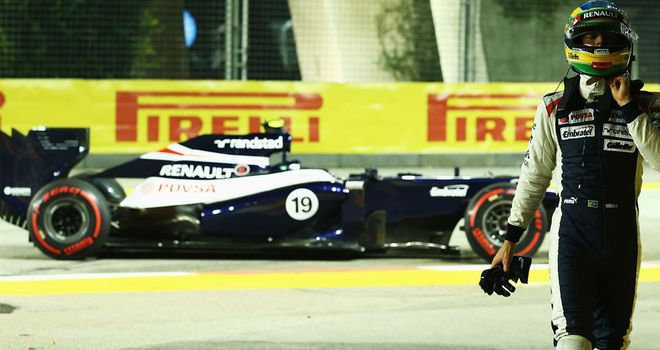 Bruno Senna: Retired from the race in Singapore
Williams have confirmed that Bruno Senna suffered burns to his back during the Singapore Grand Prix.
In his post-race video blog, Sky Sports F1's pit-lane reporter Ted Kravitz revealed the alarm caused by the KERS failure which prompted Bruno's retirement.
"There was a rather alarming message to Bruno which said, 'we think we have a KERS problem, don't touch the car, don't touch the car and the ground at the same time,' because of conductivity issues. We haven't had any real threat from KERS before so there was a real worry that there may be some electricity going through the situation there," Ted reported.
Williams themselves have now confirmed the severity of the problem, with the team reporting that Bruno 'some burn marks on his back after the race'.
In a Q&A, Chief Operations Engineer Mark Gillan added: "We have a good idea (what caused the burns) but are still investigating just to make sure that we have covered all potential causes."
It is not the first time that the Williams KERS unit has come under scrutiny with Bernie Ecclestone blaming the battery unit for the pit garage fire after Pastor Maldonado's win at Barcelona in May.