Driver reaction - day three
The view from the men in the driving seat in Barcelona
Last Updated: 23/02/12 9:04pm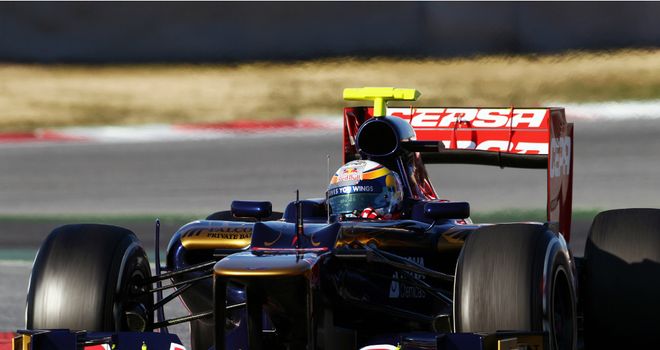 Jean-Eric Vergne got his chance in the Toro Rosso
Formula 1 Betting

Formula 1 Betting

Bet with Sky Bet
Here's what the men in the driving seat had to say following day three of testing in Barcelona.
McLaren's Jenson Button: "We've done a lot of reliability work over the past three days - more than 100 laps on each day. Most of that has been longer runs, getting used to the feeling of the car over a long-run and set-up work for the longer runs.
"We've also been really working hard to understand this year's Pirelli tyres and getting the car to work efficiently around them. That's a key part of the programme this winter.
"There are a lot of cars out there that look competitive: so we'll keep pushing. We should hopefully bring our upgrade package to the next test and that will see us through to the first race in Melbourne."
Red Bull's Mark Webber: "All in all, it wasn't a bad day at all. Not the smoothest of morning's and we didn't get too many laps done there, but in the afternoon the race simulation went OK. We're still learning plenty. It would have been nice to have done a few more laps, but I think everyone always wants to get 20 or 30 more and, even with the problem this morning, there were loads of positives to look at. We're a very ambitious team, so we'll keep working on that."
Williams' Pastor Maldonado: It was a good day today, as we completed all of our planned programme with no issues. We have put more mileage on the car which is great for everyone here and back at the factory as we now have a lot more data to analyse. The car is progressing well and I feel everything is going in the right direction.
Mercedes Michael Schumacher: "I'm very happy with the race simulation that we ran this afternoon. It confirmed what we have seen from the first tests with our new car, and that we don't seem to have any big issues with reliability. The small things from the last two days I would rate as typical testing issues. So from my side, I am happy with our first full testing session, and we have definitely improved our game which is what we wanted to achieve. To what extent, we can only see later, but I am finishing with a positive feeling."
Force India's Paul Di Resta: "Quite an intense day and a very busy afternoon, but the main thing is that we achieved the objectives for the day. There will be a lot of analysing tonight to see what we can learn, especially trying to understand the data from the long runs this afternoon. Once we've been through the numbers, it should give us a direction for tomorrow. As I said in Jerez, it's nice to have a car with such a good baseline because it makes it easier to experiment with the set-up and that's what we're trying to do at the moment."
Caterham's Vitaly Petrov: "We spent quite a bit more time today looking at various areas of the car to help me find a setup I'm really comfortable with and can push on from. Once we'd sorted out this morning's issue we were able to try a few different setup options in the afternoon and by the last couple of runs I think we were heading in the right direction, both mechanically and with the different tyre compounds."
Sauber's Kamui Kobayashi: "It was my first day of driving the new car here in Barcelona, and it was a good one. We had no noteworthy problems all day and went through a lot of test items. I can feel we have made some progress compared to the test in Jerez. But, of course, we have a lot more work to do and there is room for improvement."
Toro Rosso's Jean-Eric Vergne: "It's good to be back in the car after Jerez. We got through a lot of work today, including some aero evaluation and different set-ups. We ran all day long on the Medium tyres, which gives us a good baseline to analyse the data. We are learning more about our new car with every lap and it has performed well on this Barcelona track which is always a true test of how a car is performing.
"Towards the end of the day, I had my first experience of proper Formula 1 pit stops. It was a scary feeling at the beginning, coming in at 100 km/h and seeing so many people. At first, I was worried about hitting someone, but by the end I had got used to it. It's an exciting experience!"
Marussia's Timo Glock: ""It's good to be back on track again after the long winter break and to start our preparations for the new season. Although we are still using the old car it has been really useful to work through the tyre evaluation programme and have the team working together again trackside. I'm looking forward to driving the new car now."