Tost doubts 2013 driver promotion
Toro Rosso chief expects young duo 'will have to wait a little more'
Last Updated: 16/02/12 4:26pm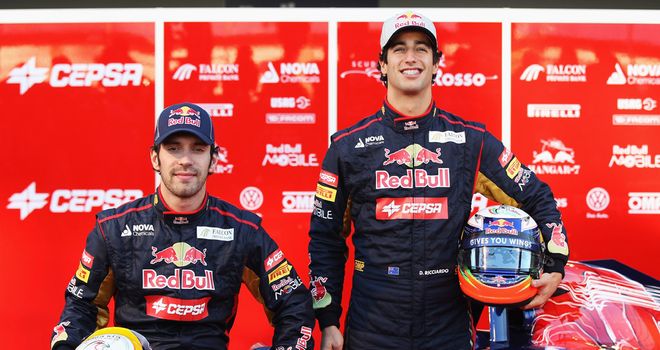 Red Bull have high hopes for Vergne and Ricciardo
Formula 1 Betting

Formula 1 Betting

Bet with Sky Bet
Toro Rosso team principal Franz Tost believes 2013 will probably be too soon for either Daniel Ricciardo or Jean-Eric Vergne to make the step up to Red Bull Racing, should this prove to be Mark Webber's final season with the team.
The intra-team battle between new STR race drivers Ricciardo and Vergne is being billed in many quarters as an effective shootout for the chance to succeed Webber alongside double World Champion Sebastian Vettel from potentially as early as next year.
Toro Rosso controversially opted to drop both Sebastien Buemi and Jaime Alguersuari from their line-up for this season in order to promote their latest young protégés, with Red Bull motorsport advisor Helmut Marko quoted as saying that the company didn't see "any possibility of growth" with STR's former line-up.
Speaking in an interview with the official Formula 1 website, Tost made clear that STR's remit is to provide Red Bull with a driver capable of winning races when a seat at the senior team becomes open.
"Toro Rosso's mission is to nurture young Red Bull talents to make them fit for Red Bull Racing," he said.
"And if Mark should decide to finish his career then we need to be able to hand them over a driver that we've brought up to the level of being a race winner."
However, asked if that could be as early as 2013, he replied: "I have no idea. But I doubt it, as the level of Red Bull Racing is extremely high.
"So my guess is that they will have to wait a little more. So far Mark has not given any hint that he is thinking of retirement."
Having nurtured both Buemi and Alguersuari from their respective debuts at motorsport's top level in 2009, Toro Rosso's decision to retain neither for the new campaign may have appeared brutal but Tost insists he was comfortable with the reasoning behind the move.
"There is probably some truth in Helmut's assertion," Tost said.
"When we speak about the 'right stuff' for Red Bull Racing we are talking about a double World Championship-winning team, which means that drivers who get elevated there must have the ability to win races and championships.
"And it was from that perspective that second thoughts set in when it came to Sebastien Buemi and Jaime Alguersuari. Toro Rosso is a rookie team - and we will head into the 2012 season with two rookies. I fully support this decision."