Daniel Ricciardo has 'high' chance of joining Red Bull says Toro Rosso's Franz Tost
Team boss thinks Aussie has what it takes to partner Vettel
By James Galloway. Last Updated: 01/08/13 1:00pm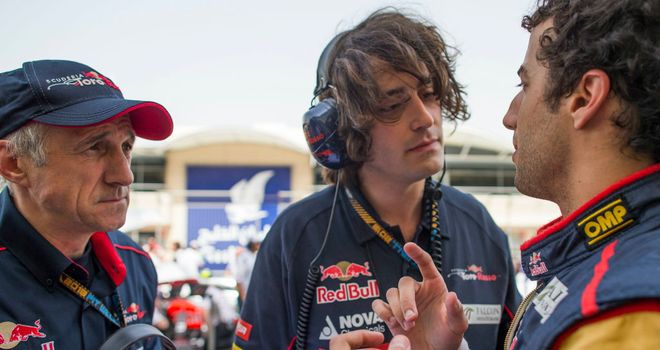 Franz Tost: Believes Daniel Ricciardo could cut it alongside Sebastian Vettel
Formula 1 Betting

Formula 1 Betting

Bet with Sky Bet
Toro Rosso Team Principal Franz Tost believes the chances of Daniel Ricciardo being picked to succeed Mark Webber at Red Bull are "pretty high".
Speculation over the second seat at the World Champions in 2014 gained new momentum at the Hungaroring on Sunday after Fernando Alonso's manager was seen talking to Red Bull team boss Christian Horner, with the latter subsequently doing little to quell the rumours when he said "there have been quite a few drivers expressing interest in the seat".
Nonetheless, with the prospect of Alonso making what would be a blockbuster move to the World Champions still highly unlikely given that the Spaniard is under contract at Ferrari, Red Bull junior Ricciardo and Lotus's Kimi Raikkonen remain the two front-runners for the coveted drive.
Red Bull owner Dietrich Mateschitz and his motorsport advisor Helmut Marko are thought to be keen to promote from within Red Bull's stable of junior drivers and speaking to the official F1 website, Ricciardo's team boss at Toro Rosso, Tost, suggested the Australian does have a strong chance of landing the seat.
Asked how certain it was that one of his drivers would end up at Red Bull, Tost replied: "The likelihood is pretty high.
"Red Bull Racing is showing interest in Daniel and the decision will be made inside Red Bull. So there is no decision yet - but my understanding right now is that it could, in fact, be Daniel."
With Tost's other current driver, Jean-Eric Vergne, having been ruled out of the running already, the Austrian says Ricciardo's recent improvements in form have caught the eye further up the Red Bull tree. Tost, at least, reckons the 24-year-old does have what it takes to race alongside triple World Champion Sebastian Vettel.
"I think that analysis has shown that Daniel is going strong so far - especially in qualifying - that he has raised his game continuously and there is still half the season go where he can gain even more experience," Tost explained.
"He must never forget one thing: he would be moving to Red Bull Racing - the three-time world championship team - which means that the bar is pretty high. To race alongside Sebastian (Vettel) you better have what it takes if you are not planning to drown. And I think that Daniel - should Red Bull point at him - has it."
Indeed, Tost has admitted that the prospect of going up against Vettel, who he worked with when the German was a rising protege himself at Toro Rosso in 2007-2008, would be something of a daunting prospect for anyone given his strong all-round skillset.
"He has to bring a lot to the table, that's for sure," Tost said, when analysing what Vettel's next team-mate had to do.
"Let's have a look at Seb: he's a three-time champion - at least per today - which indicates his huge talent. He's also extremely disciplined; he's got a sharp technical understanding - probably one of the best in the paddock; he can fight ferociously - he's proven that time and again; and he is established in a winning team that he has built up with.
"Remember: when Seb left Toro Rosso to join Red Bull Racing, the team was in no way the winner that it is today - Seb has contributed a lot to make it happen. So if you want to be the new kid on the block you better have all these facts in mind - and show even more commitment to come at least close to Seb. That will be a rough ride!"
And should Ricciardo be chosen to take on that challenge, Tost says his advice to the Australian will be "very simple".
"I told him that he's got six months now - if Red Bull Racing picks you - to prepare for 2014 and never forgetting along that way that in 2014 you will be the team mate of a three-time champion," Tost added. "Prepare mentally..."