Ricciardo still not over Bahrain
Toro Rosso driver still rueing first lap mistakes
By William Esler. Last Updated: 27/04/12 10:37am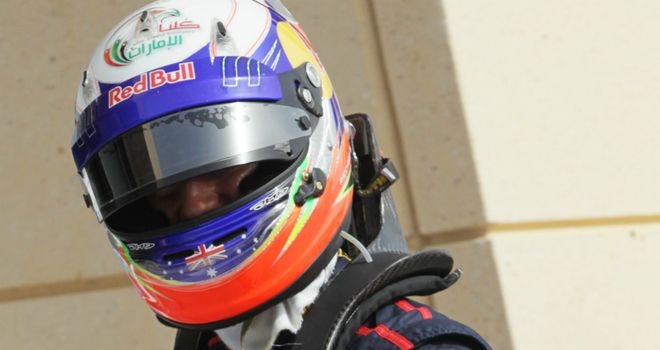 Daniel Ricciardo: Still haunted by first lap in Bahrain
Daniel Ricciardo says he is still not over his disastrous first lap in Bahrain last weekend and cannot yet look ahead to the Spanish Grand Prix.
The Australian produced a fantastic performance on the Saturday to qualify in sixth position for Toro Rosso, but eventually finished in 15th spot.
And the 22-year-old admits he dwelt on the race during the long-haul flight back from the Middle-East.
THE ONLY PLACE TO BE
Sky Sports F1 HD is THE only place to watch the 2012 Formula 1 season in full live. Our extensive coverage continues with the Spanish Grand Prix on 11 -13 May.
FRIDAY 11th - P1 from 8.45am. P2 from 12.45am
SATURDAY 12th - P3 from 9.45am. Q from 12pm
SUNDAY 13th - Race from 11.30am
To find out all the different ways to watch the action, click here
"Do I now forget about it and brush it off as just one of those things? No, of course not," he said in his Toro Rosso blog.
"I'll dwell on it - and nothing is quite as good for dwelling as a long flight with nothing else to do. At some point I'll be fine and looking forward to Barcelona - but I'm not there yet.
"It was a shame. It was frustrating. It was disappointing. It's a race to forget but chances are I won't do that very easily.
"My start wasn't great. I had a lot of wheel spin and got off the line badly. Then I arrived at the first corner on the inside - which was probably the wrong side - and braked too early and about half the field went around the outside and got past me.
"Then in the second sector of the lap I had contact - with whom I'm not sure - and damaged the front wing. Basically, that first lap was a complete... (word I'd rather not say!)
"From then on I wasn't going anywhere. Starting high up the grid does come at a price: Running through Q2 and Q3 means you get through a lot of tyres and don't have any fresh ones for the race. It's a trade-off you're happy to make but if you do lose the advantage of position and find yourself at the back, you're going to be racing against cars with a garage full of fresh rubber.
"And suddenly it doesn't matter how quick you were on Saturday, your race on Sunday is going to be difficult - there isn't that much of a performance gap at the moment."
The Australian will get a chance to get behind the wheel of the Toro Rosso again before the Spanish Grand Prix, when the team test in Italy next week.
"I haven't driven at Mugello since 2007 when I did it in Italian Formula Renault. It was my favourite circuit during that championship and it's one of my top five circuits in Europe - maybe one of my top five in the whole world - and in an F1 car it's going to be awesome," Ricciardo said.
"The two Arrabbiata right handers are very interesting."