Fewer problems for Sauber
Team able to complete 85 laps on day two
By William Esler. Last Updated: 05/03/12 11:40am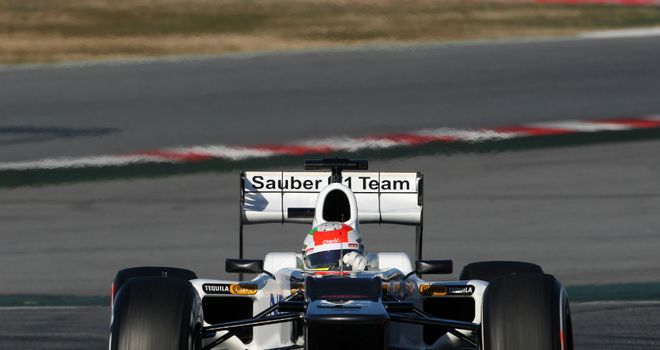 Sergio Perez: Completed 85 laps
Formula 1 Betting

Formula 1 Betting

Bet with Sky Bet
After technical issues on day one, Sauber had a much more positive second day of testing at Barcelona as Sergio Perez completed 85 laps.
The Mexican finished the session with the second quickest time after bolting a set of super soft tyres onto the C31.
The 22-year-old was happy with how the day had gone, despite an exhaust problem late in the afternoon costing the Swiss team track time.
Perez said: "Today was a lot better, even though in the end we lost a bit of track time because of the exhaust problem. I am happy with how things went, we have gathered plenty of information to go through now and I believe we are working in the right direction.
"I hope we get some more work done with Kamui driving the next two days, and then we will be well prepared for next week's final pre-season test session."
Head of track engineering Giampaolo Dall'Ara was equally happy to get some solid running after Tuesday's problems.
Dall'Ara added: "This was a far more positive day. Despite an exhaust problem in the late afternoon, we went through a good programme. Quite a few high priority points have been ticked off the job list.
"In the morning we started with aero comparisons, and then did some proper mechanical set up work. We also carried out a full comparison of all tyre compounds - super soft, soft, medium and hard - and ran different fuel loads.
"Of course it is not possible to really judge the car's performance yet as we don't know the other teams' programmes, but today was productive and now we can work out the programme for tomorrow when Kamui takes over."