Unknown step for Glock
Marussia driver excited ahead of season-opening race
Last Updated: 12/03/12 3:38pm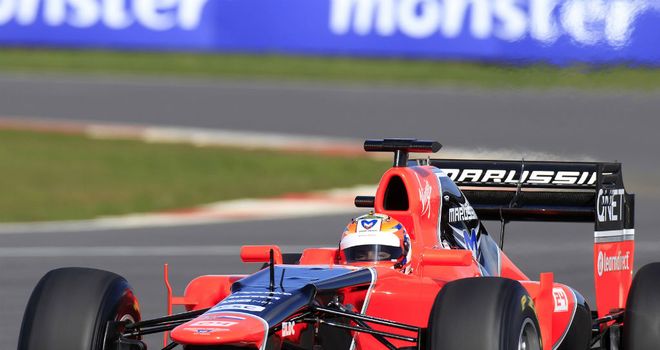 Timo Glock: Thinks Melbourne will be a step into the unknown for Marussia
Formula 1 Betting

Formula 1 Betting

Bet with Sky Bet
Timo Glock admits that the Australian Grand prix will be a "voyage into the unknown" but insists Marussia have nothing to lose in the coming season.
Marussia have not been able to run their new car, the MR01, at the scheduled pre-season tests this year after their car failed mandatory crash testing.
That meant the challenger did not turn a wheel in anger until last Monday, when the team took it out on track at Silverstone for two days of promotional filming.
Glock says the lack of testing has put Marussia on the back foot ahead of the season-opening race in Melbourne but the German driver says he is still excited to climb into the cockpit in Melbourne.
He said: "I couldn't wait to try the MR01 for the first time last Monday. Even though it wasn't in representative conditions, it has been a long wait to get my hands on a car that I'm hoping will be a good step forward from the past two seasons.
"It has been a frustrating winter for sure, but you have two choices and the only thing to do was to focus on everything we could be doing off-track to make sure we were as prepared as possible for when we did run the car.
Fitness
"I've done a lot of work in the simulator and with the team in Banbury and in terms of my personal fitness I have been training harder than ever before.
SKY SPORTS F1 HD
Watch all this season's races
No ad breaks - uninterrupted live race and qualifying coverage
Enjoy F1 on the move with Sky Go
Expert commentators and pundits - including Martin Brundle, David Croft and Ted Kravitz
In-depth programmes and analysis
"Melbourne will be a bit of a voyage into the unknown but we have nothing to lose and I'm even more excited than usual to see how the car feels in Friday's first free practice.
"Albert Park is a great track and I love going there for the first race of the season. I would rather be going there with more preparation but we will do the best we can and see where we are."
Glock's new team-mate Charles Pic is in an even more disadvantageous position as a Formula One rookie with only some mileage in last year's car and work in the simulator to go on.
"I'm ready to go racing now. I have been working very hard physically and with the team, and mentally I am prepared," Pic said.
"It is true I would have preferred to have more track time before my first grand prix but I have been working on the simulator so we will do the best we can.
"Australia will be very special for sure and I will have a lot of support around me. I'm looking forward to getting into the routine of a race weekend and continuing to build the relationship with my engineers. The team have been a great support for me so I know I can count on them."