Brawn: Schu still enjoying F1
Mercedes chief says team not yet looking around at alternatives
Last Updated: 13/07/12 9:38am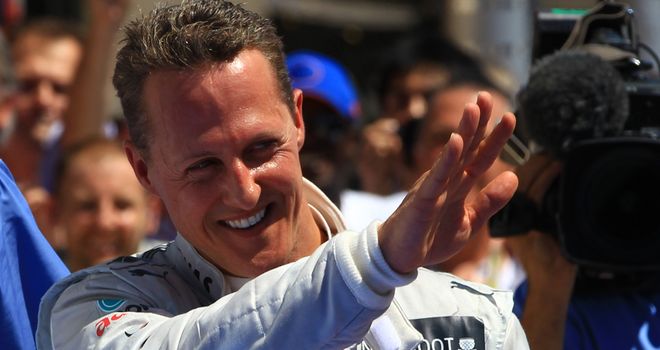 Michael Schumacher: Yet to decide what 2013 holds
Ross Brawn believes there is every reason Michael Schumacher will want to continue his Formula 1 career for at least another season if he continues to enjoy competing in the sport.
THE ONLY PLACE TO BE
Sky Sports F1 HD is THE only place to watch the 2012 Formula 1 season in full live. Our extensive coverage continues with the German Grand Prix exclusively live on 20-22nd July.
FRIDAY 20th - P1 from 8.45am. P2 from 12.45pm
SATURDAY 21st - P3 from 9.45am. Q from 12pm
SUNDAY 22nd - Race from 11.30am
To find out all the different ways to watch the action, click here
With the campaign now approaching its mid-way point, Schumacher's future is at the centre of increasing speculation given the three-year contract he committed to in order to come out of retirement with Mercedes expires in five months' time.
The seven-times World Champion, who is now 43, has produced the most competitive performances of his comeback since the start of the season - although his overall points tally has been hampered by mechanical retirements - and finally finished on the podium for the first time since 2006 two races ago in Valencia.
Although confirmation earlier this week that Mark Webber will stay on at Red Bull into 2013 signals that the first wheels are beginning to turn in the driver market, Mercedes Team Principal Brawn says his team is only focused on Schumacher for the moment
"We are focused on Michael for as long as it takes, and whatever it takes. Then we will see where we are elsewhere," he said.
"We haven't discussed it (a contract extension), but he enjoys himself, and if he enjoys himself, why not (continue)?"
Although Brawn was quoted in the build-up to the British GP as saying that the team hoped to clear up Schumacher's future before the end of August, Mercedes motorsport chief Norbert Haug told Sky Sports F1 over the weekend that there was actually no firm deadline as such on whether or not the German would renew his contract.
Brawn though knows formal talks with his long-time colleague will have to begin reasonably soon, although insists the most important thing is that both sides make the right decision.
"Inevitably you come to a point where you say 'Let's have the discussions' because these things can sometimes take some time," he said."You have to have the discussion and reach a conclusion in order to plan for the future.
"But there is no deadline or critical point where he or we have said we must have a decision by. It must be the right decision. That is the most important thing.
"Knowing Michael as I do, it will be a logical and sensible conclusion, driven by passion because he enjoys what he does."