Eric Boullier says Kimi Raikkonen 'loves the team' and is sure he will remain at Lotus
2007 World Champion linked with move to Red Bull and Ferrari
By William Esler. Last Updated: 26/08/13 11:23am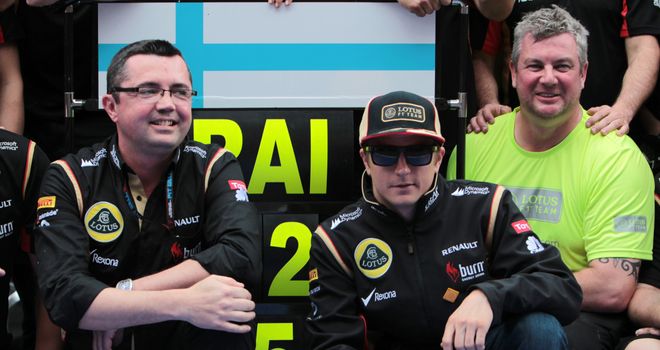 Eric Boullier : Says Kimi Raikkonen "loves" being at Lotus
Formula 1 Betting

Formula 1 Betting

Bet with Sky Bet
Eric Boullier remains confident Kimi Raikkonen will remain at Lotus next season, insisting that the Finn "loves the team".
The 2007 World Champion has been heavily linked to Red Bull and Ferrari over the summer months and his contract with the Enstone-based team expires at the end of the season.
However, despite being one of the most sought after drivers in Formula 1, Boullier is sure he can keep his team leader.
"Yes I am," the Lotus chief said when asked if he was wholly confident of Raikkonen staying at Lotus.
"He loves the team, he likes to be here, he likes the environment we have created for him.
"Kimi is clearly an exceptional racer - his race pace is amazing and he can deliver from whatever position he is on the grid and work his way forward. So this is mainly due to him, but also the strong ability of the car."
Whilst the team are keen to appease Raikkonen, with Boullier telling Sky Sports News at Spa that the Finn was keen to see that the team had the "complete package" to compete for wins and titles going forwards, Boullier will not let the Finn take part in his other love - rallying.
Perhaps a case of 'once burned, twice shy,' the 39-year-old was in charge when the then Renault team were forced to replace Robert Kubica due to injuries the Pole suffered in a 2011 crash whilst rallying.
"No I wouldn't," an adamant Boullier said. "Not even if he was going to do the rally of France and Germany at the same time."