Raikkonen cryptic over his future
Lotus driver vague over his plans for 2013 amid rumoured interest from McLaren
Last Updated: 21/09/12 6:35pm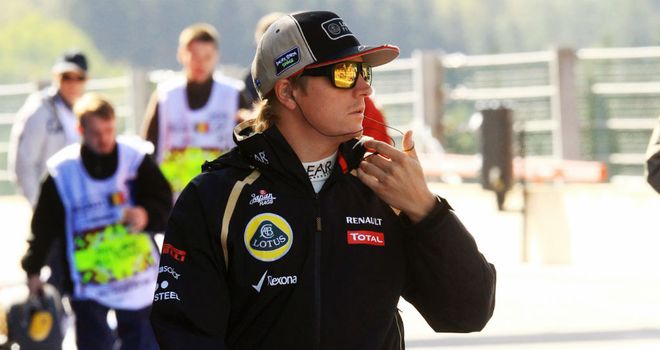 Kimi Raikkonen: Refused to be drawn on his future on Thursday
Kimi Raikkonen has given a cryptic response to questions over his future in Formula 1, saying "you never know" what 2013 and beyond might hold for him.
THE ONLY PLACE TO BE
Sky Sports F1 is THE only place to watch the 2012 F1 season in full live. Our coverage continues with the Singapore GP:
FRIDAY 21st - P1 from 10.45am. P2 from 14.15pm
SATURDAY 22nd - P3 from 10.45am. Q from 13.00pm
SUNDAY 23rd - Race .
The 2007 World Champion has enjoyed a successful return to the top level of motorsport since ending his two-year stint in rallying to join Lotus at the start of the season. Although a comeback victory has eluded Raikkonen so far, the Finn remains an outside bet for the title.
Raikkonen's impressive form has prompted speculation that his former team McLaren could even make a move from him should Lewis Hamilton switch to Mercedes - a possibility endorsed by Sky Sports F1's Ted Kravitz in Singapore on Thursday.
Should a shock return to Woking not materialise, then a second season at Lotus has been considered a near formality. However, speaking during Thursday's drivers' press conference, Raikkonen refused confirm that he intends to remain in F1 for at least another season.
Asked if he fancied another year in the sport, the Finn laughed slightly before repling: "You never know. There are a lot of other nice things to do than Formula 1.
"But right now we have options and we'll see what happens."
After being eased out of Ferrari to make way for Fernando Alonso at the end of 2009, Raikkonen, despite talks with McLaren, opted to quit F1 to persue his interest in the World Rally Championship - a two-year sojourn that ultimately yielded few highlights.
Speaking on Thursday, Raikkonen reiterated that life as an F1 driver wasn't the be-all and end-all for him, and although currently enjoying life at Lotus, he was always conscious of the fact that there are other things to do outside the sport.
"I always said I'm not desperate for Formula 1," he said. "When I feel like doing something else I will. Right now I enjoy [it], have a good team, nice people to work with. We will see what happens.
"There is a lot of different racing and doing normal things in your life outside of Formula 1. So I will wait and see."