Felipe Massa admits he thought his F1 career was 'finished' before 2012 recovery
Brazilian confirms he saw a psychologist during early-season slump
By Pete Gill. Last Updated: 18/01/13 10:39am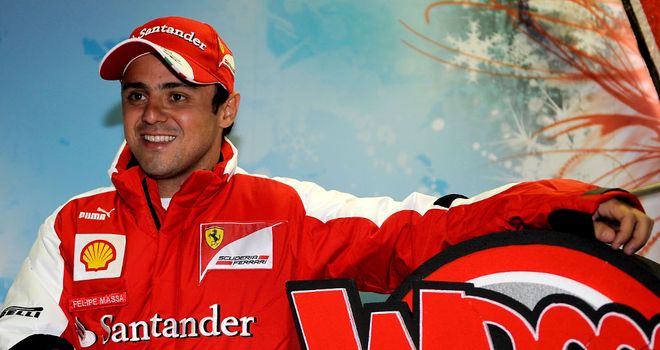 Felipe Massa: A happier man these days
Formula 1 Betting

Formula 1 Betting

Bet with Sky Bet
Ferrari's Felipe Massa has identified a change in mental attitude for his resurgent form in the second half of the 2012 season having slumped so low that he thought his F1 career was over.
In a series of stark confessions, the Brazilian confirmed that he saw a psychologist as he attempted to arrest his slump - a therapy he also underwent in 2009 after struggling to return to form in the wake of his head injury - and admitted he thought he was 'finished' before recovering his mental equilibrium and, with it, the turn of speed which saw him regularly out-pace team-mate Fernando Alonso at the culmination of the 2012 campaign.
"It is not that the car changed that much from August in reality," Massa told The Daily Telegraph at Ferrari's media conference in the Italian Dolomites on Thursday. "There was also a change from my side. Even if 90 per cent of people do not want to believe in me any more, it is important that you believe so you are not good one day and bad the day after.
"I thought about so many things," Felipe continued in a separate interview with The Sun. "I thought maybe I was finished. I thought about not staying at Ferrari. I did not know what would happen. So many things were inside my brain.
F1 on Sky Sports in 2013
Sky Sports F1 is the only place to watch every grand prix live in 2013.
Our dedicated F1 channel will broadcast every race, qualifying and practice session live, along with highlights shows, analysis and even more coverage via the Red Button.
Find out more at Sky.com
"I talked to everyone but I also did work with a professional sporting psychologist. That was just the beginning. After that I was able to change the direction to think, the direction to work."
Having scored a paltry two points in the first five races of the season, Massa was handed a one-year extension in the midst of scoring 56 in the first five races after the mid-season break. Mark Webber rejected an approach from the Scuderia to replace Massa during the depths of the Brazilian's slump but the rejuvenated 31-year-old, who was narrowly pipped to the drivers' title in 2008 by Lewis Hamilton, now believes he can be a contender for the World Championship.
"I am happy now. When you get into the car and want to have fun and enjoy it; that is when you can do your job in the best way possible. By doing that you can have a year like 2008," he said.
The prospect of Massa returning to front-running ways does, though, beg one difficult question: would a sustained challenge to the team's de-facto number one Alonso be welcomed by Ferrari? Massa is certain it would be.
"I can't imagine a team not wanting two competitive drivers," he told the team's own website. "We are fighting for two titles and I am sure the team will help me if it turns out that my situation was the same as the one that meant Fernando was a contender these past years.
Testing on Sky Sports F1
From dawn to dusk, Sky Sports Online will be providing live interactive commentary from trackside at both Jerez and Barcelona on every day of testing this winter, while Sky Sports News will be providing regular live updates from the tests, starting with Jerez on February 5-8.
"I remember when Kimi [Raikkonen] was my team-mate and how much we helped one another from one season to the next. It's the same with Fernando, it's team work, while the harmony between us is a help, as it would be in any job. In Australia we start over from zero and it will all depend on my ability and on the way the championship pans out.
"I hope to get off to the best possible start and my aim is always to carry the Brazilian flag onto the highest step of the podium. This year, I am the only Brazilian in Formula 1 and it was an emotional time on the podium in Interlagos last year, hearing the fans cheering my name: it's a sign of the affection and closeness I feel from my country and that is fundamental for me."
It may just have been a slip of the tongue, but Massa's description of himself as the lone Brazilian on the 2013 grid would seemingly indicate that he believes Caterham, who are still yet to appoint Charles Pic's team-mate, are preparing to overlook the candidature of Bruno Senna.