Massa sure he can still keep seat
Brazilian says improving his qualifying key to securing Ferrari future
Last Updated: 06/09/12 3:23pm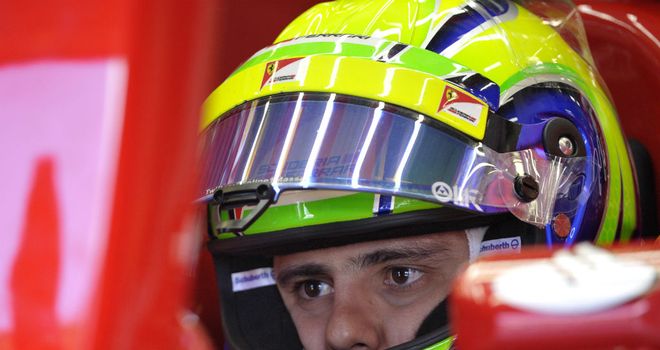 Felipe Massa: Continues to fight for his Ferrari future
Felipe Massa believes he still has a chance of retaining his Ferrari seat for 2013 and says that improving his qualifying form is the key to a vital breakthrough in his race results.
THE ONLY PLACE TO BE
Sky Sports F1 HD is THE only place to watch the 2012 Formula 1 season in full live. Our extensive coverage continues with the Italian Grand Prix exclusively live on 7 -9th September.
FRIDAY 7th - P1 from 8.45am. P2 from 12.45pm
SATURDAY 8th - P3 from 9.45am. Q from 12pm
SUNDAY 9th - Race from 11.30am
To find out all the different ways to watch the action, click here
The Brazilian continues to fight for his future at Maranello as the campaign enters its final three months, with the team's communications chief Luca Collajani insisting to Sky Sports News on Thursday at Monza that no final decision had yet been taken by the team on Massa's future.
Although many paddock observers believe Massa, who had failed to finish in front of his championship-leading team-mate Fernando Alonso in either qualifying or race conditions so far this season before the Spaniard's luckless retirement at Spa last week, has already lost the chance to earn an eighth season behind the wheel of one of the team's cars, the Brazilian himself insists his future remains in his own hands.
"For sure I expect to be in a different position in the championship [to the one] like I am," Massa said in Thursday's FIA press conference.
"But I just concentrate on my job which is driving the car, driving the quickest speed I can.
"I am frustrated with my qualifying, not with my races, and I'm sure improving a bit my qualifying I can be very strong in the race and change completely the results.
"As I said, I didn't sign anything for next year yet but I think we have the possibilities to sign [with Ferrari] and let's wait and see.
"I don't know when but we just need to concentrate on the result of the race. I think that's the main important thing for my future as well."
Although Ferrari have said they are in no rush to finalise Alonso's team-mate for next season, Massa admits he would like his future cleared up sooner rather than later - although says he continues to focus on the racing above all else.
"I hope it will not take very long but let's concentrate on the race and try to do the best and concentrate on the result which is the most important thing," the 11-time GP winner added.
The 31-year-old was eliminated at the second knockout stage of qualifying again at last weekend's race in Belgium but, despite having to go wide to avoid the first corner pile-up ahead of him, fought back to finish in fifth place - his second-best result of the campaign.
Elaborating on why improving his Saturday afternoons were so crucial for him, he added: "I think qualifying is very important for us just to have an easier race. I think the qualifying was not so great for me this year but the races I always had a good direction, a good basis, not counting the first few races.
"So I think the qualifying is very, very important so let's try to focus on that and have an easier direction on the race especially from the beginning to the end."