Massa sets sights on podiums
Brazilian says overdue return to the rostrum vital for several reasons
Last Updated: 23/08/12 10:12am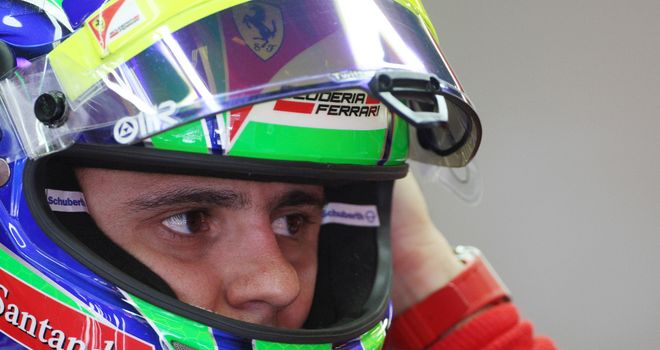 Felipe Massa: Wants to help Alonso where he can
Felipe Massa is hoping to be in a position to fight for podium finishes and help team-mate Fernando Alonso's title challenge when the season resumes as the Brazilian bids to earn a reprieve at Ferrari for 2013.
THE ONLY PLACE TO BE
Sky Sports F1 HD is THE only place to watch the 2012 Formula 1 season in full live. Our extensive coverage continues with the Belgian Grand Prix live on 31st August- 2nd September.
FRIDAY 31st - P1 from 8.45am. P2 from 12.45pm
SATURDAY 1st - P3 from 9.45am. Q from 12pm
SUNDAY 2nd - Race from 11.00am
To find out all the different ways to watch the action, click here
Despite an upturn in pace relative to his championship-leading team-mate prior to the summer break Massa's form over the season's first 11 races has been wholly disappointing, the 11-time race winner occupying a lowly 14th place in the Drivers' standings having scored just 25 points so far.
The Brazilian's struggles have only served to increase what was already strong speculation in pre-season that he would be dropped at year's end, with Ferrari believed to be currently assessing a host of other drivers for the seat following apparent main target Mark Webber's decision to stay at Red Bull for another season.
Speaking at an FIA safety event in his home town of Sao Paulo on Wednesday, Massa said he was content to wait for talks over his future to play out and reiterated the importance of him fighting at the front of the field again - the 2008 title runner-up having last finished on the podium at the 2010 Korean GP.
"It's being discussed, but there's no hurry to decide, nor to say anything," he said.
"The important thing for me is to fight for the podium, even if my team-mate is ahead of me in the classification.
"For me, the priority is always to try and finish in the top three, but if in a race, Fernando is ahead of me, given his position, I will try and help him all the same."
In spite of the worst run of results of his six-year Ferrari career, Massa says his motivation remains high - particularly after a step forward in pace at recent races.
"At the moment, I am concentrating completely on the upcoming races. Thanks to a great job from the team, performance has clearly improved and I feel very motivated to do well," he added.
He added that finally producing an incident-free race was key to delivering more consistent finishes.
"I'm confident," Massa was quoted as saying by the Associated Press. "Even though the results have not been good, the performances were better.
"Now we need to have a clean race so the result can be positive in the end."