Lewis Hamilton 'grateful' for Rosberg duel and now wants Mercedes' rivals to step up
Briton hits back at comparison of Merc's domination to Red Bull's
By Mike Wise at Monaco and James Galloway. Last Updated: 22/05/14 11:37am
Formula 1 Betting

Formula 1 Betting

Bet with Sky Bet
World Championship leader Lewis Hamilton has welcomed the prospect of Mercedes' hegemony being challenged for the first time in 2014 at this weekend's Monaco GP.
With Mercedes having proved unbeatable in both qualifying and races so far this year, the big talking point heading into F1's showpiece event is whether the unique layout of the tight and twisty street circuit will negate the power advantage enjoyed by the Anglo-German team since the sport's winter switch to turbo engines.
Hamilton has claimed the last four of Mercedes' race wins, with team-mate Nico Rosberg finishing second on each occasion, and a victory on Sunday would mean he would become the second driver on the current grid after Sebastian Vettel to win five or more consecutive grands prix.
With Hamilton's recent dominance already drawing comparison with Vettel's run of nine straight wins at the end of last year, the Briton was asked on Wednesday about his comments following last September's Singapore GP - a race his Red Bull rival won by 32 seconds - when he remarked: "I tried to imagine what it would be like if I was winning races the way he is winning races. Me, I don't want to be able to be that far ahead, I want to be able to fight with him or whoever."
Hamilton, however, argued that the intra-team challenge being posed by Rosberg - his team-mate finished just 0.6s behind him in Spain - meant the situation was different for him and that in any case he was keen for the chasing pack to offer more of a challenge in Monaco.
"It's not the easiest thing to comment on because when you have it [a dominant car] you don't want to wish it away, but at the same time you do want a race," the Briton told reporters.
"The good thing is that unlike Sebastian, who was leading by 30-40 seconds each race, it's not the case here, I'm racing my team-mate. So I actually do have competition and I'm grateful for that.
"But of course I'm hoping this weekend to have a closer race with Red Bull - I was saying upstairs [in the Mercedes motorhome], it would be cool if it was scattered with Ferraris in the mix, Red Bulls in the mix."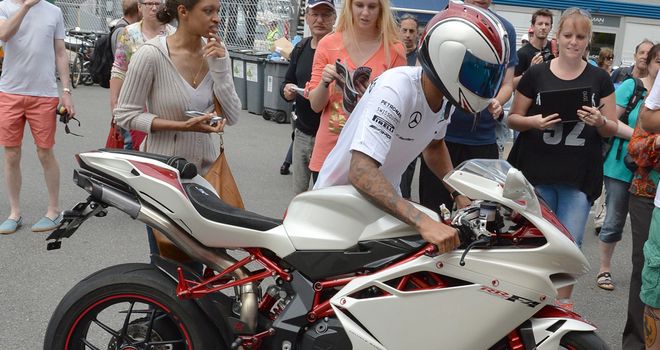 Hamilton arrives in the F1 paddock via an alternative means of transport
The Mercedes pair nonetheless start the weekend as the clear favourites for a fifth straight one-two result on Sunday and another such duel would reprise the pair's battle from last year, when Rosberg beat Hamilton to pole by less than a tenth of a second and then won the race, while his team-mate slid to fourth.
"Last year was the toughest year in terms of being able to get the maximum out of the car," said Hamilton, who won in Monaco for McLaren in 2008.
"Last year I didn't really feel like I did that anywhere really. Being second on the grid even though I wasn't getting 100 per cent out of the car was cool, so I'm hoping this weekend that I'm able to extract more from the car. It should be better."
Asked by Sky Sports News what he was planning to do differently, the 29-year-old coyly replied: "Hmm...it's a secret!"
Since finishing second and first in his first two Monaco GPs in 2007-2008, Hamilton has not returned to the Principality's podium.
He explained that the challenging of driving the famous track remained a big one, whatever the machinery at his disposal.
"It never comes easily a lap here," he admitted.
"There are different types of laps you can do. When I was at McLaren I had a car that wasn't the fastest, you are pushing beyond the limit so the chances of crashing were higher. As opposed to when you have a car that you don't have to be in the window of being one of the quickest, so you can be smoother and you can be more accurate. In actual fact sometimes it could be faster.
"To get a real good lap it's just all focused, utilising all the braking zones, a combination of getting your brakes and tyres up to temperature and just being on it from the first moment you brake into Turn One.
"It's scary, when you start that one single lap you want to get everything from the braking zone - you don't want to know you could have braked five metres later. If you finish and you know that maybe 'I could have braked half a meter later' you'd be happy with that. But having that confidence to attack that first corner is amazing."
And asked about the challenge of a qualifying lap around the tortuous circuit, Hamilton added: "Generally every lap I do in qualifying is exactly the same, it is all done on instinct. Your braking is done on instinct, your turning point is done on instinct. There's not race where it's more than another, that's what gets me the pole positions I have."