Lewis Hamilton expects to get have another chance to claim a final McLaren win
Briton also backs team to get on top of reliability woes
Last Updated: 05/11/12 3:43pm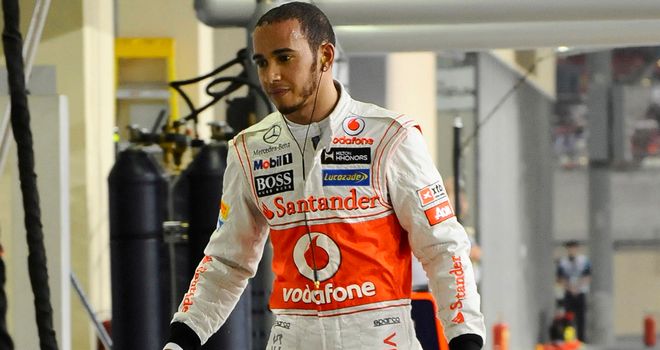 Lewis Hamilton: Keeping his spirits up for the final two races
Formula 1 Betting

Formula 1 Betting

Bet with Sky Bet
Lewis Hamilton is confident he will at least get one more chance to claim a swansong victory as a McLaren driver, provided the MP4-27 continues to prove as competitive as it did in Abu Dhabi.
The Briton seemed set to claim his fourth victory of the current campaign on Sunday as he pulled away comfortably from Kimi Raikkonen from pole position approaching the first pit-stop window before McLaren's latest bout of unreliability - later traced to a fuel-pressure problem - brought his race-leading car to a halt for the second time in five races.
The retirement, Hamilton's fifth in the last eleven events, extended his and McLaren's winless run to two months but the former World Champion is optimistic he will be able to make up for that disappointment at either the new Circuit of the Americas in Austin, or the season finale Brazil, before he departs for Mercedes over the winter.
"I feel if the car drives as well in the USA and Brazil as it did in Abu Dhabi then I will have another shot," Hamilton said. "So I'm going to go there with the same mentality and enthusiasm in the hope we can win one."
Hamilton has a particular affinity for grands prix in North America having claimed his first two F1 victories on consecutive weekends in Montreal and Indianapolis in 2007 and then triumphing twice more at the Canadian venue in 2010 and again earlier this season.
"In particular, after winning the last US Grand Prix, I would love to win the first US Grand Prix on F1's return," he added.
"To be honest I don't think I've ever had a circuit where I've been able to put my name to it as the first person to win. I've just never had the car to do it, but perhaps I do now.
"As for Brazil, I've never won there, but again, if the car drives like it did in Abu Dhabi then to win there would be absolutely phenomenal because that (Interlagos) is a track. If I won there I don't know how I would handle it."
Those hopes, however, of signing off from McLaren with a 21st victory for the Woking team are on current form likely to hinge on the team improving the MP4-27's reliability.
In addition to race-ending retirements whilst leading in both Singapore and Abu Dhabi, Hamilton's races in Japan and India were also compromised by mechanical breakages. The 27-year-old acknowledges getting the car to the finish has been problematic for McLaren recently but is backing them to get on top of the issues.
"We've had a lot of failures in the last five races, so reliability has been a big issue for us, but I've no doubts the team can fix them," he told British press reporters.
"The last four or five races we've had something fail on the car, even when we've managed to finish the race. Hopefully luck will swing our way in the last two races."