Hamilton u-turns on Button 'disrespect'
Cracks emerge in relationship between McLaren team-mates...
Last Updated: 09/10/12 11:12am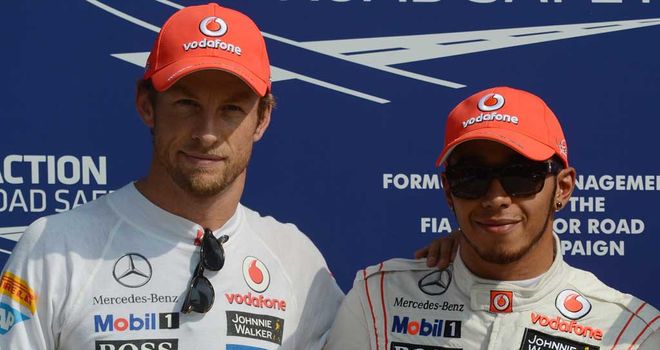 Lewis follows Jenson into the McLaren garage...
Formula 1 Betting

Formula 1 Betting

Bet with Sky Bet
Lewis Hamilton has been forced into an embarrassing u-turn after accusing an allegedly 'disrespectful' Jenson Button of unfollowing him on Twitter only to learn that his current McLaren team-mate wasn't following him to begin with.
Having already caused consternation at McLaren by tweeting out sensitive telemetry information after losing out to Button during qualifying at Spa, Hamilton caused another stir late on Sunday night by tweeting:
"Just noticed @jensonbutton unfollowed, thats a shame. After 3 years as teammates, I thought we respected one another but clearly he doesn't.
"Funny thing is, we are STILL teammates! All good tho, I plan on giving this team & fans all I got til I cross the finish line in brazil!!!."
An hour later, though, a chastened Hamilton was forced into reverse gear:
"My bad, just found out Jenson never followed me. Don't blame him! Need to be on Twitter more," he told his one million followers.
Although Button has yet to respond directly to the tweets, one aspect of Hamilton's embarrassment - and the sheer silliness of the whole business - is the fact that Jenson has already publicly denied snubbing his current team-mate on Twitter after it was erroneously reported that he had unfollowed Hamilton and followed the incoming Sergio Perez instead. Indeed, it was as long ago as October 1 that the 2009 World Champion confirmed on the social media site that "I never followed him...makes a story though!!"
In rather unseemly fashion, it has now.
Meanwhile, in another news-worthy soundbite, Hamilton has also hit out at the man signed to replace him at McLaren next season, Sergio Perez.
The two drivers were involved in two separate incidents at the hairpin during Sunday's race, the second of which saw Perez spin off the road, and afterwards the title-chasing Hamilton questioned the 22-year-old Mexican's approach on both occasions.
"I saw him coming and I have a championship to fight for and he doesn't, " said Hamilton.
"I thought that he was going to do a crazy manoeuvre, which he did.
"Then [later] when he was behind me I saw it coming again so I moved a little to the inside, thinking that he was going to go up the inside so he couldn't get by, and he just flew down the outside of me. So very interesting."