Dennis: Win strengthens McLaren's hand
McLaren Chairman says third straight win underlines team's strength to Hamilton
Last Updated: 09/09/12 6:57pm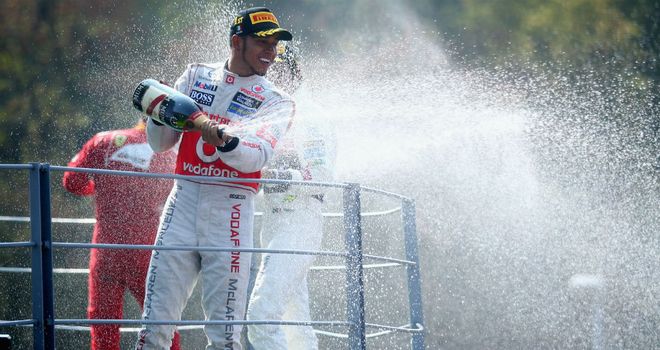 Lewis Hamilton: Claimed McLaren's third straight win
Formula 1 Betting

Formula 1 Betting

Bet with Sky Bet
A defiant Ron Dennis has insisted to Sky Sports F1 that McLaren's bargaining position with Lewis Hamilton has been strengthened, and not weakened, by the driver's victory at Monza.
Amid continued speculation over his future at the team throughout the Monza meeting, Hamilton put talk of his future firmly to one side on track over the weekend as he first beat team-mate Jenson Button to pole on Saturday and then completed a brilliant race victory on Sunday to revive his championship aspirations.
It was McLaren third victory in as many races and, speaking to Sky Sports F1 immediately after the podium ceremony, Group Chairman Dennis, suggested that their latest win should only serve as another example of the team's strength to Hamilton.
"First of all our shareholders have a position, then the board has a position and then Martin [Whitmarsh] has to handle what that position is," he said of the process of attempts to tie Hamilton to a new deal.
"It would be totally inappropriate for me to say anything that would undermine Martin's position. It's his job to get to where we want to get to and I'm sure he'll have a better position now having demonstrated yet again that we've got a very strong car.
"If Lewis is absolutely committed to winning then he can win in a McLaren."
And in response to a light-hearted quip from Damon Hill regarding the destination of the winner's trophy, following previous comments from Hamilton suggesting that keeping his silverware was a "push point" in talks over a new deal, Dennis played down the situation.
"I think a lot's made about that, but it's never really been an issue," he said.
"We've always found compromise in the team when necessary whether it's over that issue or anything else.
"At the end of the day it's about winning first and who gets what afterwards is something that can be discussed."