Hamilton set for summer break talks
McLaren ace plans to use August to resolve his 2013 plans
Last Updated: 16/07/12 11:55am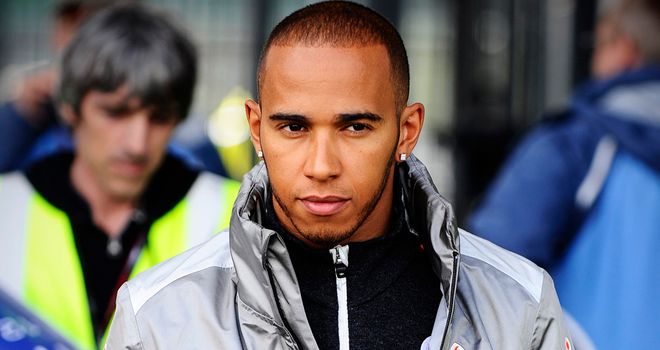 Lewis Hamilton: Ready to resolve his future
Lewis Hamilton has indicated that he will use Formula 1's impending summer break to finally sit down with McLaren to decide on his future at the team.
THE ONLY PLACE TO BE
Sky Sports F1 HD is THE only place to watch the 2012 Formula 1 season in full live. Our extensive coverage continues with the German Grand Prix exclusively live on 20-22nd July.
FRIDAY 20th - P1 from 8.45am. P2 from 12.45pm
SATURDAY 21st - P3 from 9.45am. Q from 12pm
SUNDAY 22nd - Race from 11.30am
To find out all the different ways to watch the action, click here
Although at the launch of McLaren's MP4-27 back in January Hamilton had insisted he wanted to resolve his future after the early rounds of the season, in more recent months both the British driver and McLaren's hierarchy have insisted that they are in no rush to get round the negotiating table, with the team having expressed confidence that their 27-year-old former protégé will decide to stay owing to his long-term ties with them.
Hamilton has, however, now signalled for the first time that he wants to resolve his future during the August summer break, admitting the five-week gap between races represents the ideal time to begin such important talks.
Speaking to Russian media outlet R-Sport during an appearance at a street demonstration in Moscow over the weekend, Hamilton said: "We haven't sat down and discussed anything yet but I'm sure over the summer break, when we have the summer break it would be nice to get something in place."
"That would be a time when we can be more relaxed and make the most sensible decision for the future."
The announcement last week that Mark Webber had agreed to stay on at Red Bull for 2013 has narrowed Hamilton's options should he be considering a switch, with Mercedes and, according to fresh speculation last week, Lotus appearing his only other realistic options should either team have a driver vacancy.
Hamilton, whose rise through the motorsport ranks was supported by McLaren from the age of 13, says the backing he has received from the team will be one factor in his eventual decision - but insists the most important thing he has to consider is that he has the best chance to win more races in 2013 and beyond.
"There are lots of things to take into account. These people have supported me; these are the people that got me into Formula 1," he said.
"But, you know, I want to win. I'm not that young any more so I want to make sure that whatever I do I make the right decision so I can maximise my career, you know. I just need to make sure that I'm winning."