Lewis Hamilton and Jenson Button had very different emotions after practice in India
Hamilton looking forward to race, but Button feels podium a struggle
Last Updated: 27/10/12 7:46am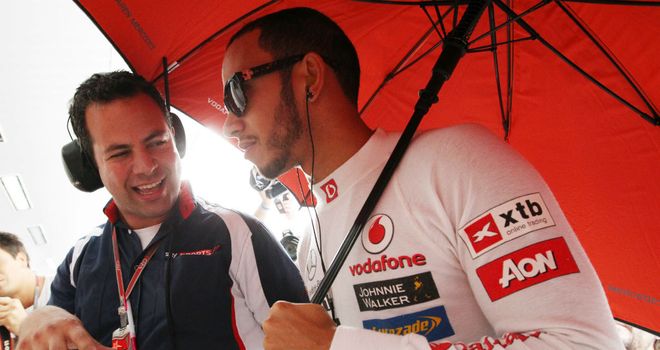 Lewis Hamilton was happy with his race pace
Formula 1 Betting

Formula 1 Betting

Bet with Sky Bet
There were mixed emotions in the McLaren camp after Friday's running at the Indian GP, with Lewis Hamilton upbeat whilst Jenson Button lamented a lack of track time due to another gearbox problem.
From a position of second on the P1 timesheet the McLarens dropped down the order during the second practice session ending up sixth and seventh - some nine tenths behind the dominant Red Bull of Sebastian Vettel.
But despite the deficit, Hamilton is confident in his long run pace and is sure he will be closer to the Red Bulls come Sunday.
"Today has been pretty good," the 2008 World Champion told Sky Sports News. The problem we are struggling with a little bit is trying to switch the tyres on on low fuel. But that is a lot to do with the out lap and tyre pressures and things and we can fix that.
"Long run pace is looking good, relatively strong and I think if we had been in the race there now we would have been keeping up with the Red Bulls and the Lotuses.
"I am hoping that the Red Bull are maybe trying to improve their qualifying pace and were running lower fuel - if not then we are in trouble. We should gain a little bit of time then on fuel, but not enough but I am sure if I go over the data tonight I will find something."
Button, however, lost his chance to complete a full race simulation after his track time was cut short during P2 due to a gearbox issue - something that is becoming an all too regular occurrence at McLaren.
"I only did two laps on my high fuel run as I had a gearbox problem - a shifting problem - so I had to stop," Button said.
"I hope (it is not a serious issue) but they haven't got it off the car yet so we do not know but they are looking into it."
Indeed, appearing rather more downbeat than his team-mate generally, Button was not so convinced the team's long run pace will be enough to even challenge for a podium.
"I am not sure our race pace is that good actually," the 32-year-old said.
"If you look at Lewis' run he is three tenths slower than Sebastian which is not where we want to be so we have a bit of work to do on that and over one lap I think there is quite a bit of work to do. I think we are struggling for general grip or maybe heat is our issue."
As for what McLaren could hope to get out of the weekend, Button was pessimistic commenting: "I don't know. There is still a lot of work to do. We were sixth and seventh today so sixth and seventh. There is still a lot of work to do to get the tyres working."
Pirelli's soft and hard compounds are looking very durable at the Buddh International Circuit and Hamilton added that a one-stop strategy could be possible during the 60-lap race.
"The soft tyres are lasting pretty well," he added. "We did 22 or 25 laps all together and my tyres were looking pretty good so maybe a one stop race could be possible."