McLaren Team Principal Martin Whitmarsh expecting the team to enjoy a stronger Indian GP
Woking team confident Buddh circuit should suit the MP4-27
Last Updated: 22/10/12 1:20pm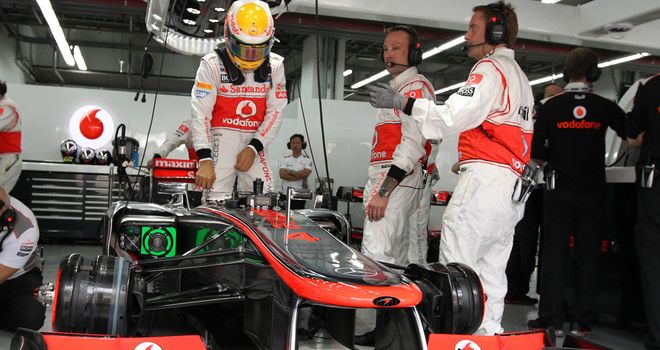 McLaren: In need of a strong result after disappointments in the Far East
Formula 1 Betting

Formula 1 Betting

Bet with Sky Bet
McLaren chief Martin Whitmarsh and his drivers are optimistic that the team are poised to bounce back from their recent disappointments and deliver a strong performance at the Indian GP.
The Woking outfit have seen their challenge in both World Championships effectively extinguished in recent races through a combination of superior Red Bull pace and unreliability, with the team slipping behind Ferrari to third in the Constructors' standings.
Lewis Hamilton and Jenson Button have only once in the last five races both reached the chequered flag at the same grand prix but their Team Principal is confident that the tide is set to turn across the back-to-back races in India and Abu Dhabi.
"Our two weekends in Japan and Korea weren't particularly prosperous," Whitmarsh acknowledged.
"But while fortune certainly didn't smile on Vodafone McLaren Mercedes during those two races, it's proof if it were needed that no team or driver is immune from tides of good or bad luck.
"Of course, luck flows both way, and I'm positive that, after two disappointing races, this next double-header will be a more profitable affair for Jenson, Lewis and the whole team."
After dropping from third on the grid to 10th last time out in Korea with a broken anti-rear roll bar, Hamilton conceded that his personal title hopes were now over after slipping 62 points adrift of the in-form Sebastian Vettel.
The Briton finished only seventh in last year's inaugural Indian GP after a collision with Felipe Massa but shares Whitmarsh's confidence in achieving a more memorable result this time round.
"I didn't have a particularly tidy weekend there last year: but I feel I've been driving better than ever recently - even if the results haven't quite shown it - so I'm headed to India determined for another good result," Hamilton said.
"I think we'll have a car that's a match for the circuit and I can't wait to get out there and start practicing on Friday."
Indeed Hamilton believes the Buddh International Circuit has already established itself as one of the best tracks on the calendar, with its layout a departure from some of the other newer circuits in the sport.
"The circuit, too, is something of a revelation," he added.
"Most modern tracks have a very similar feel; you find that the same driving style and rhythm suits them all. But the Buddh International Circuit is different: it has more in common with a great track like Spa than it does with any number of the more modern places we visit.
"And that's because it's got an incredible flow - basically, from Turn Four, a wide-apex right-hander that sweeps downhill, the track is just a series of fast, rolling curves which really allow you to put the car absolutely on the limit."