Questions for Singapore
Is it now or never for Ferrari? Can anyone stop Sebastian Vettel? And will we miss the Singapore Sling now that it has gone?...
By James Galloway, Pete Gill, William Esler and Sky Bet's Jamie Casey. Last Updated: 19/09/13 4:00pm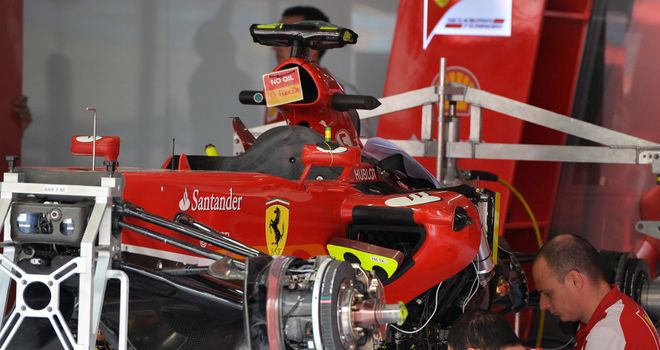 Will Ferrari's improvement continue?
It must be infuriating for both Fernando Alonso and Ferrari that on all three of the team's best performances since they last won a race back in Barcelona in May - at Montreal, Spa and Monza - there has been only one combination that has beaten them on each occasion: Sebastian Vettel and Red Bull.
Given that at the start of the year the Scuderia would have pencilled in these three lower-downforce tracks as the ones where Red Bull were likely to be most vulnerable, Vettel's hat-trick of wins has surely proved all the more galling.
Singapore represents a return to the kind of higher-downforce conditions in which Red Bull historically thrive, and as Ferrari themselves have alluded to in recent weeks, this is now the weekend where the true competitiveness of their F138 needs to be judged. But as Mark Hughes already mused in his post-Belgium column, if the Scuderia haven't made a breakthrough in more standard configuration then there's the acute danger they may simply revert to the kind of form immediately before the summer break that saw them run behind not only behind Red Bull, but Mercedes and Lotus as well.
So it's no real exaggeration to say that Singapore is really the pivotal race in Ferrari's season. While some optimistic folk have continued to stress since Monza that Alonso's points deficit to Vettel isn't as insurmountable as it sounds, particularly if you convert it into 'old' F1 money - a somewhat less daunting-sounding gap of roughly 21 points - whatever currency you want to use, it's over two race victories and Ferrari have only won twice in total in the last 22 attempts.
Furthermore, Vettel's Red Bull has only failed him once in the last 12 months and the German has won on F1's last two visits to Marina Bay. Therefore, with all of that mind, if Ferrari really are to make a race of the run-in then their comeback must start right here.
JG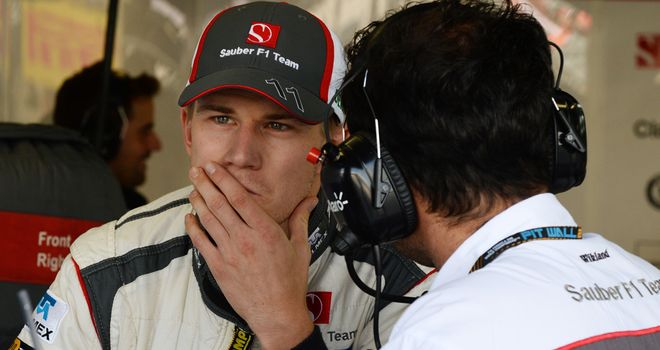 What next in the F1 transfer market?
Unlike football, F1 doesn't complete its transfer business to an established timetable or finish its dealings before a prescribed fixed date.
Instead, the 'silly season' can run for several months, with no clearly defined start or end. But with the news that Daniel Ricciardo will succeed Mark Webber at Red Bull closely followed by confirmation of Kimi Raikkonen's return to Ferrari, it's clear the 2014 driver market has reached its endgame with the three major players now revealing their hands for next season. McLaren are an exception to the rule, but official confirmation that both Sergio Perez and Jenson Button will be retained is a near-certainty - particularly now that Raikkonen is off the market.
Which leaves Lotus as the next largest-shaped domino to fall, with Sauber and Force India waiting in turn on their decision, and Nico Hulkenberg the new major player in the market.
If identifying Raikkonen's successor was merely a matter of meritocracy, then Hulkenberg would be a shoo-in. But F1 is never straightforward and Lotus may yet find themselves persuaded by monetary matters ahead while the thought continues to flicker that a return to Force India may be on the cards for Hulkenberg on account of his nationality and the team's close affiliation with Mercedes. What, then, of Romain Grosjean, Paul di Resta and Adrian Sutil?
Answer unknown. F1's version of a transfer market moves to a haphazard, arbitrary rhythm, and it's the ultimate irony of the silly season that the absence of a timetable is precisely what makes timing - loosely defined in this instance as the knack of being in the right place at the right time - kingmaker more often that not.
PG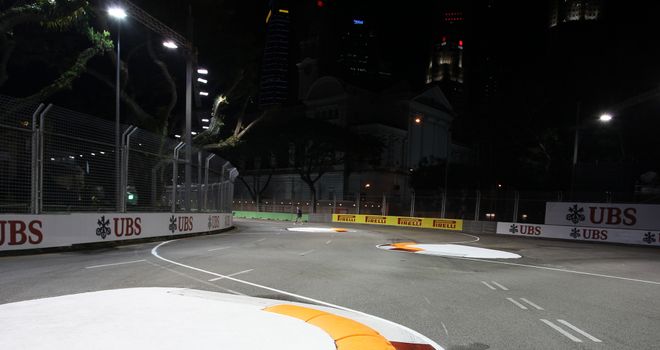 Will we miss the 'Singapore Sling'?
So, after five years, numerous scathing complaints and a catalogue of dramatic imagery, Marina Bay officials have finally done away with probably the most brutal section of track on the whole F1 calendar- the Turn Ten chicane, or 'Singapore Sling'. Few, if any, drivers will mourn its passing.
Yet, from a spectators' perspective, while there was nothing of aesthetic quality about the three-part chicane, the sight of cars clattering over the kerbing - and particularly the risk of drivers getting it wrong every now and then - was nonetheless a standout feature of a lap which otherwise, the dramatic and spectacular night-time city backdrop aside, is short of a signature corner.
In fairness, organisers hadn't really intended for the chicane to be there in the first place back in 2008 but original plans for the corner to be a fast left-hander had to be revised due to a lack of sufficient run-off. The addition of an extra row of Tecpro barrier has now allowed a configuration along those lines to be created for 2013, although it's unlikely to prove anyway near as memorable - or notorious - as the 'Sling'.
JG
Can Force India overhaul McLaren's five-point advantage in Singapore?
Vijay Mallya has predicted his team can still finish ahead of McLaren in the battle for fifth place in the Constructors' Championship, so could Singapore be the place to get their season back on track?
Omens for Paul Di Resta achieving a strong result are certainly good given the Scot followed up a sixth-place finish at Marina Bay in his rookie year of 2011 with a career-best fourth 12 months ago. However, a repeat of that latter feat certainly looks unlikely in 2013. In the four races since the British GP, a Force India has finished in the points just once - a ninth for Adrian Sutil in Belgium - and it does appear the team are struggling more with the change of the Pirelli tyres than others. Compare McLaren's results over the same period and on all but two occasions, both cars have finished in the points.
The Woking-based squad may now be focussing on 2014, but with Force India's limited resources and major rule changes next year, they cannot afford to continue to develop their current challenger. So, with something of a development stalemate, it could well prove another difficult weekend for Mallya's team, with McLaren extending their points advantage looking more likely than Force India closing the gap.
WE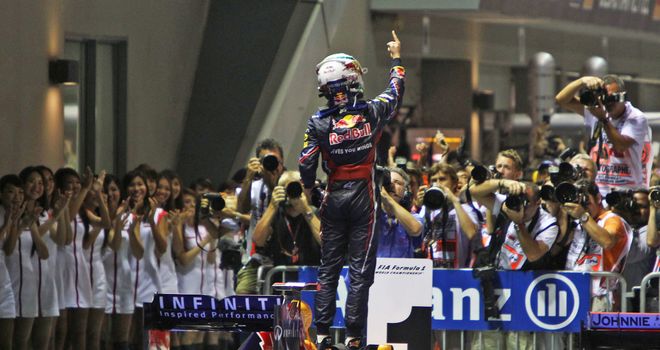 What to bet on?
Sebastian Vettel is bidding for three in a row in more ways than one this weekend and it's no surprise that Sky Bet make him the race favourite at 11/8. Having won in Singapore in 2011 and 2012, as well as winning the last two races on this year's calendar, Vettel will feel on somewhat of a roll upon arriving at Marina Bay.
Thus, the only question on the minds of the punters is how much will the German win by this time? At Monza, Vettel gently guided his RB9 home on his final lap under the advice of his colleagues, causing his winning margin over Fernando Alonso to fall to 5.4 seconds.
It was the fifth time in 12 races this season that the winning margin registered below six seconds, the point at which Sky Bet measures its over/under market. With the average winning margin this season standing at 8.18 seconds, it's odds-on that this weekend's race is won by a margin of six seconds or more.
Vettel's winning margin over Jensen Button at Singapore last season was 8.93 seconds but only 1.74 in 2011, but on current form the only side of the divide that offers appeal this weekend is over six seconds at Sky Bet's 4/6, which is valid for any race winner. Incidentally, Button is 14/1 to make the podium for the first time this season.
JC