Making the case for Daniel Ricciardo to replace Mark Webber at Red Bull in 2014
Why the youngster - and not Kimi Raikkonen - may be the right man
By Pete Gill
Last Updated: 16/07/13 12:15pm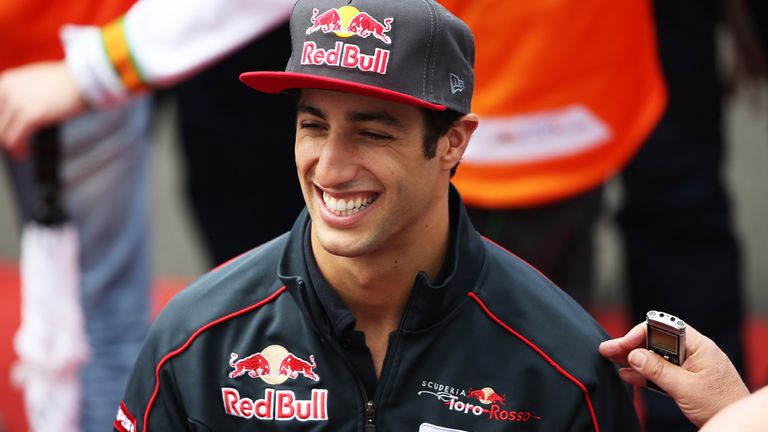 Appointing Ricciardo would keep Red Bull's winning formula in place
Although Raikkonen's laidback personality ought not to ruffle many feathers within the Red Bull camp, there's an intriguing argument that his promotion would suit Vettel far more than it would suit Red Bull. For while Vettel still has it all to prove in direct team-mate combat against an elite driver, the appointment of a second number-one driver would be a clear divergence from Red Bull's established - and proven - winning formula.
While Vettel and Raikkonen are friends off the track, just how would Red Bull's internal dynamic - which has produced three successive Constructor titles - react to ambiguity around the identity of the team's de facto leader? From Red Bull's perspective, the consequential aggravation of appointing a second world-class driver is a hassle they don't need; they have, after all, won the last three championships and are well on the way to a fourth despite - or perhaps because of - Webber only offering a muted challenge to Vettel in the Drivers' Championship.
Ricciardo might be a generation younger than Webber, but in terms of his status in the sport's driver pecking order, he's the closest facsimile they could appoint - or at least far, far closer than Raikkonen.
He fits the age gap for Red Bull
This under-mentioned aspect of Ricciardo's candidature is arguably his strongest. Red Bull must be mindful that, with Vettel only extending his contract until the end of 2015 and the 33-year-old Raikkonen approaching the final years of his F1 career, there will be ongoing uncertainty about their long-term driver line-up if they don't put a member of the next generation under lock and key now.
At 24, Ricciardo would fit the bill. The only route-around would be a one-year deal for Raikkonen followed by a 2015 season in which Ricciardo can bed in before Vettel decides on his next move. But would Raikkonen accept a single-year deal? And what would Ricciardo gain from another year idling at Toro Rosso? No, it's surely now or never for Ricciardo and Red Bull.
The boy has talent
The least convincing feature of Ricciardo's claim for a promotion. Put bluntly: Ricciardo's results in F1 have been far from outstanding.
Yet while it's fair to say that neither Ricciardo or Jean-Eric Vergne made a vivid impression during their debut seasons, there's been a noticeable upturn in the Australian's form since news of Webber's imminent departure broke. Whereas Vergne could only qualify 12th and 16th at Silverstone and the Nurburgring respectively, Ricciardo put his Toro Rosso fifth and sixth on the grid. Those results suggest three things: first, the Aussie, unlike his team-mate, has that rare capability of transcending his machinery; two, he has genuine pace, a prerequisite for partnering Vettel; and three, he thrives rather than shrinks when under pressure to impress, another prerequisite alongside Vettel in a Red Bull.
The flaw in the argument remains the paucity of his points-scoring: a total of 21 over one-and-almost-half-a-season. But that shortage is a measure of his car's shortcomings rather than an indication of a dearth of talent, and there's just enough evidence in those outstanding qualifying results to support a hunch that Ricciardo has the sought-after x factor.
The bottom line is that there's only way to find out for certain...
Ricciardo will be far cheaper than Raikkonen
About £10m cheaper at our first guesstimate.
He'll do wonders for Red Bull's image
Despite - or, more likely, because of - their success, Red Bull are a strangely unpopular team; any brave fan at a grand prix bedecked in Red Bull colours would be a study in solitude. Hiring Ricciardo wouldn't transform attitudes overnight, but his personable, engaging manner would be far more appealing to the public than Vettel's court-jester act or Webber's grittiness has proved to be. The wonderfully-personable Ricciardo is impossible not to like. Best of all, he would be considered synonymous with Red Bull's image whereas a central tenant of Raikkonen's popularity is that he is seen as a lone wolf.
Red Bull need their driver programme to work
After the brutally-emphatic ousting of Sebastien Buemi and Jaime Alguersuari at the end of 2011, can Red Bull afford the bad publicity of another failed class? The next crop of rising talent may be minded to take their fledgling talents elsewhere if they are not convinced that the Red Bull/Toro Rosso driver programme isn't a dead-end street.
The ongoing success of their famous graduate, a chap by the name of Vettel, provides some leeway, but questions will have to be asked about the point of Red Bull's tie-up with Toro Rosso, and their young driver programme as a whole, if Ricciardo is denied promotion by the oldest man on the 2014 grid.
He'll give a better interview
And from our myopic perspective, these things matter!
PG