Sky Sports exclusive: Jenson Button Q&A
The 2009 World Champion chats to Sky Sports News' Craig Slater ahead of this month's British GP at Silverstone about McLaren's prospects, the thrill of driving in front of home support, and standing by Martin Whitmarsh...
Last Updated: 18/06/13 1:31pm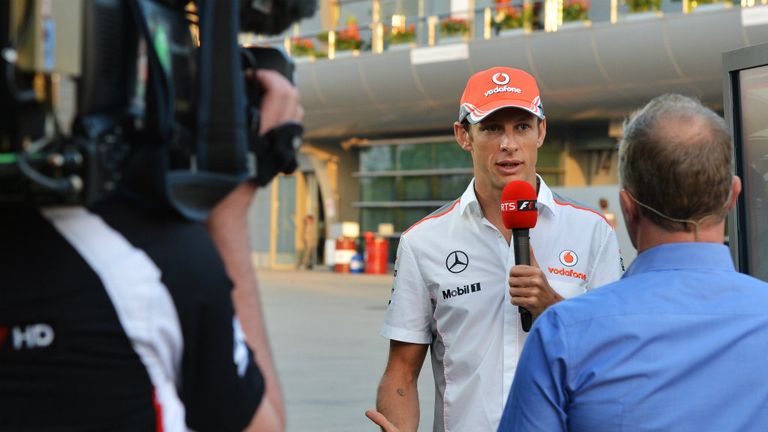 It's been a tough season for McLaren but can you give us some optimism that work has been done between Montreal and Silverstone and you will come here with some hopes of better?
Jenson Button: "First of all, it is amazing to be here at Silverstone with not long to go before the British Grand Prix. Hopefully, we will see improvements. The last race for us was a very, very difficult weekend, but yes, I am hopeful that there are some improvements in the pipeline and we can see ourselves getting a better result. Fighting for a win? That's going to be very difficult. I know that's what the British fans want but I'm not sure we are going to be able to give them that. But we are going to do the best job we can and fight for as many points as we can, and you never know what the end result can be."
Is this the one event on the calendar above all others where you realise just what a big team McLaren is when you see everyone bedecked in the McLaren colours?
JB: "Everyone at the MTC [McLaren Technology Centre] and the factory has been working so hard, we want to get a great result at the British GP. It's been a difficult race for me over the years, I've been so close to getting a podium, but a little mistake we had at the pit-stop cost me that a couple of years ago. So I would so love to get a podium here in front of the home crowd. They have been so supportive and I just have to say a massive 'thank you' to all the home fans for coming to the British GP - and hopefully we will have another sell-out crowd - and we will do our best to make you guys happy."
Is there anything about the circuit's characteristics that might suit the car a little bit better?
JB: "Yes, this circuit is very different from the last race. It's a lot smoother, a lot faster, more flowing, and it does suit our car a lot more. I love the layout of this circuit, we don't know what the weather is going to do, I'm hoping it will be dry for the fans and for us after our experiences in Canada."
Obviously, you want to win a race this season and one of the motivations is this big fanbase McLaren has. Is that part of the mindset of this team that you always want to win a race rather than look ahead to 2014?
JB: "Of course. This is a team that is used to winning grands prix and fighting for World Championships, and that's why this season has been so difficult for us. Mentally, it's been very, very tough. But they say that makes you stronger and we're hoping it does."
The spotlight will be on the team and Martin Whitmarsh, the team boss. He has said he takes responsibility for the start of the season the team have had, but from your perspective - and the team's perspective - is everyone united behind him, is he the man to lead McLaren through this?
JB: "As far as I know, everyone is united. I think Martin is a very good leader and he's a proper human being as well - he's a guy you can trust and believe in. I feel everyone at the factory thinks exactly the same. It is so difficult for a team principal when a team that is normally winning grands prix suddenly isn't winning grands prix. It's tough. But I think he is the best leader to bring us through this difficult time."
And finally, if it's not to be McLaren winning here, who do you suspect might be strong here?
JB: "I don't care if it's not us! But I have a feeling that Fernando Alonso will be quick here. It's the sort of circuit which should suit the Ferrari, as we saw in Barcelona, so we'll see. But hopefully it will be a good fight, that's what we want to see at the British GP. I'm hoping to see lots of union jacks and rocket-red caps. It's such a special race for a British driver."