Life in GP3: Dino Zamparelli's column
The GP3 campaign got up and running in Spain and with it did young Anglo-Italian Dino Zamparelli's career at that level. In his first Sky Sports Online column, he tells us all about it...
By Dino Zamparelli
Last Updated: 17/05/13 2:16pm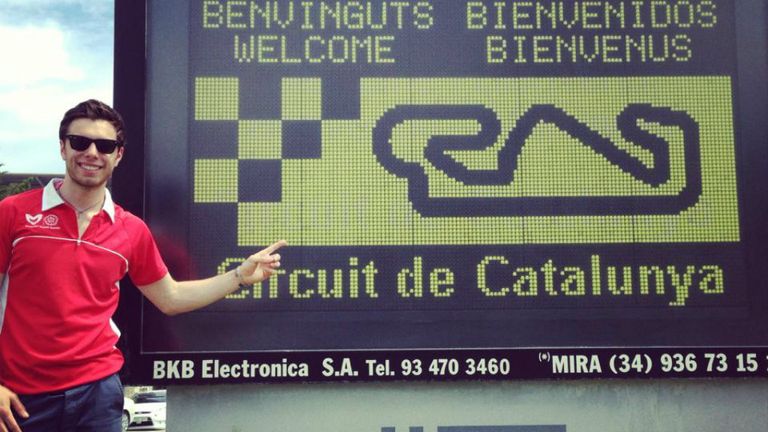 I was excited, I was happy and I was eager to get going. I had been working my socks off since January to be fully prepared, both physically and mentally for my first race of the year. GP3 must be one of the last championships to begin - but it usually brings some real excitement to the F1 weekend.
After Thursday's prep day - and making sure my new Sparco race suit fitted nicely! - I woke up early on Friday and was pumped for the free practice session before realising the GP3 practice wasn't until 5.30pm that evening!! A full day of waiting and standing around is so much worse when you just want to get out there. At least I was able to watch the F1 and was even invited by Marussia to watch the practice in their garage. We all know the sound of an F1 car is immense, but until you're actually stood directly behind one, with the driver revving that engine like a lion trying to fight his way out of a cage, you cannot appreciate it to its full extent. Put it this way, it was loud.
The time for my official GP3 Series debut was approaching and suddenly I was in the pit lane in my car (which I've called Robin). I got out on circuit and settled into my first GP3 official practice session. Other than not actually being able to complete a lap due to horrendous traffic, it was fine!
Saturday morning was what I was focussed on anyway. A 30-minute qualifying session and hopefully traffic wasn't going to be a massive issue. Luckily it wasn't and although I made a small mistake on my hot lap, I was going to start my first race in ninth place, which wasn't too bad - not great, as I was gunning for pole position, but for my first GP3 session, I wasn't too despondent.
In Race One I was in ninth with three laps to go and I was much quicker than the guy ahead of me, and with the golden carrot dangling ahead of me of eighth and reverse grid pole, I got a bit hasty and impatient to overtake and unfortunately misjudged my braking point. Before I knew it, I was heading towards the gravel trap at 100mph, jumping out my car and on the side lines watching the field go through the following lap. I was distraught, yes, but I made a mistake and quickly picked myself up and moved on. I will learn from it and make sure it doesn't happen again.
To add a little bit of insult to injury, I received a ten-place grid penalty for my move, which meant I started Sunday's race dead last. Race Two was actually fun. Before the start of the race, I thought points were completely out the question, as points only went down to eighth place. By the end of the lap one however, after having dispatched of 13 cars, I started to believe it may be possible after all! But that was where my charge ended and points weren't possible - I ended up the race in 15th spot from 27th on the grid. However, having overtaken 13 cars on lap one, with some nice moves around the outside and inside; I was fairly positive about my weekend as a whole.
Tyres were the big topic for discussion after the Grand Prix and the GP3 tyres are fairly similar to the F1. As a series, we were unsure about how long the tyres would actually last. We had done the practice yes, but we hadn't been able to do long runs in high track temperatures. So the Barcelona race was a bit of an unknown for us. The tyres did last longer than I anticipated, but they were still going off at the end. Some drivers struggled more than others. At one point I saw an MW Arden car go from fourth to 20th in about two laps. His tyres looked awful and that was simply because he was too eager on the throttle and the brakes in the opening laps.
In Race Two my tyres were in much worse shape. When you're fighting for every last inch in the middle of the pack, the tyres naturally go off more than if you're at the front by yourself. As a driver, it's difficult to actually race on these tyres. If you fight too much with the cars around you, you kill the tyre.
One lock up, one slide or one wrong line through a corner and you start the ball rolling for your tyres to overheat at the rear and dispense all the grip onto the track. When you're fighting for that inch with another driver, a lock up, a slide or a slightly wrong line is just something that happens.
In that case, it's almost better not to fight with the other driver. It's better to let the car go and do your own race and preserve the tyres. This is such an unnatural thing for a racing driver to do because all we want to do is race and not let anyone passed. As a driver, I just get on with it. I don't have an opinion on what it should or shouldn't be - I just look at the situation and keep those tyres alive as best I can, whilst still racing as hard as possible.
Talking of racing hard, driving standards has once again been called into question after the GP2 race turned into wacky racers. There's one driver that stood out as driving very poorly, in my opinion (and from what I read, a fair few others agree). Johnny Cecotto decided to side swipe the Caterham car in race two, an incident I was sure he would get banned for. That sort of driving is outrageous.
I'm sure that the driving standards will be raised in the next race at Monaco - especially with safety being paramount there. However, the standards in GP3 I thought were good. All drivers showed respect, from what I could see, and there wasn't anything that was worth talking about.
On the flight back to Bristol I reflected on a weekend which wasn't what I was aiming for ultimately, but overall it was a positive one. I learned a great deal about GP3 as a whole, how it all works and what I need to do in the future. For me, all the pieces of the puzzle are there, I just have to put them together now if I want to start fighting for victories.
The next GP3 race is at Valencia on the 15th June and I will be working harder than ever to ensure that I'm even fitter and even more prepared for that one. The motto that I love and live by is, "It's hard to beat somebody who doesn't give up". I'm even more determined and hungrier to be on top next time out.
DZ
Find more about Dino on his personal website and follow him on Twitter @DinoZamparelli