Classic Races will be broadcast each week on Sky Sports F1
Historic action starts with five memorable Australian Grands Prix
By William Esler. Last Updated: 08/04/13 9:31am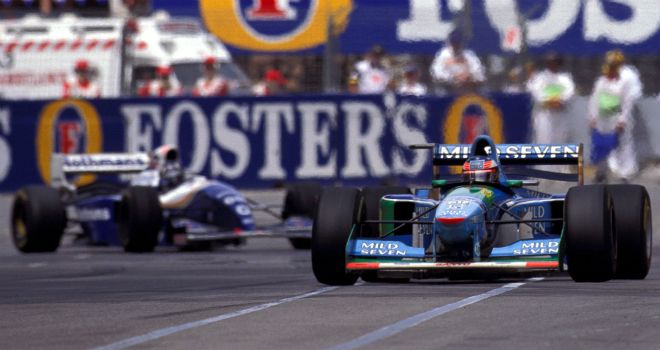 Michael Schumacher leads Damon Hill at the 1994 Australian GP
Sky Sports F1 will be broadcasting 'Classic Races' throughout the 2013 season, giving fans a chance to relive memorable grands prix from yesteryear.
Ahead of each GP this season, a selection of races will be screened in the week leading up to the event, starting on Saturday 9th March with the 1994 Australian GP - with a further four races aired before first practice in Melbourne.
And don't worry if you miss a 'Classic Race' during the week as they will be repeated throughout the race weekend.
However, it is not just on Grand Prix weekends that Sky Sports F1 will be showing historic races. Look out for themed quintets during the non-race weeks such as 'five great wet races' and 'five maiden victories.'
Classic Australian Grands Prix
Saturday 9th March
8:30pm - The 1994 Australian GP
Sunday 10th March
8:30pm - The 1999 Australian GP
Monday 11th March
8:30pm - The 2003 Australian GP
Tuesday 12th March
8:30pm - The 2007 Australian GP
Wednesday 13th March
8:30pm - The 2010 Australian GP