Brazilian GP Quiz - The Answers
Let us know how you got on below
Last Updated: 24/11/12 10:59am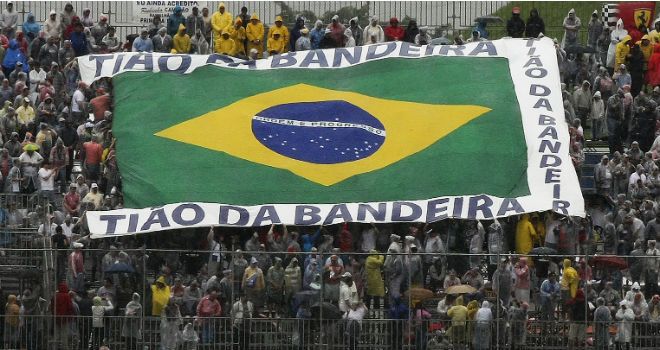 So how much did you know about all things Brazil?
1. In what city is Interlagos based?
Sao Paulo.
2. Now to make it a little more tricky. Nigel Mansell's victory in 1989 victory was the first for a car fitted with what development?
A semi-automatic gearbox.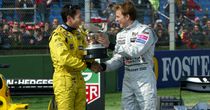 Kimi Raikkonen presents Giancarlo Fisichella with the 2003 winners trophy
3. Which driver was presented with the winner's trophy for the 2003 Brazilian GP at Imola two weeks later?
Giancarlo Fisichella.
4. Which South American took his final F1 victory at Interlagos in 2005?
Juan Pablo Montoya.
5. Although still widely known as Interlagos, what was the circuit renamed as in 1985?
Autódromo José Carlos Pace.
6. Other than Interlagos, what other circuit has hosted the Brazilian GP?
Jacarepaguá - renamed Autódromo Internacional Nelson Piquet in 1988 - in Rio de Janeiro.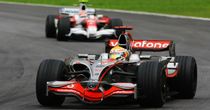 Timo Glock's mistake let Lewis Hamilton through
7. Who ran wide at turn 12 in 2008, allowing Lewis Hamilton to gain a position and win the World Championship?
Timo Glock.
8. And what car was your answer to question number seven driving at the time?
Toyota.
9. Which Frenchman has won the race the most times?
Alain Prost, six times.
10. And which team has been the most successful in Brazil?
McLaren, 11 times victorious.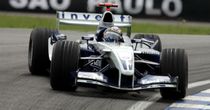 Juan Pablo Montoya - lap record holder
11. Who holds the lap record at Interlagos?
Juan Pablo Montoya - 1:11.473 - set in 2004 driving for Williams.
12. The sweeping first two corners are named after which World Champion?
Ayrton Senna.
13. In 2001 which two brothers started on the same row of the grid for the first time?
Michael and Ralf Schumacher.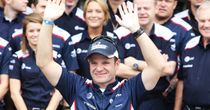 Rubens Barrichello bowed out in 2011
14. Which popular Brazilian's F1 career came to an end at the 2011 race?
Rubens Barrichello.
15. To the nearest kilometre, how long was the original Interlagos track?
8km.