Sky Sports F1's U.S. GP schedule
Your essential times for this weekend's essential viewing
Last Updated: 15/11/12 11:31am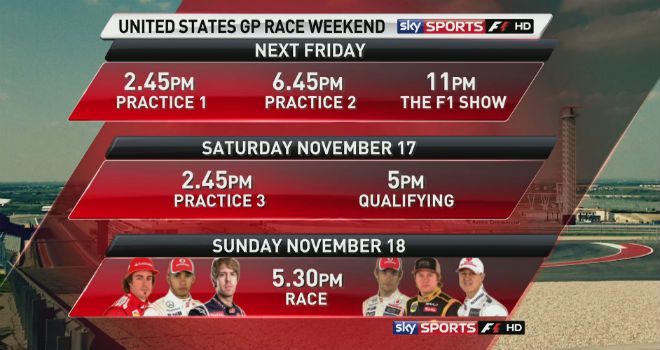 Formula 1 Betting

Formula 1 Betting

Bet with Sky Bet
This weekend, Formula 1 heads back to the United States of America for the first time since 2007 and the only place to watch Sunday's race live is on Sky Sports F1.
The race at the brand new Circuit of the Americas venue in Austin, Texas is one of the most anticipated of the season and as usual the Sky Sports F1 team - unchanged from Abu Dhabi, because why change a winning line-up?! - will have every angle covered.
The Drivers' Press Conference kicks off the coverage from 'across the pond' at 5pm on Thursday, with six of the sport's big names discussing the challenges of tackling a new track.
Former Formula Renault Champion and McLaren Autosport BRDC Young Driver of the year award winner Dean Smith then features in 'Britain's Next F1 Star' at 7:30pm as the 24-year-old looks to balance family life with a career in motorsport.
Back at Austin on Friday, there's a mid-afternoon start for the on-track action with Simon Lazenby and Martin Brundle building up the to the first practice session from 2:45pm with Anthony Davidson joining David Croft in the commentary booth.
The second of Friday's practice sessions provides your tea-time viewing at 6:45pm, before Ted and Georgie bring you a late night edition of the F1 show from 11pm.
For our race programme, we'll have a guided tour of the Circuit of the Americas in the company of Mario Andretti, before Jenson Button takes some of the team on a bicycle ride around F1's latest venue.
And then, of course, it will be time for the main event: The 2012 U.S. GP...
Enjoy!
Thursday November 15:
5pm: Drivers' Press Conference - Live!
7:30pm: Britain's Next F1 Star
Friday November 16:
2:45pm: United States Grand Prix Practice One - Live!
6:45pm: United States Grand Prix Practice Two - Live!
9pm: Team Principals' Press Conference - Live!
11pm: The F1 Show - Live!
Saturday November 17:
2:45pm: United States Grand Prix Practice Three - Live!
5pm: United States Grand Prix Qualifying - Live!
Sunday November 18:
5:30pm: The 2012 United States Grand Prix - Live!