Alice Powell dreaming of F1
Latest young hotshot featured on Sky Sports F1's Britain's Next F1 Star speaks about her ambitions of one day joining the F1 elite
By William Esler. Last Updated: 02/11/12 1:26pm
Formula 1 Betting

Formula 1 Betting

Bet with Sky Bet
After a completing her first season in GP3, Britain's Alice Powell is hopeful of making her way to the pinnacle of motorsport and becoming the first female driver on an F1 grid for over 20 years.
Powell has an impressive junior record in the UK, becoming the first ever female winner of Formula Renualt BARC in 2010, taking seven podiums, including two race wins, in the 12 round series.
On Thursday night her career so far was documented on Sky Sports F1 in 'Britain's Next F1 Star' and Alice was delighted with the response to the show.
"I thought it was really good, I have had loads of positive feedback from it - Twitter and Facebook were going mad last night," Powell said.
"The show is a great opportunity for up-and-coming British drivers to be on a TV."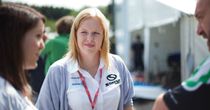 Alice Powell: Still aiming for F1 (Image: GP3 Series Media)
So could the 19-year-old be Britain's next F1 star?
"I hope so," she said with a note of determination in her voice.
"It depends on the money - without my sponsors I wouldn't be able to go anywhere or race anywhere and that is the unfortunate fact at the moment. It is not a cheap sport and you need the right level of backing to go forward.
"No F1 team can afford to sponsor young drivers at the minute the way McLaren did with Lewis Hamilton when he was racing and got picked up at 12. No driver has got that at the minute because it is just so expensive."
Driving in GP3 keeps Powell very much in the F1 window as the Series supports the European rounds of the World Championship.
It was a tough debut season for the Oxford-born racer, with many peaks and troughs along the way, but one she feels improved her as a driver.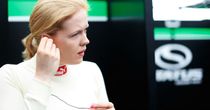 Alice Powell: Gets ready to head out in GP3 (Image: GP3 Series Media)
"It was a very tough year - at the start of the year I only two test days in the car, again because of budget," she said.
"But it started off well - 11th at Barcelona, 11th at Monaco, ninth quickest in practice in Valencia - but unfortunately we had some DNFs with a few things but we bounced back and I got 12th at Spa and eighth at Monza.
"So it was an up-and-down season, the middle part was tough, but we came back at the end of the year and it was really good for me and my sponsors and everyone at Status GP."
The driving standards of GP2 graduates in F1 have come under the spotlight this season, with 2011 Champion Romain Grosjean in particular causing a number of first lap incidents, and Powell agrees it is something that needs to be addressed in the supporting categories.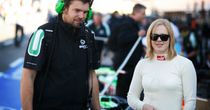 Alice Powell: With a Status engineer (Image: GP3 Series Media)
"Driving standards need to improve," she stressed. "I got taken off in Barcelona, Hockenheim and Valencia by people doing silly manoeuvres.
"The thing is the grids are so large - on average this year we had 26 or 27 cars in GP3 and the same in GP2, whereas in some of the other junior series there are only 15 cars on the grid.
"So there are a lot of cars and it is very competitive and that makes it tougher for everyone and the start is really important because we don't have pit-stops and don't have the same strategies as in F1 as the race is a lot shorter. So some people go out and think I must win it at the first corner and I think that is why we see so many incidents."
But despite her misgivings about the standard of on-track driving, Powell is hopeful of remaing on the GP3 grid next year.
"I'd like to stick with GP3. Obviously the new car is coming out next year and it is going to be a lot more powerful with more grip as well. So I am looking to get an investor or some kind of sponsorship to enable me to continue to try and get to F1 and do GP3 next year.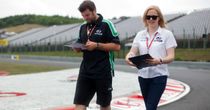 Alice Powell: Walks the track in Hungary (Image: GP3 Series Media)
"Ideally I need to get all the pre-season testing in in the new car which I missed this year. So the aim is GP3, but we will have to wait and see what happens."
As well as working hard on her racing career, Powell has also found time to do her part for charity and will be hosting a Karting event on Thursday to raise money for The Mirela Fund which has been founded by Sky F1's Natalie Pinkham in order to build a home for twelve severely-disabled children in Romania.
"I've joined up with Natalie Pinkham to raise money for her Mirela Fund and we have had lots of interest - McLaren have entered a team, Red Bull have entered a team, we have a couple of Sky F1 teams - I know it is getting quite competitive between Anthony Davidson and Johnny Herbert.
"It is going to be a very interesting event - there will also be a raffle and an auction with some great things up for grabs including a pair of paddock passes from McLaren for next year, as well as a hog roast and a bar.
"Hopefully we will raise some really good money for the Mirela Fund.
"If you want to enter a team, just tweet me @AlicePowell and I will send you over more details."
Sky Sports F1 Online are also giving you a chance to win a place at the charity karting event for you and a friend. Click here for more details