Korean GP quiz - The Questions
See how much you know about the early years of F1 at the Korean International Circuit...
Last Updated: 10/10/12 2:24pm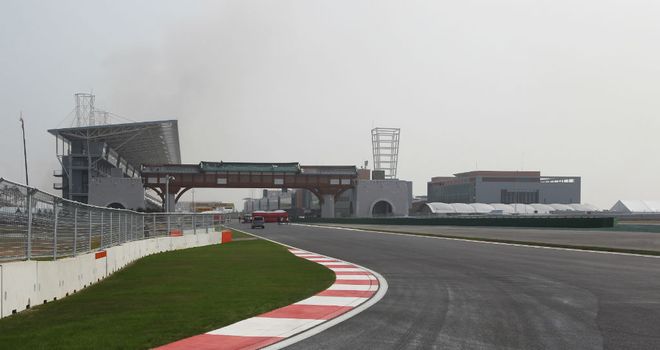 Korean International Circuit: Preparing to stage its third F1 race
Ready to put your Korean GP knowledge to the test?
1. When was the Korean International Circuit opened?
2. Most new circuits are given FIA approval months before the host an F1 race. How long elapsed between Korea's approval and the first F1 car hitting the track at the GP?
3. Who holds the lap record at the track?
4. Who described the controversial pit-exit at the circuit as 'an accident waiting to happen'?
5. Why was the wall at turn 17 moved back ahead of the 2011 race?
6. Which German designer was responsible for the track?
THE ONLY PLACE TO BE
Sky Sports F1 HD is THE only place to watch the 2012 F1 season in full live. Our extensive coverage continues with the Korean GP live on 12 -14th October.
FRIDAY 12th - P1 from 1:45am. P2 from 5:45am
SATURDAY 13th - P3 from 2:45am. Q from 5:00am
SUNDAY 14th - Race from 5.30am
To find out all the different ways to watch the action, click here
7. In what year was the Korean GP first announced?
8. Who won the inaugural race?
9. Rather than laying grass, what did circuit bosses do to give it more of a 'European circuit' feel?
10. According to Sky Sports F1 Online's own Michael Wise - who has just travelled the exact journey - how long does it take to reach Seoul from the circuit? (Half a point if you are within half-an-hour of Mike's estimate)
11. True or false: The straight between Turns 2 and 3 is over a kilometre long?
12. The F1 circuit uses a temporary extension the track creating a 5.615-km circuit. How long is the permanent track?
13. What city is planned to develop around the temporary part of the circuit?
14. The Korean track runs in an anti-clockwise direction. Can you name the other four on the F1 calendar that do likewise?
15. The footbridge over the pit-straight is designed to look like what structure?
Given it your best shot? Well then come this way for all the answers...